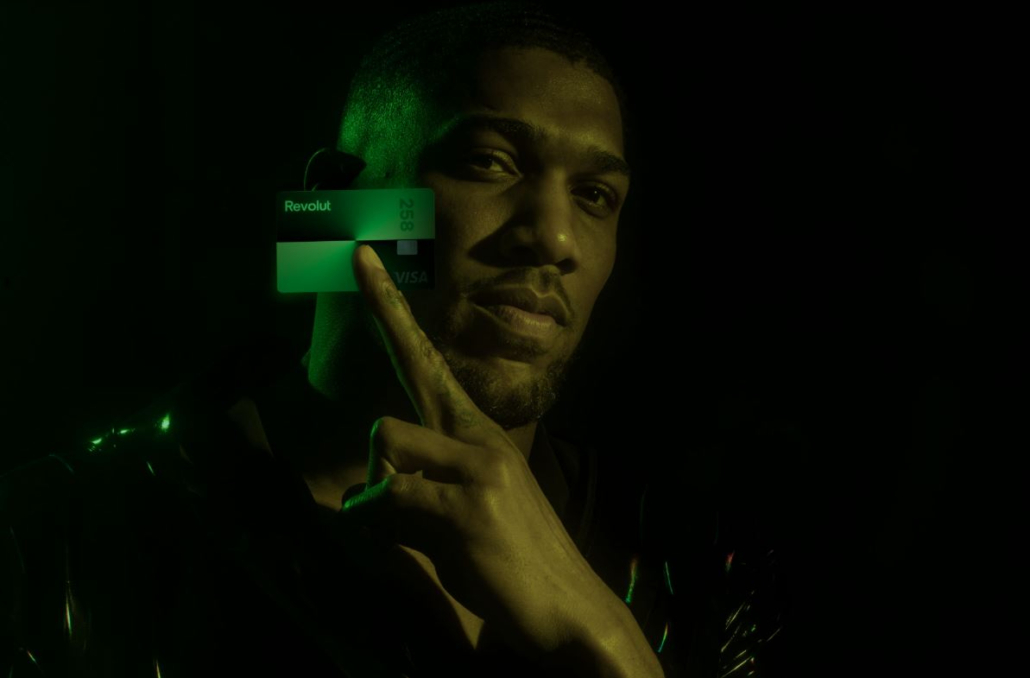 Revolut partners Anthony Joshua to support England Boxing clubs
April 6, 2021 | by Matt Halfpenny
Revolut, the UK's fastest growing fintech company, is today partnering with world heavyweight champion Anthony Joshua to raise vital funds for England Boxing's affiliated clubs as they emerge from the Coronavirus Pandemic.
It will donate a minimum of £50,000 for distribution to clubs in England and Scotland, pledging £1 for each order of its new glow-in-the-dark debit card – the first of its kind in Europe.
Revolut's donation will help head off the threat of closure for clubs who have missed out on income from subs and shows because of Covid-19, one which has seen an estimated 400 sports facilities nationwide permanently close, according to UK Active.
The exclusive, limited edition card has a smooth minimalist design and includes Joshua's motto, 258, which reflects the boxer's dedication to his sport and his commitment to work beyond 24/7.
The card is black and white during the daylight and transforms to a striking green and black in the dark.
Joshua, who won two national amateur titles at elite level as he learned his craft at Finchley ABC, spent much of last year campaigning for community and social justice causes, including the Black Lives Matter movement, and supporting local boxing clubs and aspiring boxers.
The card is available to all Revolut's 15 million customers around the world – but England Boxing members and clubs can get their hands on it too.
To get the AJ card and help raise funds for local boxing clubs, individual members simply need to download the latest version of the Revolut app on iOS or Android and order the card from the cards section within the app.
Clubs can also apply separately for their own code, meaning the £1 for each card order will go directly to them, and they will also be eligible to enter a competition where they could win up to £10,000, as well as a pair of boxing gloves signed by Joshua.
"I am delighted to partner with Revolut to support UK boxing clubs," said the WBA, IBF, WBO, and IBO title belts holder. "Without my local boxing gym, I would not be where I am today.
"Across the UK, there are kids and adults alike using these clubs to improve their physical and mental health and keep themselves off the streets. I am really pleased my Revolut card will make a real difference."
England Boxing's Chief Executive Officer, Gethin Jenkins has welcomed Revolut's extra support for amateur boxing in England.
He said: "This is a great initiative by Revolut and Anthony Joshua to continue to support England Boxing Clubs.
"With Clubs not being allowed to fully operate for over a year, the impact on physical and mental health of their members, as well as the clubs themselves financially, has been significant and this innovation will help those clubs in most need. We thank Revolut and AJ for their support."
Alan Chang, Senior Vice President at Revolut, said: "Some local boxing clubs and indoor sports venues have been really struggling during the lockdown restrictions over the past year.
"These facilities provide vital services to their communities and play a critical role in the mental and physical health of their members.
"From day one, Revolut has always been community-driven, so we're incredibly proud to partner with Anthony to help raise vital funds for boxing gyms across England and Scotland."
Follow the campaign on social media via #LightItUp