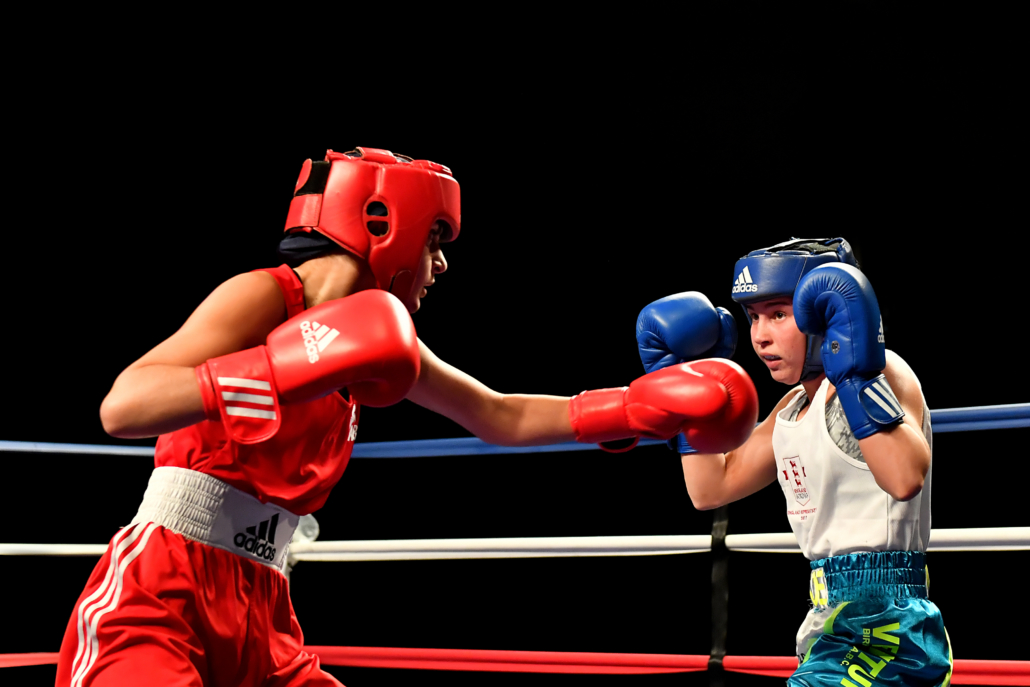 Kaur, Stevens and Bennett shine at GB Champs
December 7, 2018 | by Matt Halfpenny
Simran Kaur, Laura Stevens and Courtney Bennett enabled England to pull off a hat-trick of successes at the GB Boxing Championship at the English Institute of Sport in Sheffield.
Kaur, 17, from the King's Heath Club in Northampton, outpointed 2017 Commonwealth Youth Champion and GB representative, Chloe Watson, in the Youth flyweight category.
Far Cotton ABC boxer Stevens gave England another victory when she overcame defending welterweight champion Omarah Taylor.
By defeating a boxer from the GB Boxing squad, both Kaur and Stevens have earnt the opportunity of an assessment with GB Boxing and chance to join the world class performance programme (WCPP) based in Sheffield.
Kaur said: "We have boxed before and I know Chloe is very strong, so the gameplan was to keep it long, box at range and not get involved.  It worked well so hopefully now I will have a chance to get in the GB squad and eventually go to the Olympics."
England's other triumph came courtesy of Churchill Boxing's Bennett, who won a spilt decision against Scotland's Nic Campbell in the heavyweight division.
Elsewhere, Bradford's Harris Akbar won the GB title for the second time with a unanimous victory over Scotland's Tyler Jolly in an absorbing welterweight contest.
Akbar, 19, said: "I felt quite nervous going into the contest as there had been a lot of interest in me in the build-up to it, however once I got in the ring, it all started to flow.
"I have been in GB Boxing's Podium Potential squad for a couple of years now, so I am hoping that I have done enough to impress the coaches and get moved-up to the Podium squad.  There are so many tournaments coming-up next year, like the European U22s, and then world and senior Europeans so I just want to get myself into the mix to go to them."
Akbar was one of five (out of seven) boxers from the GB Boxing squad to win on a night of action which showcased the strength-in-depth of the squad and the high quality of boxers coming through the talent pathways of England, Scotland and Wales.
Another stand-out performance on the night came from Hannah Robinson, representing GB Boxing, who delivered the only knockdown of the evening when she floored England's Kimberley Rowe en-route to a unanimous victory in the lightweight contest.
It was the Birtley ABC boxer's first bout since joining the GB Boxing squad three weeks ago after winning the England Boxing Elite National title in May of this year.
Robinson said: "It went well although I do think I could have boxed better.  I was landing the cleaner shots and I did catch her lovely with one in the first round so overall I am happy with it.
"It's a great end to a good year.  I won the elites earlier in the year, after a long time out with a shoulder injury, and everything else has come from that.  It got me the GB assessment and now I am part of the Development squad.  I get great training at GB and with my club Birtley ABC so it's all going really well."
Full results
51kg                       Stephanie Kernachan (SCOT) lost (split) to Helen Jones (WALES)
64kg                       Sean Spence (SCOT) defeated (unanimous) Ryan Hart (ENG)
60kg                       Hannah Robinson (GB) defeated (unanimous) Kimberly Rowe (ENG)
75kg                       Lewis Richardson (GB) defeated (split) Ramtin Musah (ENG)
51kg (Youth)        Chloe Watson (GB) lost (unanimous) to Simran Kaur (ENG)
69kg                       Harris Akbar (GB) defeated (unanimous) Tyler Jolly (SCOT)
69kg                       Omarah Taylor (GB) lost (unanimous) to Laura Stevens (ENG)
52kg                       Kiaran MacDonald (GB) defeated (split) Matthew McHale (SCOT)
81kg                       George Crotty (GB) defeated (unanimous) Patrick Allen-Cripps (ENG)
91kg+                     Courtney Bennet (ENG) defeated (split) Nic Campbell (SCOT).