Emotions run high at superbly-attended Jude Moore Memorial Show
April 3, 2023 | by Matt Halfpenny
More than 250 people attended the Jude Moore Memorial Show last night (Sunday 2nd April) at Mangotsfield School, Bristol, which the late boxer attended as a pupil.
There was total silence ahead of the 14 bouts and four skills contests as Western Counties regional secretary Mike Hemming rang the traditional 10-bell salute that has been rung at tournaments all across the country in Jude's memory.
A massive round of applause followed, and there were emotional scenes as all joined in to sing along to the Beatles' 'Hey Jude'.
There was also a great reception for Jude's brother Ethan himself a former double National champion, and junior European silver medallist.
The Mayor of Bristol Marvin Rees and former WBC World Supermiddleweight champion Glenn Catley – who boxed each other twice many years ago, were on hand to present the prizes (pictured bottom) – and watched their sons, Caleb Rees and Riley Catley, both take wins.
Craig Turner, Jude's Head Coach at Downend ABC, said: "Mangotsfield School were quite simply outstanding supporting us to put the event together and we are hugely grateful.
"We are just amazed by the support and generosity from the clubs of the Western Counties, as well as Hoddesdon and County Wexford.
"It was a very emotional day and a wonderful event, though clearly one that I genuinely wish didn't have to take place."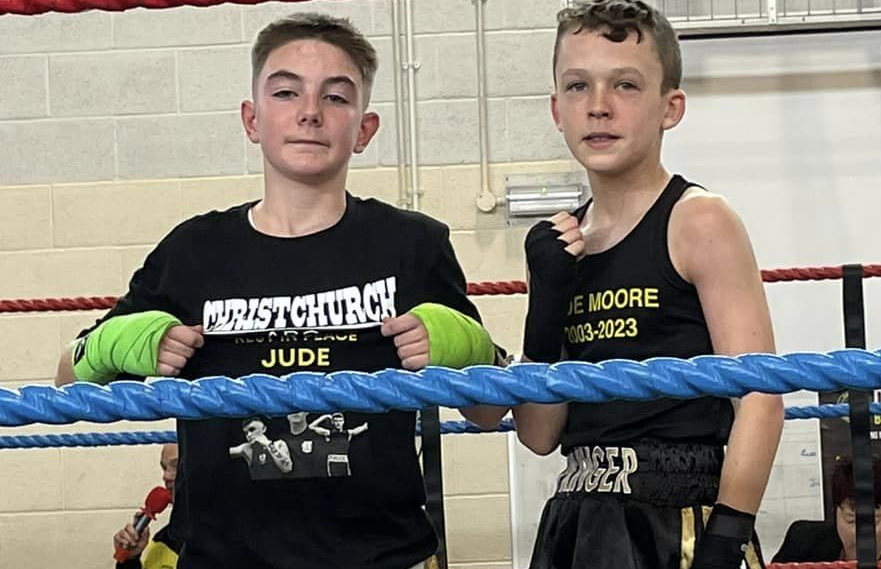 Bout results (Downend boxers listed first)
Skills Contests
Archie Caswell v Roy Issacs (Crewkerne)
Finley Haskins v Audie Thurlow (Cwmbran)
Carter Slocombe v Noah Mooney (Pyramid)
Rio Toomey v Nathan Shaddick (Weston Warriors)
Bouts
Lacey Holloway beat Ebony Isaacs (Crewkerne) on points.
Oscar Merrywether (Weston Warriors) beat Daniel Chadney (Cwmbran) on points.
Kadon Smith lost to Kian Krauze (Caerau Dragons) on points.
Rudi Watts beat Archie Killone (Devonport) on points.
Tommy Pring lost to Archie Cross (Christchurch) on points (pictured above).
Caleb Rees beat Jamie Searle (Wells) on points.
Vinnie Bush lost to Ryan Alderidge (Sturminster Newton) on points.
Mackenzie Lawrence beat Drew Hammett (Cwmbran) on points.
Jack Foster lost to Jago Hubert (Kings, Devon) on points.
Chris Richardson lost to Liam Fouracres (Yeovil) on points.
Marlon Price beat Peter Solorzano (Sturminster Newton) by a KO.
Jodie Horton lost to Chloe Poole (Blake) by a RSC.
Nick Wilkinson lost to Samuel Stringer (Hub) on points.
Riley Catley beat Fin Addiscott (Kings, Devon) by a DSQ.