Development Championships 2019 Finals – day one round-up
October 26, 2019 | by Matt Halfpenny
Rosanna Brunwin boasted the biggest smile in Banbury after clinching what she described as a 'life-changing win' to claim a maiden Female Senior Class A title at the England Boxing National Development Championships 2019 Finals.
The Under 64kg boxer had been living on the streets as recently as three years ago before using boxing to help turn her life around.
She joined the Total Boxer gym in North London and has since lost 23 kilos and enjoyed her journey so much that she has been eager to compete.
So it was a thrilled Brunwin that clinched a unanimous points victory over Hook and Jab's Charleigh Carters to underline her remarkable progress.
"It was an amazing experience and I'm so pleased to win," she said. "Boxing has changed my entire life and I didn't think I would ever do something like this.
"I was homeless three years ago and only started boxing two years ago and now I'm a national champion! It's the best thing ever.
"I booked a boxing class eight times and cancelled it because I was so nervous to go but, once I went, I just really enjoyed it.
"I've lost 23 kilos doing this, got sober and done all this with the help of my club, Total boxer, who have been fantastic."
One of the lightest bouts on show was the Junior Class A Under 38kg match-up between Alex Hubery and Jenson Williams.
It was the former, from Shildon, who dug deep to get the better of his Hall Green opponent and secure a split decision.
He said: "I knew I had lost the first round. He was a good boxer who picked me off, but I decided to come forward more after that, which helped me to win.
"It's unreal to have won this title. I have worked hard for it and I can't wait to show off my medal at my club show which is coming up."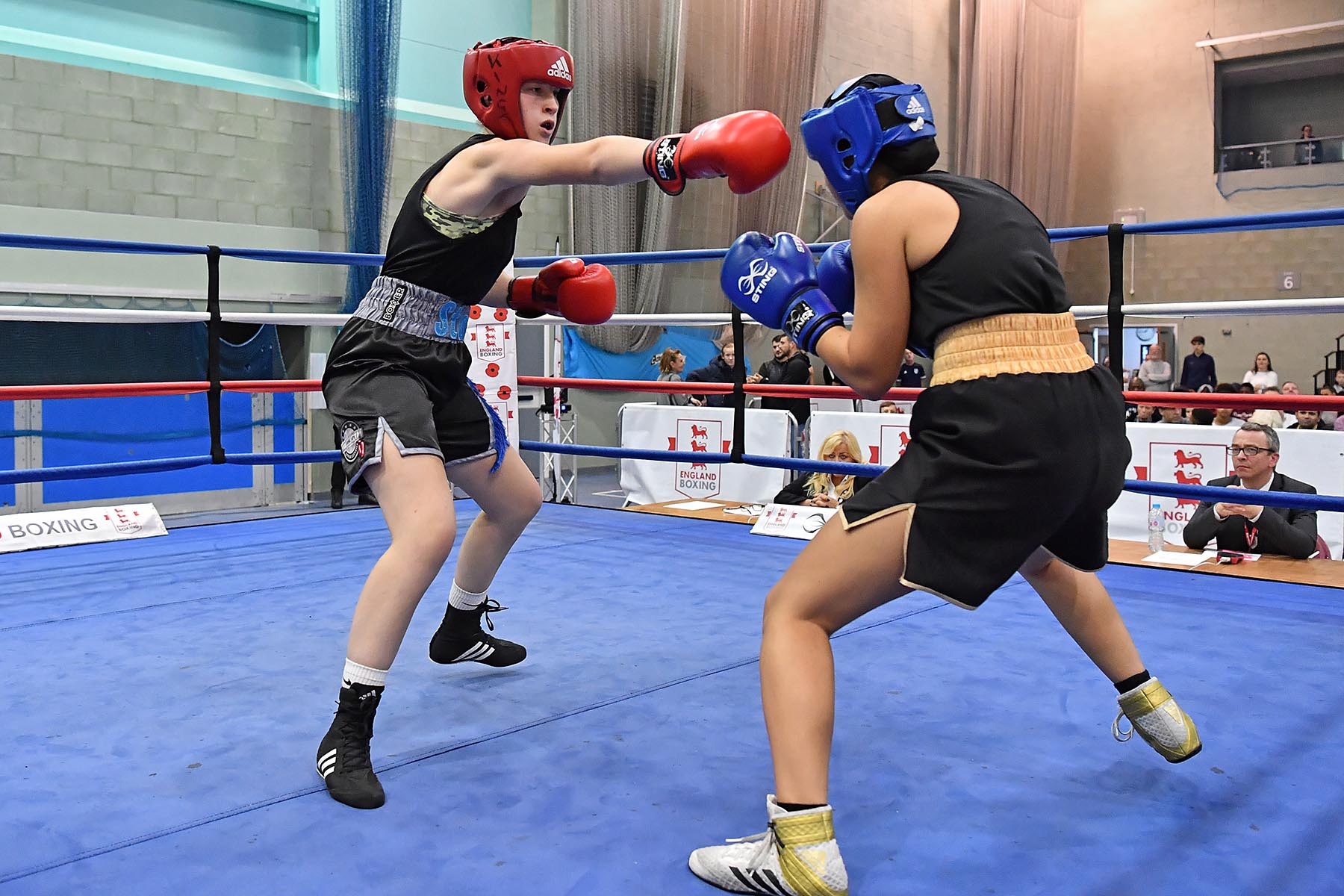 Things proved to be a lot simpler for City of Leicester boxer Storm Jordan, who showed her power in overcoming the Jewellery Quarter's Ella Lakin.
She forced the referee to stop the Female Junior Class A Under 63kg contest, backing up the confidence she had in clinching victory.
"I felt I boxed really well and that's the best performance I have put in," said Jordan. "It was probably a bit easier than I thought it would be in the end.
"I train four days a week, sometimes five, and I really enjoy it. This is the best thing I have ever done."
There were no punched pulled in an eye-catching bout between Kings Heath's Harvey Fletcher and Strike 06's Saqib Mehmood at Junior Class B Under 60kg.
After a ding-dong contest, it was the Midlands boxer who was awarded a split decision in what he admitted was a close-run thing.
Fletcher said: "It was a great bout to be involved in and one of the hardest I have had. I had to go through my paces to get it, but I'm happy to have done what I needed to do.
"I can't describe just how much it means to be a national champion – it's the best feeling in the world.
"I've been putting in non-stop training for this and haven't been out and seen any of my mates. I've sacrificed a lot, but it's all been worth it."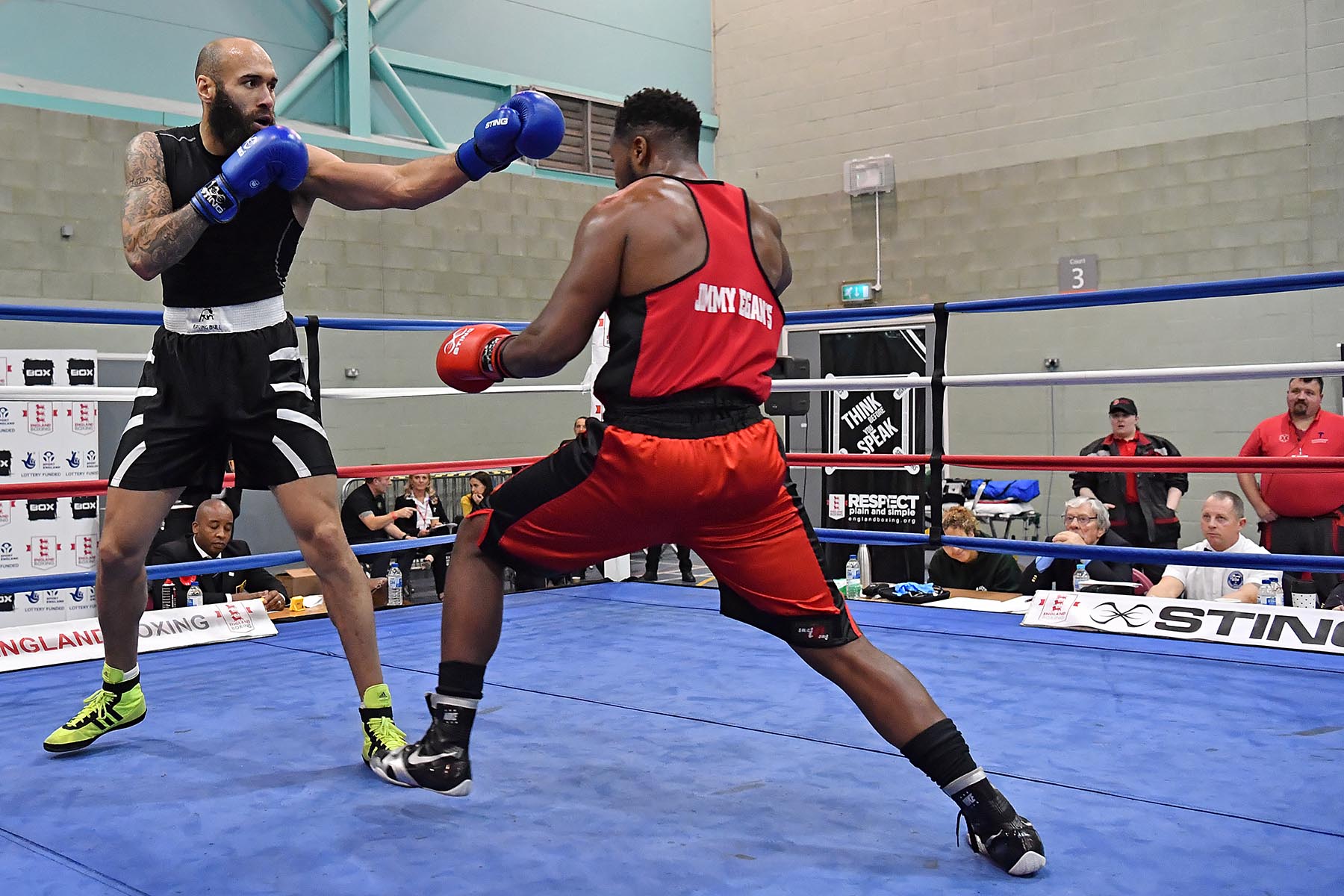 For Lewis Oakford, the moment of victory meant so much that the High Wycombe boxer sank to his knees.
His win came by way of a split decision as he saw off Marvin Tomlinson, of Jimmy Egan's, in a Under 91kg contest.
"All the hard work has paid off for me by winning that title," he said. "I'm really happy.
"It was a tough bout, he came to win, but I managed to get the job done and it's onwards and upwards for me now.
"In this sport you have to put the graft in even though sometimes it doesn't always come off, but I got my rewards today."
For Senior Class B Under 56kg champion Nyall Berry, his success, he hopes, is only just the start.
He was a split victor over Islington's Ruhel Miah, but has grander designs as his career unfolds.
"It feels great to be national champion. I thought lost the first round, but that the second and third were mine. In the third round I thought I got in the more telling shots.
Berry said: "I'm hoping to use this as a springboard now because I want to turn pro in the next two years, so these next two seasons are going to be bust and a lot of hard work!"
Elsewhere, one of the bouts of the day, between Purge's Josh Hargreaves and the Army's Jordan Phelps at Senior Class B Under 60kg saw the former come out on top via a split decision.
Pics by Andy Chubb