Club Case Study: Sturminster Newton working to achieve everyone's potential, in and out of the ring
December 23, 2022 | by Chris Boyd
Sturminster Newton ABC is currently stronger than ever, boasting West Counties, National and European champions alongside their community initiatives that involve helping school students, social issues and beyond.

The beginnings of Sturminster Newton ABC
The old Sturminster Newton boxing club closed in 1996, however, this was to only be a temporary hindrance to the Dorset town. By 2001, now chairperson Shaun Weeks was convinced a boxing club should re-open. Weeks found a suitable venue, called a few old friends and managed to acquire some old punch bags and a few pairs of boxing gloves.
By March of 2001, the Sturminster Newton Amateur Boxing Club (SNABC) proudly opened its Ricketts Lane Scout Hall doors to the local public. The response from the community was inspiring. It wasn't long before enough money had been raised to buy new bags and sparring gloves and the club was attracting good numbers. In November 2001, Ryan Poole became the first boxer to represent the newly established club in national competitions and in the 2003-04 season, Tom Brown became the club's first Western Counties Champion. At the time of writing, the club has 41 Western Counties Champions.
As club numbers increased, Weeks started to look for larger and more permanent premises. An old school friend, Stuart Sheppard, suggested Shaun look at his family's units on the Butts Pond Industrial Estate. The units offered a large, open space with a mezzanine floor, perfect for a boxing club. In 2009, Shaun's vision became reality and the club moved into their new home. There was to be no more putting the bags and sparring ring up and taking them down again at the end of each session.
Since then, SNABC has grown to become one of the best-equipped boxing facilities in the country. There are punch bags and pad work areas; cardio, strength, and conditioning areas; separate male and female changing facilities with showers and a fully equipped kitchen. And that's just on the first floor. Upstairs are three permanently fixed sparring rings, with space for technical work and up to seven rings when hosting inter-club sparring.
Even though the club is situated in a small market town in rural North Dorset, its facilities and top professional coaching team have helped achieve national and international success. In 2014, SNABC introduced a 'Fun Box Club' for five to nine-year-olds. The session aims to make training and achieving weekly boxing certificates enjoyable and fun. By 2016, the club saw the fruits of the class, as Joshua Brady was crowned a national champion.
The club has continued to claim success over the years, with twelve of the club's students taking part in national finals. SNABC's latest national champion is 'Pocket Rocket' Ruby Else-White, who won the championship for a third time in 2022, following victories in 2019 and 2021. Also in 2022, the club proudly saw another member, Lewis Rose, win the National Youth Challenge Belt.
SNABC has had four boxers represent England with Patrick Everett, Naomi Avery, Lewis Rose and Ruby Else-White all boxing in the Three Nations for England. Patrick, Naomi, and Lewis won silver medals while Ruby became the club's first tri-nations champion in 2022 and went on to box for England at the European Championships in Italy this September. Despite being one of the youngest competitors in her age group and fighting against some very tough opposition, Else-White won gold in a very proud moment for Ruby and SNABC. Sturminster Newton has a European Champion amongst its ranks.
2022 has been the club's most successful year so far, with a Schools National runner-up in Joe Jeff, a Youth National, Tri-Nations runner-up and Challenge belt champion in Lewis Rose, and a Junior National, Tri Nations and European champion in Ruby Else-White.

Success outside of the ring
In 2019, the club was proud to announce that it had been accredited as an England Boxing Education Centre, and now hosts Level 1 & Level 2 coaching courses along with safeguarding and first aid courses. The club is also regularly used for Dorset Squad training and at times for Western Counties Squad training, while it also has a dedicated team of seven England Boxing qualified coaches.
The club is constantly improving and now runs a range of training classes and mentors students. Sturminster's coaches often go above and beyond to provide support for their students during challenging times. Shaun has been to three of the local secondary schools in North Dorset to help students who are struggling – whether that be with their behaviour, attitude towards the teachers, schoolwork, or dealing with bullying issues.
Many students even find themselves joining the club to gain confidence. A father once brought his son to the club shortly after he started secondary school, following a phone call in which the school had asked if his son could speak. After years with the club, the boy left year 11 as a member of the school council.
SNABC has close ties with its local secondary school. An initiative has grown out of this, and one class is brought to the club each week as part of their enrichment programme. 2022 has seen it move into its second year and the club has now offered to give youngsters from all school years the chance to try out the sport. After five or six students joined the beginners club, three have gone on to box competitively for the club.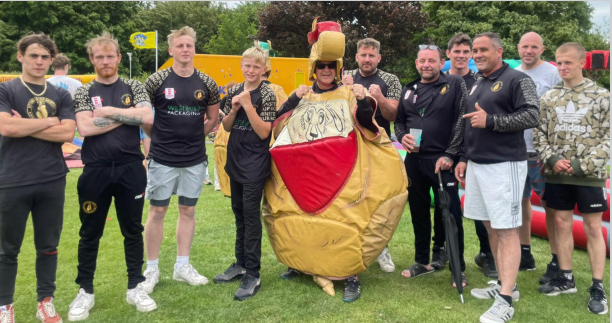 Community care
Sturminster is a strong advocate of 'Knife Crime Matters', which creates awareness of knife crime, and the causes, risks, and consequences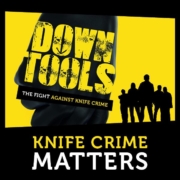 associated with the issue. The club works to educate members on the severity and danger of carrying knives and how a situation can quickly become serious. The club has also signed up for the 'Knife Crime Matters' programme, a nationwide education programme that is run throughout secondary schools up and down the country.
Furthering its commitment to the community, in the Summer of 2022, the club sent a team of young boxers, and some of the coaching team, to do litter picking in the town. They also entered a team of boxers and coaches into the local village fete, 'It's A Knockout!' competition, as well as their 'Tug of War' competition. The club was also pleased to recently showcase a boxing demonstration at a Town Council run event in the local Civic Hall.
Sturminster Newton has transformed young lives, both in and out of the ring, for over twenty years. As we head into 2023, it's clear that their commitment to this hasn't wavered.