DiSE programme hub spotlight: UCB
December 27, 2019 | by Matt Halfpenny
England Boxing's Diploma in Sporting Excellence (DiSE) programme is a two-year course which combines educational opportunities and high-performance boxing training, with students earning qualifications for their boxing development.
Here, in the first of six monthly features, we take a look at the DiSE's Midlands hub, the University College Birmingham, which can already boast a number of success stories.
About DiSE's University College Birmingham (UCB) hub
University College Birmingham (UCB) has been a successful hub for boxing for several years, supporting well known boxers to progress into the elite sporting environment.
UCB is striving to support boxers from a diverse range of backgrounds and is determined to be the central hub and pathway for talented young boxers.
Consequently, the catchment area is diverse and the hub has students that are committed to the programme, travelling daily from across the country from as far as Lincoln, Stoke and Malvern.
The lecturing team is headed up by Ivan Cobb and the delivery of the additional courses is supported by experienced staff at UCB.
Strength and Conditioning is delivered by a resident BoxED tutor and supported by the HE Sports Therapy team, providing sports massage and therapy to students.
DiSE programme structure at UCB
The programme is unique in its structure and combines the Level 3 DiSE (Diploma in Sporting Excellence), with NCFE Level 2 Fitness Instructor and NCFE Level 3 Personal Trainer and coaching awards.
It is designed to provide options and progressions, such as employment in the fitness industry or progression into University and Higher Education.
Currently, UCB boxers have also been employed to work in the boxing gym alongside their studies. Several students have directly progressed onto degree courses in Sports Therapy, Sport & Fitness, Strength & Conditioning and Sports Management.
In a typical week, students will take part in a minimum of three boxing sessions per week, in addition to one strength and conditioning session per week
Also included are theory-based sessions which may be a combination of classroom, workshop or practical delivery.
As UCB is an educational institution,  it often invites guest lecturers attend to deliver specialty subjects. For example, recently all boxers took part in delivering a urine sample to assess hydration for performance. To support development and understanding, students will often visit and take part in activities within elite sport settings, with Leicester Tigers and St George's Park among those previous venues.
Students also get the opportunity of work experience overseas and regularly students work as Lifeguards or Sport Animators in European destinations to include Cyprus and Malta.
Recently, a hydrotherapy session at St George's Park involving contrast bathing to support recovery. These enrichment activities help develop understanding and employability.
DiSE UCB alumni
Carl Fail, who was able to successfully juggle his academic course and his sporting abilities, excelled on the international stage and gained a place on the GB podium squad. During his time at UCB, he won Engkadn Boxing National Youth Championships, as well as the England Boxing National Amateur Championships (Elites) title at 69kg.
Ben Vaughan, a highly-talented boxer, started the DiSE programme with a wealth of experience and over 50 bouts on his record. While studying at UCB, Ben boxed for England and achieved a place on the team to compete at the Youth Commonwealth Games in the Bahamas. Following UCB, Ben joined the Army as a volunteer solider and competed as a military boxer.
Paige Goodyear is a proclaimed female boxer who achieved a World Youth Championship bronze medal boxing for her country in Hungary in 2018. She reached the final of the England Boxing Women's Winter Box Cup 2019 at Elite level and is a trainee manager.
Current DiSE UCB students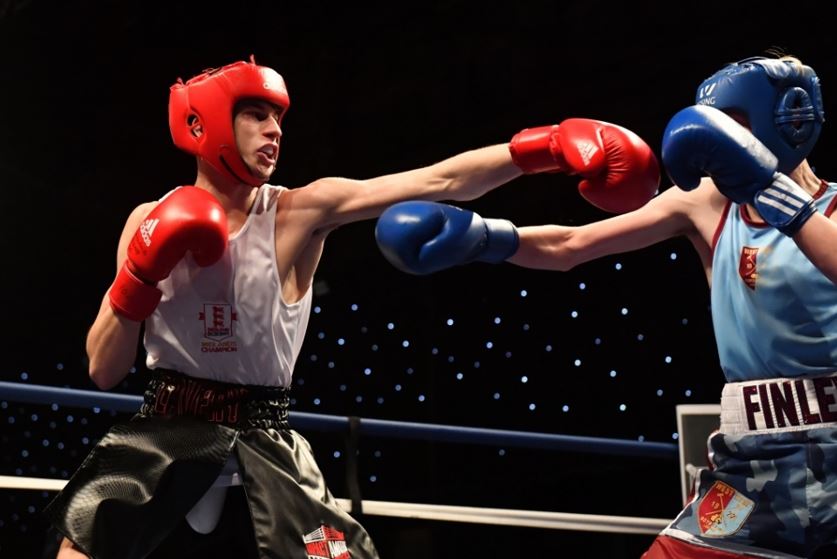 England pathway boxer Cameron Lavery, who recently achieved a silver medal in the Odivelas Box Cup in Portugal is a current student.
In 2019, Cameron represented England Boxing in the European Junior Championships in Romania. Currently, having won the England Boxing National Junior Championships earlier in the year. He also went on to become GB Junior Three Nations champion.
In addition to England pathway boxers, UCB supports young boxers that may not yet have been recognised currently by the England Talent Pathway but have the potential to do so in the future.
UCB Head Coach
Ivan Cobb combines his UCB role with that of an England Boxing Assistant Performance Coach for the Youth, Junior and Schools teams, which claimed 27 major medals in 2019.
He works closely with England Talent's Performance Coach Mick Driscoll and Development Coach Amanda Coulson to help school the next generation of international boxers.
He said: "The programme looks to develop characters, personalities and sportsmanship.
"Our success stories are individuals that develop into great individuals that are positive in all aspects of society. On that regard, our results will truly be judged in 20 years' time."
UCB BoxED Tutor
Mathew Close is currently completing his masters degree in Strength and Conditioning.
He said: "Effort never betrays you. Where you invest your time and effort the rewards will follow.
"Prospective boxers should join the programme at UCB if they are striving to be the best in their field.
"This doesn't mean you have to be a champion, but you should have the enthusiasm and dedication to be the best that you can be as a student athlete."
The UCB DiSE logo
The BoxED title and logo was designed when UCB decided to redevelop the programme and course structure at its DiSE hub. The logo stands for Boxing Education / Boxing ED Bilbey.
The design incorporates the silhouette of former boxers (Ed Bilbey) who unfortunately lost his life doing what he loves best. Ed was a talented boxer that possessed all the key characteristics that the programme stands for and he will always remain part of the UCB Boxing family.
Find out more
If you are interesting in joining the DiSE programme in 2020, click here for more details and to access contacts.