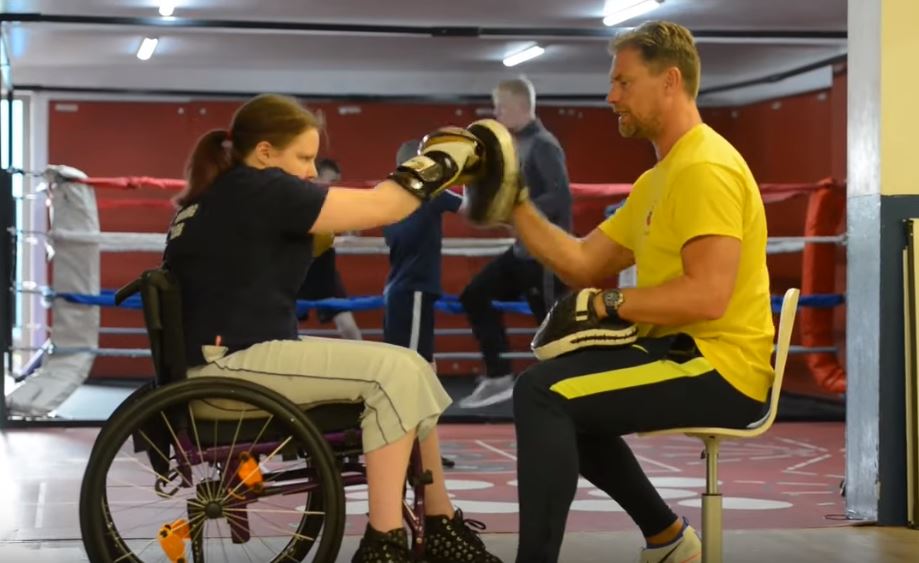 Warley ABC coach aims to inspire at Accessible Community Games
April 7, 2003 | by Matt Halfpenny
England Boxing coach and full-time wheelchair user Wendy Hurst aims to inspire people in her community who are living with physical, learning and sensory disabilities to take up a physical activity.
The Level One coach is a member at Warley ABC, which recently became an England Boxing Community Inclusion Club and she will lead sessions in the club for anybody with a disability and/or health condition.
Wendy will also be representing the Midlands club at the Accessible Community Games, delivering a variety of easy, non-contact boxing, stretches and movements for families to take part in.
The Accessible Community Games are a series of sporting events run across the West Midlands and South Staffordshire, with this edition taking place at BMET College, Sutton Coldfield, 34 Lichfield Road, Sutton Coldfield, B74 2NW on Friday 14th April between 12noon and 4pm.
They bring together families and local sports clubs in a friendly community setting, to create opportunities for families to try different sporting activities regardless of age or ability.
The aim is for both children and their parents to be able to experience clubs and sporting activities that are on offer in their local area; all in a safe, fun and friendly environment.
For more information about the event, click here.
Wendy also runs an online community called Sit to Fit where her motto is "If you can sit, you can get fit".
She added: "I began the group at the beginning of the first COVID Lockdown in 2020. This group exists to help wheelchair users and the less mobile keep fit and active.
"I offer boxercise-style classes and general fitness classes which can all be done seated! In a wheelchair, on your kitchen chair or on the corner of the bed – if you can sit there, you can get fit there."
For more information on Sit to Fit, email Wendy on: sittofitwithwendy@gmail.com and like https://www.facebook.com/teamwarley on Facebook.