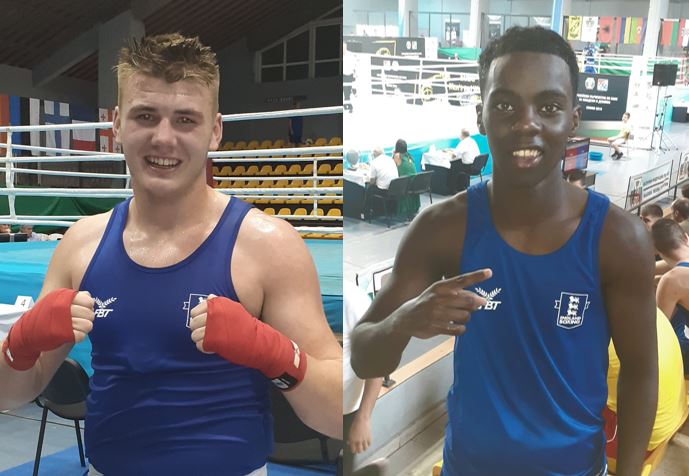 Trio's victories means seven reach semis
September 8, 2019 | by Matt Halfpenny
England's males secured three more bronze medals on day five of the EUBC European Youth Championships 2019, meaning seven boxers will compete in tomorrow's (Monday's) semi-finals.
After Saturday saw a quartet of females earn a place in the last four, three out of four wins from the boys in Sofia, Bulgaria leaves half of the original 14-strong squad still in the tournament.
Pinewood's Adam Azim bedazzled his Georgian opponent, Shalva Sajaia, with well-placed shots and great movement to book his place in the last four of the 60kg division, claiming a unanimous 5-0 points win.
With his quarter-final bout in the balance, Repton's Adan Mohammed pulled out all the stops in the final round to take a close 3-2 split points verdict over Ireland's Dean Clancy at 56kg.
Super heavyweight William Howe (91kg+), of Natural Progression, secured his bronze medal with a shut-out 5-0 points win against tough Albanian Arbi Haxhiu.
It was not to be for Leigh's 49kg boxer William Hewitt, however, as he ran into a strong switch-hitting Russian southpaw before going down 5-0 on points, but he has nevertheless gained valuable experience in his first ever major championships.
Revised schedule
Monday – semi finals – session 1  – 2pm (12 noon UK time)
51kg – Simran Kaur (Kings Heath) v Viktoriia Fabuliak (Ukraine), ring B bout 2.
60kg – Caroline Dubois (Repton) v Amina Abramova (Ukraine), ring A bout 6.
64kg – Gemma Richardson (Scunthorpe) v Eveliina Taimi (Finland), ring B bout 5.
81kg – Emily Asquith (Bridlington) v Saltanat Medenova (Russia), ring A bout 10.
Session 2 – 6pm (4pm UK time)
56kg – Adan Mohammed (Repton) v Vsevolod Shumkov (Russia), ring A, bout 3.
60kg – Adam Azim (Pinewood) v Igor Kovtun (Ukraine), ring B bout 4.
91+kg – William Howe (Natural Progression) v Aleksei Dronov (Russia), ring B, bout 9.