Tackling Inequalities Fund: How we've benefited – Norwich Lads
October 27, 2020 | by Matt Halfpenny
Securing a Sport-England funded Tackling Inequalities Fund grant has been critical in helping Norwich Lads stay open during the Coronavirus Pandemic, says the club's Vice-Chairman Colin Bates.
xxxxx
Apply for Tackling Inequalities Funding
At the beginning of August, Norwich Lads were notified about the England Boxing "Tackling Inequalities Fund. We had, at that time, just re-opened our doors to a limited number of carded lads whom we aimed to get competition fit for when we can enter competitive bouts again.
We had it in mind to open a girls-only Boxercise night, intended to a provide a pathway into regular boxing sessions. Now, we run a ladies night on a Tuesday with a core group of regular (and enthusiastic) members.
Whilst the focus is on fitness, these sessions give our girls and ladies the benefit of qualified coaches imparting boxing skills at an early stage of training. We have some mother and daughter members as well – a real family affair.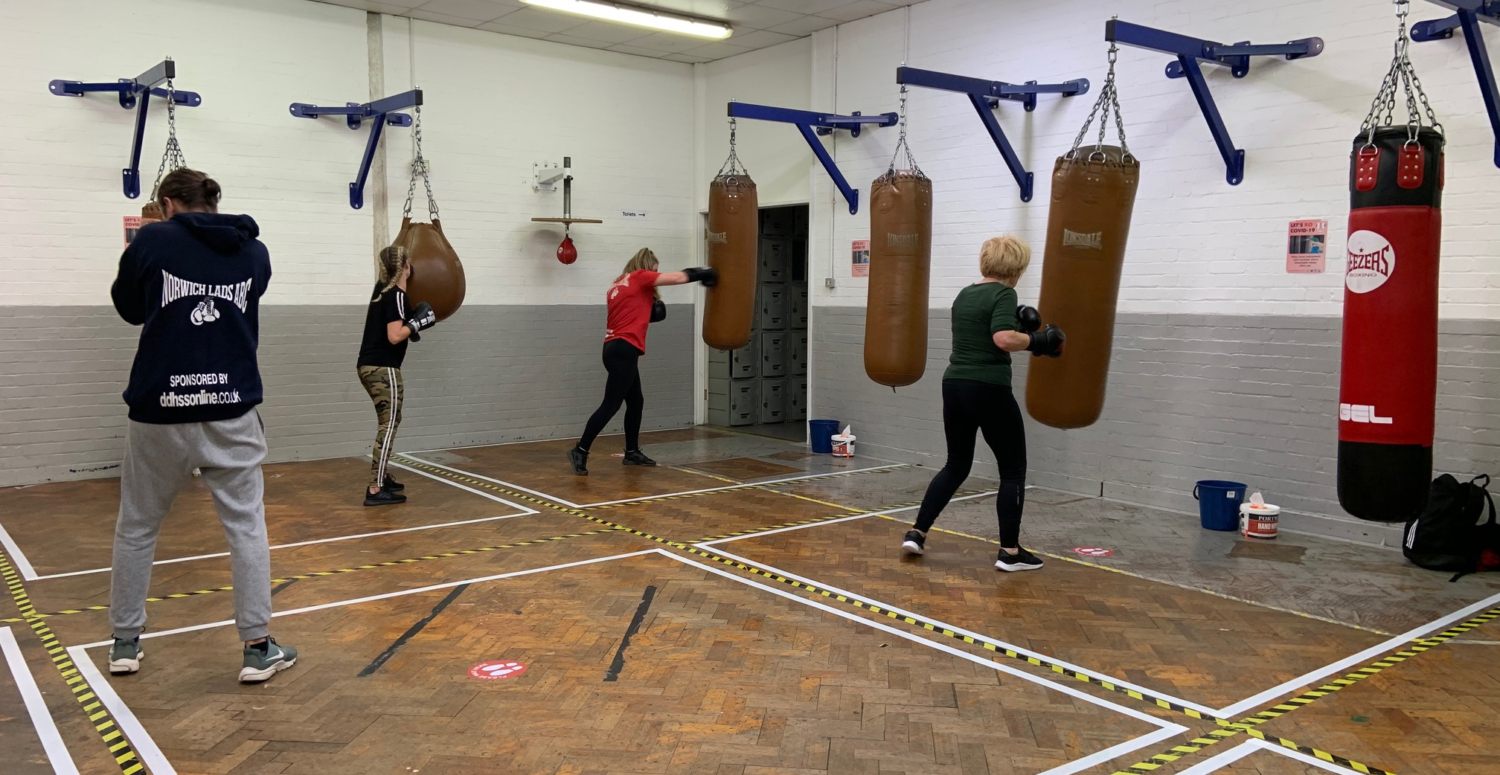 Making a difference
It's true to say that the grant has made the difference between Norwich Lads ABC being able to remain open or otherwise close during this pandemic.
With next to nothing coming in as far as subscriptions go, it has helped pay rent, insurance and meet other financial commitments at a time of unprecedented challenge for the club.
How funding helped the club get COVID-ready
Norwich Lads has spent a small fortune on COVID compliance, cleaning and improving club sanitation and hygiene. Before re-opening, the gym was thoroughly cleaned and 'fogged' and we said goodbye to insanitary kit that couldn't be cleaned.
In addition to our regular cleaning schedule, we installed hand gel, soap and paper towel dispensers.
We still operate a paper-based track and trace process using England Boxing templates, although we are on the point of adopting a new automated members' wrist tag and reader system (thank you to our friends at Attleborough Boxing Club).
And with our data hub subscription, our club is now online and IT ready. The new wrist tags can do book-ahead, online test and trace, as well as membership administration.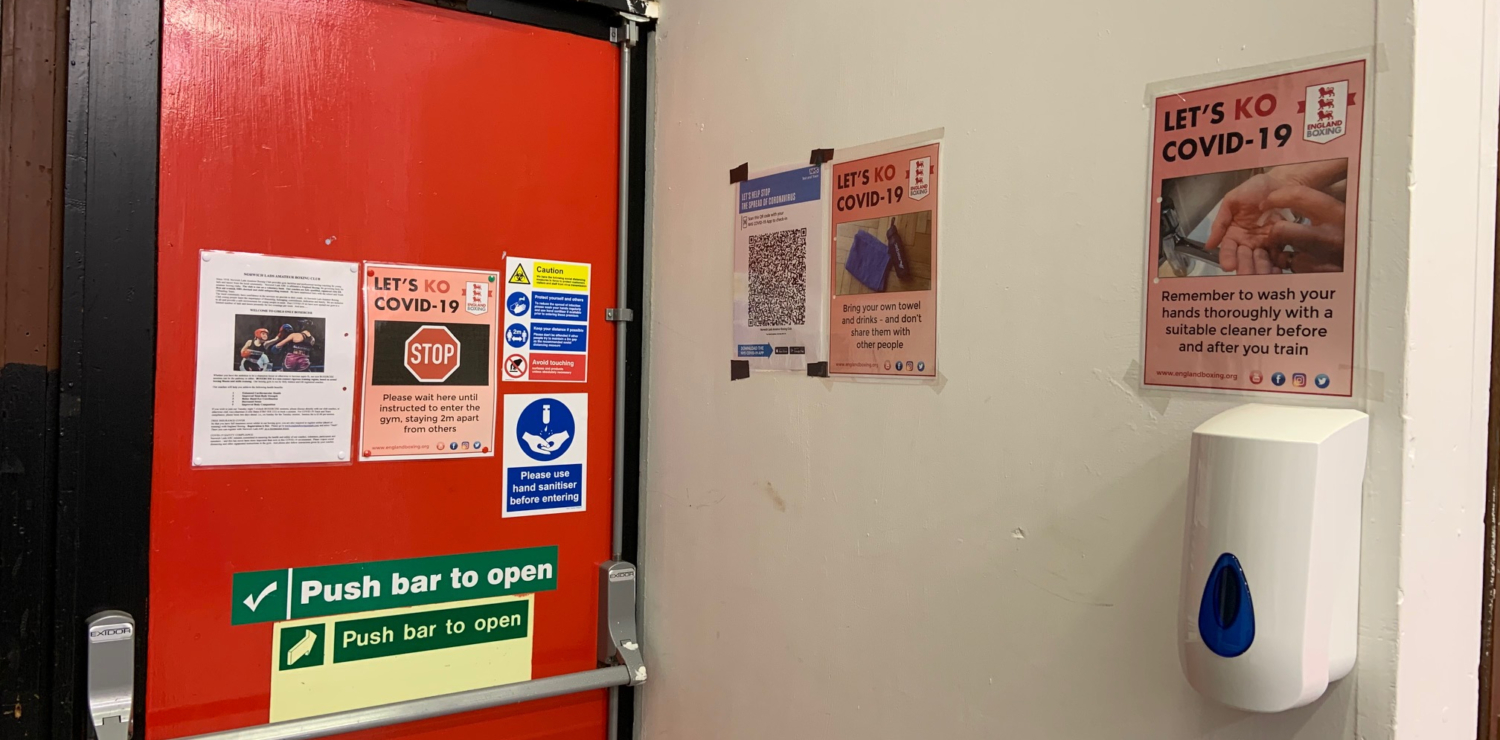 More about Norwich Lads…
Since 1918, Norwich Lads Amateur Boxing Club provides gym facilities and professional boxing coaching for young boys and girls from the local community.
Affiliated to England Boxing, he club is run on a voluntary basis. Our coaches are fully qualified, registered with England Boxing and are first aid and child safeguarding trained as well as DBS checked. We have established links with schools and the local Youth Offending Team.
The local community have confidence in the services we provide to their youth. Young people learn the importance of friendship, belonging, commitment, dedication and family.
We are inclusive to all and provide a safe environment for young people to meet. Post COVID-19, we have now opened our gym to a limited number of members, currently for two evenings per week.
What kind of influence does your club have on its local community?
As a community club, we keep the subscriptions meaningfully low and discretely subscription-free in certain domestic circumstances.
For our youngsters, it is something where they can belong and be welcomed, and that provides the opportunity to participate in a fitness sport and learn boxing skills.
A proud tradition
Norwich Lads has produced some fine boxers down the years, including Rylan Charlton, Herbie Hyde Jon Thaxton, Liam Walsh, Ryan Walsh, Michael Walsh and Sam Sexton.
About the Tackling Inequalities Fund
Roman Boxing Gym is one of more than 65 clubs in some of the country's most deprived communities to which England Boxing has distributed £150,000 from the Tackling Inequalities Fund, funded by Sport England. All clubs given grants had either received no other funding, or were in a critical situation where other funds had been exhausted.
You can find out more by clicking here, or contact the England Boxing Club Support Officer in your region.