Southern Title Belts success at HMS Temeraire
November 28, 2019 | by Matt Halfpenny
An action-packed, eight-bout England Boxing Southern Area Title Belts show was hosted by the Royal Navy and Royal Marines Boxing Association (RNRMBA) at HMS Temeraire in Portsmouth on Saturday (23rd November).
All but one of the bouts were for Southern Area Title Belts, while the one that wasn't was an eliminator for a belt.
The afternoon began with a 54kg Female contest that saw the Army's Kiera Mole claim a unanimous decision over Hannah Windsor of Western Warriors.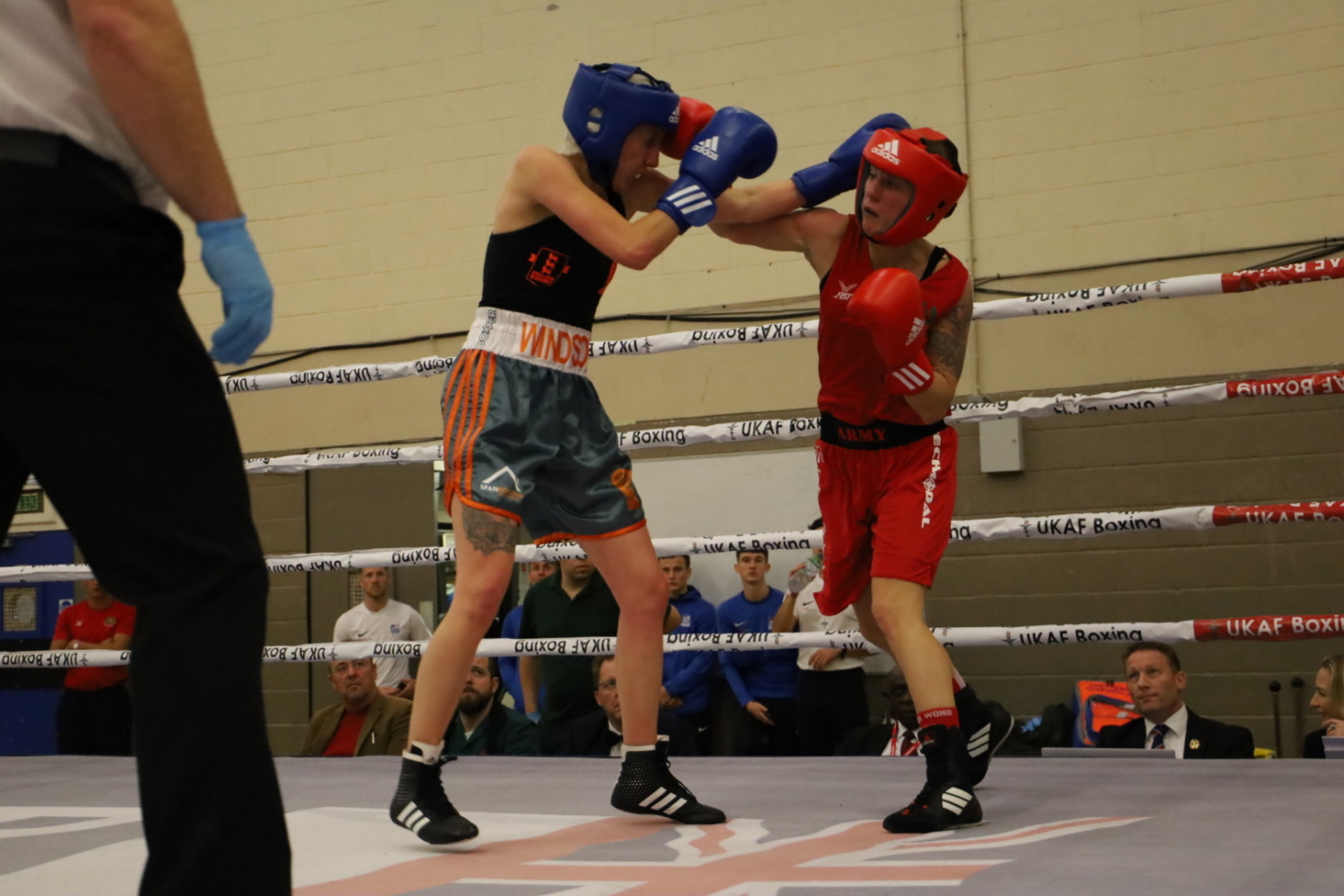 Boxing in the Male 56kg category, Sharim Khan made it successive wins for the Army as he edged out Ammo Singh of Repton 3-2.
The battle of the Driscolls at 60kg saw Finchley's Ross beat the Army's Sid by another 3-2 split.
The final bout before the interval paired Adrianne Phebey of Eastbourne with Sophie Colebourn of the Royal Navy at Female 64kg – and it was the latter who emerged a unanimous victor.
After the break, Saqib Khan of Repton came flying out of the traps as he secured a first-round stoppage success against Kieron Desmond of the Royal Navy at Male 64kg.
Two experienced performers met at Female 69kg, where Lucy Kisielewska of Eastbourne triumphed on a 3-2 split against England international Laura Stevens of Far Cotton.
The show's penultimate bout saw the Royal Navy's Luke Chapman claim a unanimous win over Eastbourne's Omid Raouf in a Male 75kg Southern Title Area Belt eliminator.
And the final match-up of the evening at 91kg brought a third Army win as Josh Woods was handed a 4-1 split decision victory over the Royal Navy's Macormack Farrell.
Royal Navy & Royal Marines Boxing Elite Head Coach Paul Ormston said: "Overall, it was an extremely successful event with some quality bouts.
"The RNRMBA are extremely thankful to be given the use of the Fleet Gymnasium at HMS Temeraire, which proved to be a terrific venue."
Another Southern Area Title Belts show is expected to follow early in the New Year.