Schools Championships 2021: semis and finals spectator info
September 16, 2021 | by Matt Halfpenny
An England Boxing National Championships reaches the semi-final and final stages for the first time in almost 17 months with the climax of the Schools 2021 next weekend – and spectators are welcome to be part of it.
Members of the public can take in the action on both days (Saturday 25th September and Sunday 26th September) at the Vertu Motors Arena, Scotswood Road, Newcastle-Upon-Tyne, NE4 7AF, with a 1pm start (12noon doors) on Saturday and a 12 noon start (11am doors) on Sunday.
Tickets are available to purchase on the day. Prices are £20 per adult, £10 per concession (over 65), £5 per child (six to 15-year-olds) and free for those five and under. Please note it is cash only and no £50 notes will be accepted.
An England Boxing photographer and videographer will be capturing footage on both days of the event that may include capturing images of spectators. By attending as a spectator, you agree this imagery can be used by England Boxing and other media outlets.
Car parking is available at the venue at a cost of £5 per car (card only).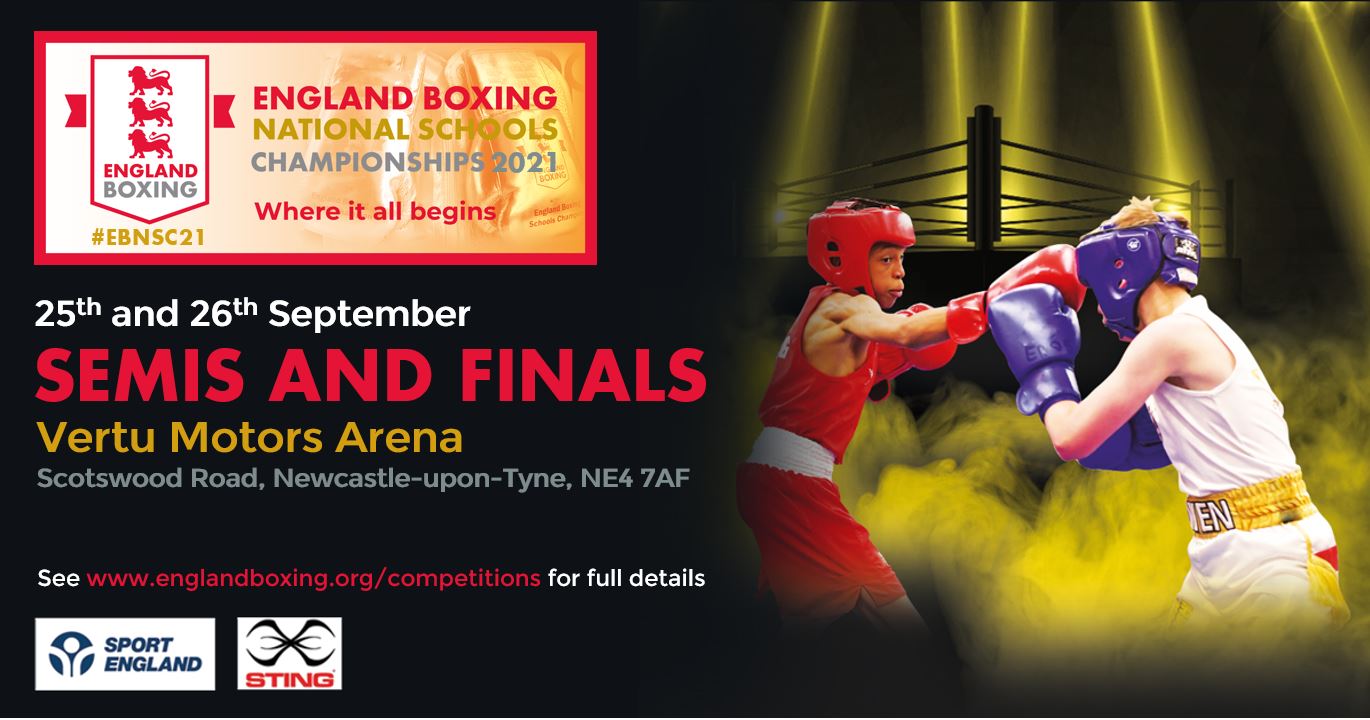 Covid-19 precautions
On instruction of the host venue, all event attendees, including boxers, coaches, England Boxing staff, volunteers, all other personnel and spectators must follow an agreed procedure as a condition of entry for the benefit of the health and safety of everyone.
If you have recently tested positive for Covid-19 and are not out of your isolation period, have been asked to self-isolate by government Test and Trace because of Covid-19 or are showing symptoms of Covid-19, do not attend the venue.
Everyone entering the building will have their temperature tested. Those with a high temperature or who are displaying obvious Covid-19 symptoms will be asked to take a lateral flow test by medics and will not be permitted to enter unless they do.
If a test comes back negative, that person can enter the building. If it comes back positive, they will be asked to leave the premises immediately and not permitted entry.
Once in the building, the venue's policy is that everyone must wear a mask while they are moving around.
Masks can only be removed while seated in the arena seating area or in the café area. This includes coaches, except once they are in the field of play when accompanying a boxer (but they must wear a mask on the way to ringside).
Further details regarding Covid-19 will follow in the event's Key Information Circular, which will be published shortly.
Live streaming
If you can't attend on the day to take in the action, then you can watch things unfold via online streaming on the England Boxing YouTube Channel, with further details to be announced next week.
Website and social media coverage
You can find out more about the England Boxing National Schools Championships 2021 by clicking here and follow the action across our social media all weekend via the hashtag #EBNSC21.