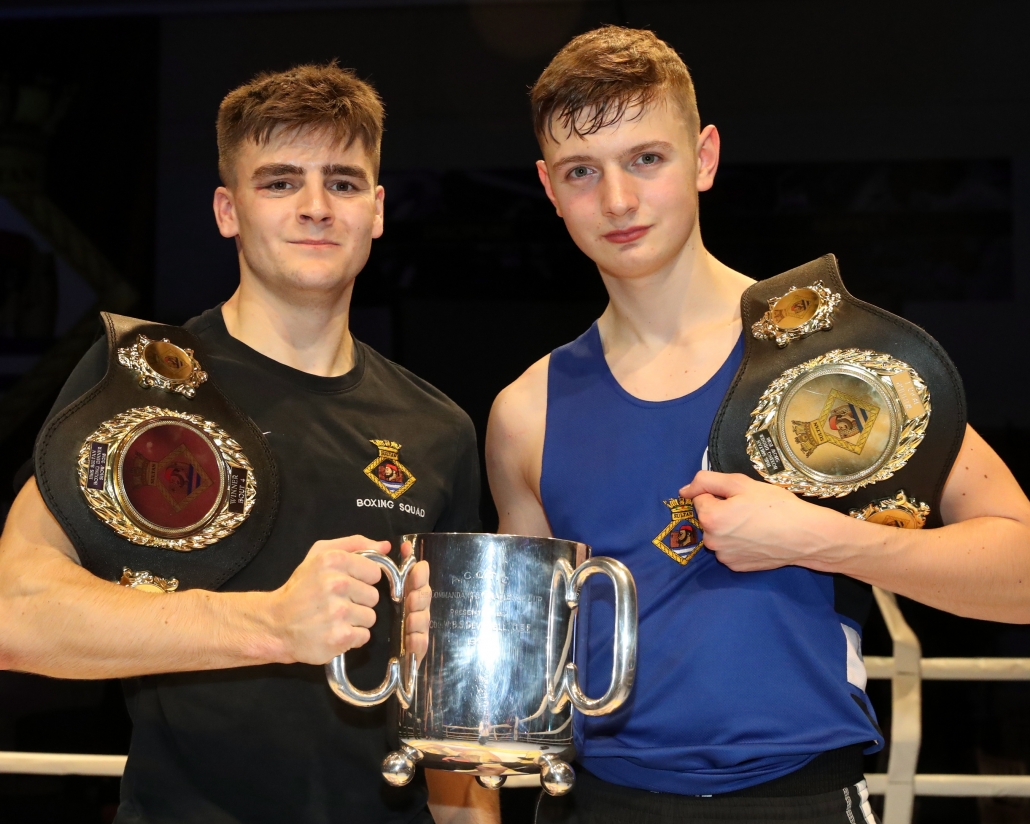 Royal Navy brothers shining in and out of the boxing ring
February 25, 2019 | by Matt Halfpenny
Two brothers from Middlesbrough are proving a success in both Marine Engineering and the boxing ring with the Royal Navy.
Engineering Technicians (Marine Engineering) Jake, 22, and Joel Murray, 17, both claimed recent victories as part of a combined Royal Navy team from HMS Sultan and fellow training establishment HMS Collingwood.
They were taking on an Army team from the Corps of Royal Electrical and Mechanical Engineers (REME), MOD Lyneham at the HMS Sultan Boxing Show.
Jake claimed victory on his boxing debut at the corresponding HMS Sultan Boxing Show in 2016 while undergoing his Phase 2 Marine Engineering training.
After serving at sea on HMS Iron Duke and Westminster, he recently returned to the ring after re-joining the Establishment for Phase 3 training to become a qualified Leading Engineering Technician.
Inspired by his brother, teenager Joel joined the Royal Navy in March 2018.
After completing 10 weeks of basic Phase 1 training at HMS Raleigh, he has just matched his subsequent success in the ring by completing 30 weeks of specialist Engineering Training at HMS Sultan – designed to prepare him for life at sea within the Marine Engineering branch – and is now ready to join his first ship HMS Prince of Wales.
Jake said: "We boxed and trained together before I joined up, but the first show I had was here in Sultan and now Joel is back here too."
"In 2016 I fought a lad from the REME who was much more experienced and had won all four of his previous fights by knockout and I went on to get a unanimous decision against him and picked up the fighter of the night award."
"It was incredible that two years later we were both able to stand in the ring together celebrating our victories."
"The Navy has enabled me to start a stable family life with my own family in Portsmouth, especially going on to the killicks (LET) course now. It's setting me up for my future as well with all of the qualifications I'm earning now at Sultan. I'm so proud now to see Joel about to head to his first ship, I know he will be great."
Joel said: "The Show was one of the main reasons that I joined. Coming down to see it actually made me want to join the Royal Navy as I wanted to be in the ring. It's been great to get a bout, and to know what it actually feels like to win for myself."
"It was tough settling in at the beginning, living away from home, but now I've started to get used to it. It's really helped having my brother here during all my training. Now I can't wait to join Prince of Wales and get out to sea. The Ship even has its own boxing squad!"