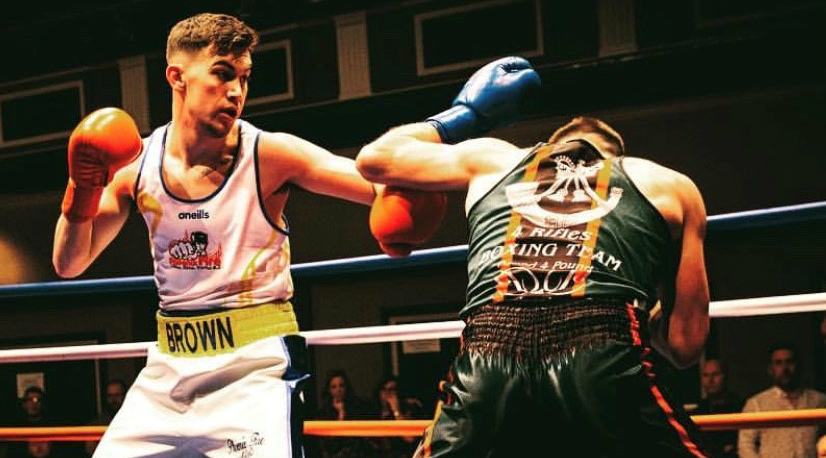 Fire's Brown to reach century of bouts
December 3, 2019 | by Matt Halfpenny
A devoted one-club man will achieve the rare distinction of clocking up 100 amateur bouts when he boxes on a home show next weekend.
Casey Brown, from the Phoenix Fire Club in Warrington, will join the century club when he takes on Knowsley Vale's  Charlie Abbott next Friday (13th December).
The achievement of the Physical Education degree student at Liverpool John Moores University is all the more remarkable given that he is still only 21 and he has never boxed internationally, or claimed a national title belt.
Instead, Brown has hit the milestone by boxing with his hometown club since the age of 10 and 'never shirking a bout'.
"I think I've had so many because I never know when to say know and take on opponents who others wouldn't step in the ring with," he said.
"I can remember in my first year at elite level I boxed Harris Akbar on the Saturday after he had found out on the Monday that he had won a place on the GB squad!
"I've boxed some really good opponents from up and down the country, including multi-national champions, and my thinking is that I will always give it a go – even if I don't win them all."
Nevertheless, Brown's record is still highly respectable, having won 60 of his bouts compared to 39 losses.
Once he has past the century mark, the man who hopes to be a PE teacher on the conclusion of his studies has another three-figure target in mind.
He also has a longer-term goal he aims to pass once he has finished competing, though admits that can wait for a while yet.
Brown added: "It's a massive honour for me to get there, not just for myself but for the club as well, because I will be the first person from Phoenix Fire to do it.
"I'd love to go on and get 100 wins in my career and I think with the years that I hopefully have in front of me I can achieve that.
"I'm just passionate for boxing – as passionate now as when I started – and that has been reflected in that I have even done my university dissertation on boxing!
"How many bouts I get to I don't know, but I will keep going as long as I can and see where that takes me.
"I said all those years ago when I first started that one day I would be Head Coach at the club and I still believe I will be because I love the club through and through.
"I started when I picked up a leaflet about the club at school and pestered my dad to go along and I was hooked. There's a great togetherness with those who box there and we celebrate each other's wins and commiserate each other after the losses.
Phoenix Fire Head Coach Damian Ridpath is delighted his charge is about the reach the accolade and says it could not happen to a better character.
While the very top honours may have eluded him, Brown's contribution to the wellbeing of the club and those who box there has not gone unnoticed.
"He's actually had 105 bouts if you count the skills bout he started out," said Ridpath, who is also England Boxing's Club Support Officer for the North West. "And there's no doubting his commitment to the club.
"He played rugby league for Warrington until he was 16 and then even gave that up because he wanted to focus on his boxing.
"He's been in with some top boxers – Ramtin Musah, Akbar, Bradley Goldsmith – but never quite hit the top level, although he has reached the national semis.
"I think that makes reaching 100 bouts as an amateur a fantastic thing to have done. Of the others who have currently done it – Akbar, Lewicki, the McCormack brothers, Mason Smith, Farrell, Lambert… they are all seasoned internationals.
"You could say Casey has done it the hard way, but he has done it with a never-say-die attitude. He is always prepared to help put others and is a real credit to the club.
"He's already a Boxing Leader and our club captain, and we're looking forward to him doing his Level One coaching badge when he gets the opportunity after finishing his studies, but  he isn't finished about to hang up his gloves yet."