Feature: How South Wye's community spirit has helped McNally become an MBE
October 16, 2020 | by Matt Halfpenny
Ask someone to explain why they have been awarded an MBE and they are often more lost for words than at any point during the many hours of selfless hard work that earned them such prestigious recognition.
But, even if it is only teased out when a half-hour conversation turns to the topic of projects he has been involved with down the years, South Wye Police Boxing Academy's Vince McNally manages to sum it up rather nicely.
"Sometimes our Muslim boxers come straight here from Friday prayers to set up for the Catholic ladies' bingo," he explains, enthusiastically. "I love that – and that we're such a big part of our local and boxing community."
When McNally's club was first established in the Hinton Community Centre in Hereford, they were tenants in a small hall to the rear of the venue, simply happy to train young boxers and help give them focus, discipline and an interest to pursue.
But around 10 years ago, when the venue declared it had run out of money – "I think they had £10 left in the bank account," he remembers – South Wye became forever intertwined in ongoing community work that goes far beyond their basic reason for being.
Eventually taking on the vacant remainder of the building, a programme of refurbishment was gradually carried out to rejuvenate it from a state of disrepair and, more recently, a full asset transfer was completed with Hereford Council.
"It was either help them with the centre, or the building was going to close, leaving us homeless," says McNally, whose honour was announced last weekend. "I became volunteer manager for the centre and I soon began to enjoy that work as much as the boxing, which now overlap so much anyway."
Since then, driven by his desire to help those less fortunate and encourage others to do the same, South Wye's Head Coach has been responsible for a whole series of projects that have bettered many lives in Herefordshire.
They have taken great pride in opening up the club to the whole community, regardless of their gender, race, sexual orientation, age or background. Their relative boxing ability doesn't matter in the slightest either.
And they have also been keen to help out the most vulnerable people in their locality, especially when it comes to helping young people from disadvantaged areas get a better start in life.
McNally explains: "Working with some of the unaccompanied asylum seekers has been particularly rewarding. Herefordshire is not a hugely ethnically diverse area, but when people have come in from outside the local community we have welcomed them into our lives and boxing family.
"No matter where you come from we feel you should be welcome – and we are a much better club for fully embracing that. People are able to learn about different cultures and beliefs they otherwise might not have come across.
"The Young Lions Awards are something that were developed by Tamworth Boxing Club and we have taken them on. It's a bit like belts in the martial arts and rewards youngsters for learning the basics, starting off with non-contact.
"It's something we've never really had before in boxing and it brings a sense of achievement and gives something to aim for and progress towards. We have helped to pilot it and it has been very successful.
"We've had summer camps with boxers from the Birmingham in danger of falling into a life of crime where they have come and trained over here at South Wye.
"Then there's the Fit and Fed project we run in the summer where youngsters from areas of high deprivation come in to train with us during the school holidays, at a time when they are not in receipt of their free school meals.
"They do a bit of boxing and then they have a healthy and nutritious meal. We gave out 880 free meals last year with the help of funding from the Maverick Stars Trust and we have done it again this year, although we had to do pack lunches instead under the circumstances."
Like everywhere in the country and across all walks of life, 2020 has brought its fair share of challenges.
First, in February, came local flooding which was swiftly followed by the outbreak of the Coronavirus Pandemic, but, as ever, solutions have been quickly sought and found.
"We are part of the community and so when parts of Hereford were under water we did our bit to help out," says McNally.
"What was amazing to see was some of our club members, who might not be the wealthiest themselves, put their hands in their pockets so they could put up elderly people who could not get into their houses in hotels.
"COVID-19 has probably has the biggest impact of anything I have seen since being involved. For the right reasons, we can't currently do the pad work, sparring or competitive boxing, but it's been a challenge to keep everyone positive, engaged and together, which we are doing as best we can.
"Earlier (in the Pandemic) we were able to give away 300 'isolation packs' containing gloves, pads and skipping ropes so that people could train at home and outside during the lockdown.
"We also put together some video training, as a lot of clubs did, to help people stay physically active.
"With the local South Wye Valley Trust capacity stretched, we were able to turn over our facilities to allow 800 patients to receive pulmonary rehab and care and treatment for sleep apnea.
"We've also been aware of the mental health challenges COVID-19 has thrown up and that's why were so pleased England Boxing has launched initiatives to help address it, including their online (Box In Mind Bitesize) courses.
"There are so many people suffering and the increased threat of suicide is a real concern, so we are trying to do our bit to look after one another."
Of the more than 200 Members regularly come through the doors, only around 20 to 25 of those are carded boxers with the rest "just wanting to belong and be part of something positive, which they very much are".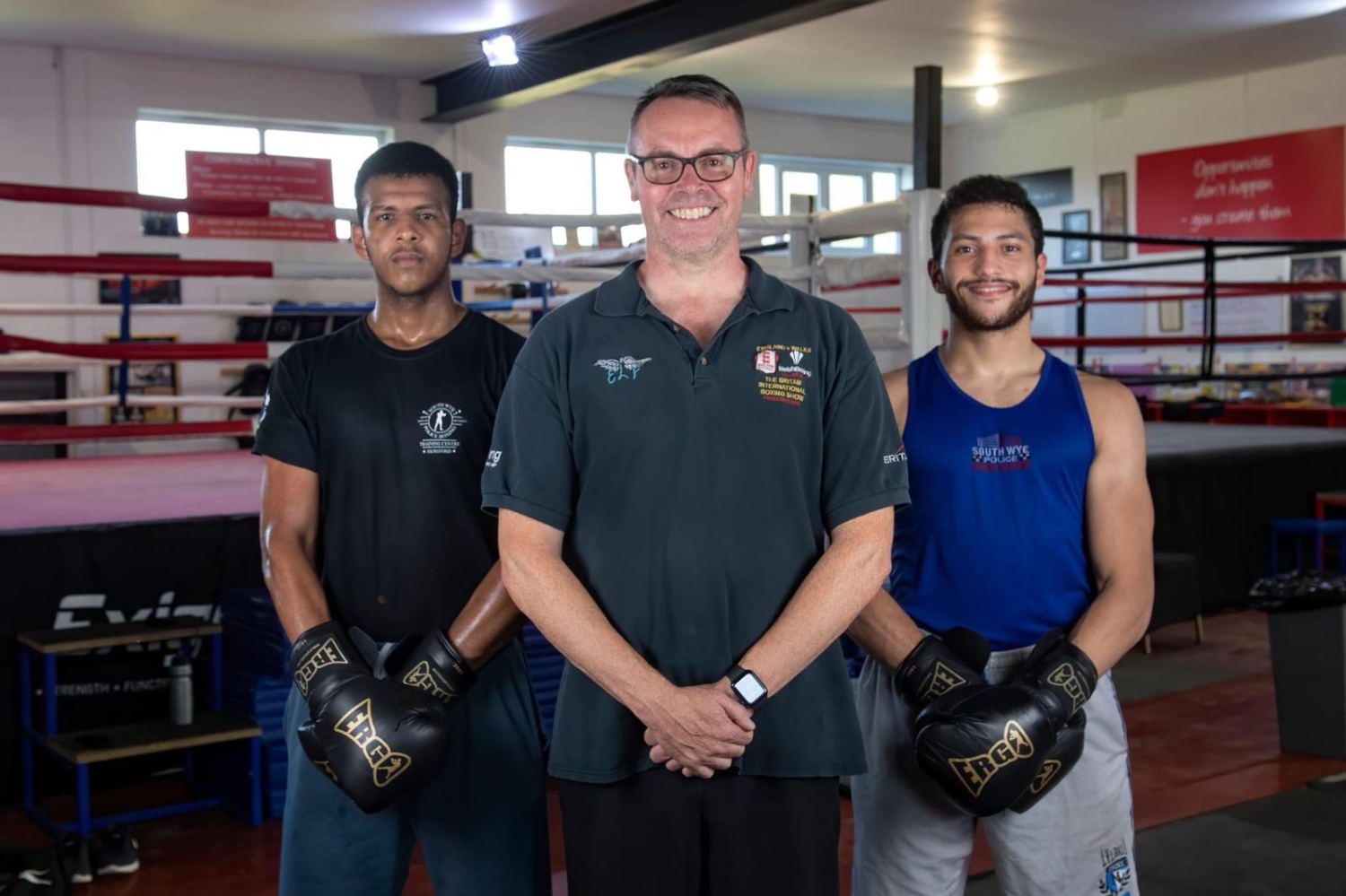 That does not mean to say the club isn't without it successes in competition, though, with Yusuf Abdullah winning a Category B National Development Championship in 2018 and Othman Said – who fled Syria after witnessing his father being shot dead by masked militia – and Rhiannon Roberts both finalists at the Developments last year.
McNally adds: "I think that if you create an environment where you are trying to help young people develop, then the rest, including having champions in the gym, will look after itself, as we have found.
"For me, I'm just as happy if a youngster learns to skip properly or learns something about the rules than if they become a champion, but it's great to see some of our talented boxers progressing to become Midlands champions and beyond."
Like many people who are recognised with Queen's Birthday or New Year Honours, McNally is a proud yet slightly uneasy recipient. It is, he is quick to point out, a team effort led by a strong group of "fantastic" club coaches whose devotion to make a difference is unquestioned.
And he insists what he is doing is no different to what boxing coaches up and down the country are doing week in, week out, regardless of whether the primary goal is to produce national champions, promote female boxing or welcome disabled participants into the sport.
"There are so many clubs across the West Midlands, and indeed the whole country, who are brilliant at what they do and are giving brilliant service to their respective communities," says McNally.
"I'm hugely indebted to Alan Keast at Tamworth and Mick Maguire at Jewellery Quarter in Birmingham who have been mentors for me with a huge wealth of experience.
"But there are fantastic clubs across the area who are only too keen to lend a hand or give a bit of advice if you need it including Paddy Benson at Pat Benson's, Frank O'Sullivan at Birmingham City, Joby Clayton at Firewalker in Wolverhampton, Tom Chaney at Hall Green… there's so many.
"We need to look after each other in these troubling times and that is certainly what clubs in the Midlands have been doing. I certainly couldn't play my part without their ideas and inspiration and it gives us much more strength. We are always looking around and learning from others."
Grounded, compassionate, focused and modest, rarely can there have been anyone more deserving of an MBE than McNally.