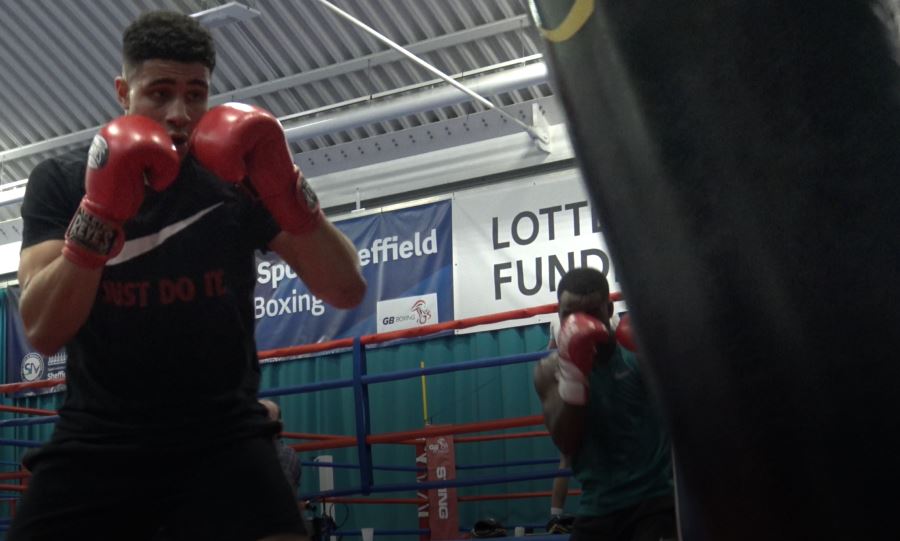 Champion Orie boosts South Wye during COVID-19
October 7, 2020 | by Matt Halfpenny
England Boxing National Amateur Champion at Over 91kg, Delicious Orie, is giving something back to the boxing community by inspiring the next generation of boxers at South Wye Police Boxing Academy.
The Jewellery Quarter boxer was a unanimous points victor in the 2019 final at Manchester Central against Hoddesdon's Gideon Antwi, but was unable to defend his crown this year because of the Coronavirus Pandemic.
However, after stepping up to train with the Great Britain squad in Sheffield, the 6ft 6ins former basketballer returns to his native Midlands to coach carded competition boxers at the Hereford club.
It has given the club a significant boost at a time when training has been limited because of the government's instructions not to contact box while attempts are made to bring COVID-19 under control.
"This has been such a positive boost in a difficult time for everyone at the club," Head Coach Vince McNally told the Hereford Times.
"It has been difficult for so many people, but we keep working hard to support all of our boxers."
Since the onset of the Pandemic, the club has built a secure outdoor training area with punchbags and lots of space, enabling more boxers to continue at a time when numbers are limited due to social distancing requirements.
South Wye have also altered training times and the make-up of sessions to ensure they comply with England Boxing and government guidelines.
They have also continued their extensive community work that has been more vital than ever during such difficult times.
McNally added: "Away from boxing we have fought hard during the lockdown to support the NHS clinic based at Hinton Community centre.
"We have now given out over 300 pairs of gloves and pads and worked with the police, Hereford Community Foundation and Hereford City Council providing over 600 meals and physical training for children during the summer in our Fit and Fed project.
"You can be sure we will still continue to provide as best we can with our facilities and our coaching team."