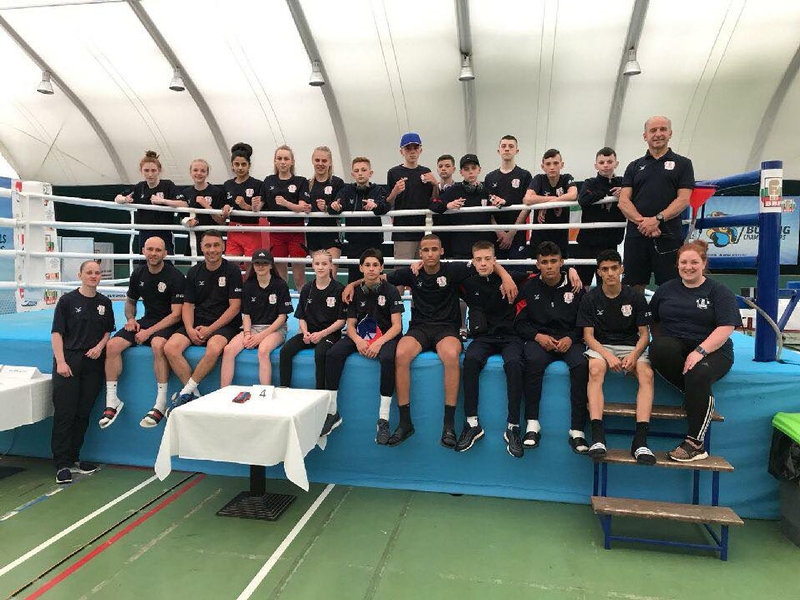 European Schoolboy and Schoolgirls Championships Updates
May 23, 2018 | by Gemma Field
European Schoolboy and Schoolgirls Championships Updates
There were four boxers in action yesterday at the European Schoolboy and Schoolgirls Championships. Three boxers came out with a win. See below a summary of the bouts by team manager Cliff Perkins.
45kg (F) Federica Lompardo ITA v Libby Ellis ENG – lost 4:1
Libby began boxing off her back foot, catching the Italian as she came . Libbys straight back-hand caught the Italian southpaw with good accuracy. In the latter part of the first and into the second Libby stepped up a gear pressing her opponent, which was matched by the Italian boxer. As she let her combinations go Libby used good footwork to avoid the counters. The last round got a little scrappy for both boxers, Libby held her shape during the Italians attacks. The bout was close with the Italian nicking a split decision.
60kg (F)  Abby Briggs ENG v Laura Moran IRL – won 3:2
Abby started the round with a solid jab into the face of her opponent, this set the scene for the round to come. The Irish girl fell forward behind her punches, when Abby got her range her stiff jabs followed by her back hand paid dividends. In the second Abby got tied up by the Irish boxer who charged forward throwing shots before holding on. The last round was a slug for both, the Irish boxer was relentless coming forward throwing punches, but Abby's straight solid punches which rocked the head back of her opponent earned her a split decision win. Abby now goes on to compete against Bianca-Madalin Vasilache ROU (afternoon 24/05)
50kg Royston Barney-Smith ENG   V Vitalie Cebotarenco MDA – won 5:0
A good start for Royston as he let his backhand go from the off. The taller rangier Moldovan had problems with Roystons speed and accuracy. Royston switched from body to head with ease, varying his punches.
As Royston moved around the ring the Moldovan was getting more and more frustrated allowing the English boxer to counter with speed and precision. This was a slick, skilful display by Royston earning him and his team another win by a unanimous decision. Royston now goes on to compete against Ladislav Plachetka CZE (afternoon 25/5)
48kg Osama Mohamed ENG  V Uladzislau Kuzniatsou BLR – won 4:1
Osama's first round was a good one, as the Belarus boxer came forward Osama picked him off with style and skill, at the same time using good footwork to avoid his opponents wild punches. The Belarus boxer who wanted a slugging match, was lost for ideas as Osama totally dominated. Osamas excellent footwork left this opponent punching air. As Osama came back in to score the southpaw Belarus boxer gave everything in the final round, but Osama stuck to the plan and came away with a split points win. Osama's next opponent is Aleksei Zhelbunov RUS (afternoon 25/5)
Today, we have four more competing:
2pm session (12pm UK time)
Bout 4 – 41.5kg Oleksandr Kobchenko UKR  V Mark Baker ENG – Ring A
Bout 13 – 54kg Amil Musaev GEO  V Matthew Knipe ENG – Ring A
5:30pm session (3:30pm UK time)
Bout 5 – 43kg Dmitri Protkunas EST  V Shane Patterson ENG – Ring A
Bout 6 – 52kg Aurel Palkovics HUN  V John Mitchell ENG – Ring B
Bouts will continue to be streamed on the EUBC Website