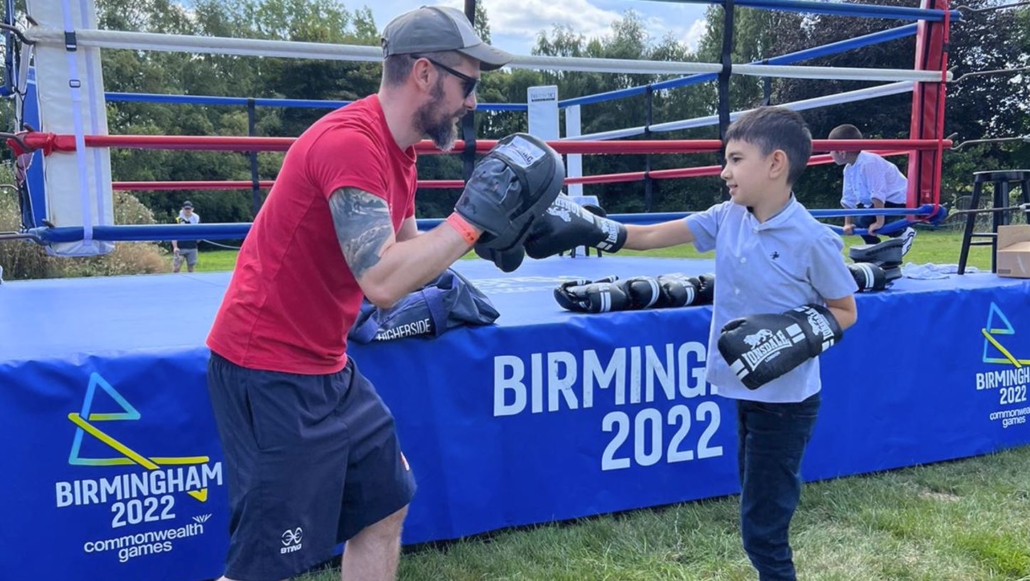 Commonwealth Games-inspired have-a-go event staged at Edgbaston
August 4, 2022 | by Matt Halfpenny
England Boxing staff have joined in with a community engagement festival across Birmingham that is marking the Commonwealth Games to give local people the chance to try out boxing padwork.
The Club Support Officer team joined up with event organisers OPUS and ring suppliers UniBox to pop up a ring – one of a number of sports to be involved.
The festival is helping to display the cultural and sporting heritage that the city has to offer.
The boxing ring was at the festival site in Edgbaston and, as well as getting the chance to put on a pair of boxing gloves and have a go, attendees could also get information and leaflets to signpost them to local boxing clubs and other outreach projects.
One major highlight was working with our partners at Bright Star Boxing Academy and Flexus Dance Collective, who put together a showcase of their boxing-themed dance show.
The spellbinding routine has also featured at the NEC in the actual ring where the Commonwealth Games bouts are taking place.
"It was so wonderful to see so many young people engaging with our sport, particularly all the young female dancers, who over the last 18 months have been able to learn the skills of boxing and the benefits that it brings, whilst also combining it with their passion for dance," said England Boxing's Club and Community Manager, Avoen Perryman.
"The coaches at Bright Star have done themselves more than proud, and the display excelled all expectations and was watched by dozens of local residents and families, who were all then queuing up to have a go on the pads and learn about their local boxing clubs.
"It was truly a privilege and a pleasure to see so many people from all different backgrounds engaging with our sport, out in the open on a beautiful Birmingham summer's day.
"We'd like to thank everyone at OPUS, Unibox, Bright Star and Flexus Dance Collective for being involved and helping to put on such an amazing event."