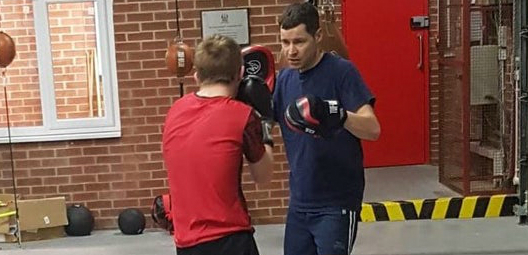 Boxing used as hook to help turn Sunderland youngsters away from knives
March 11, 2020 | by Matt Halfpenny
Young people in England Boxing's Tyne, Tees and Wear region can look forward to a brighter future after attending the Knuckle Down anti-knife crime project run by Sunderland Community Hub.
The pathway to success programme has already run for five weeks of an eight-week project although it is likely to extended for a total of 12 weeks.
The children being referred to the project have been selected by the local police's community support officers who were previously known to perpetrators of anti-social behaviour in and around the town.
They have benefited from a classroom-based lesson discussing various topics including anti-social issues such as nuisance fires, drugs, gangs and knife crime.
Those in attendance were able to give frank and honest opinions to the police about their circumstances and the area they live in, giving both parties a better understanding of each other.
An average of 14 to 16 young people have taken part each week, with an accompanying boxing session a key attraction.
Club Support Officer for the region, Laura Sargeant, said: "The youngsters were prepared to tolerate the learning for the chance to be in the gym straight after,
"As soon as the PCSO said, "right you can go box now," they flew off the chairs and into the gym, which was lovely to see because it's obvious that the power of the sport of boxing is keeping them engaged.
"They are learning something new every week and look forward to it. As there are quite a few coaches giving their time on this project, they are split into smaller groups rotating around different stations so they get to know all coaches, but also have time spent with them individually to work on techniques and pad work, which they especially like.
"It's been really great to see the good work going on and the difference it makes to these kids by  giving them something to look forward to each week instead of them being out, getting bored and causing bother.
"Now the project is being extended a bit longer, it will hopefully keep them engaged and lead them onto a brighter path and future.
You can read more on the story, courtesy of Northumbria Police, here.
The Sunderland Community Hub is a boxing and fitness club that is run by local firefighters.
Boxing and fitness classes run every Wednesday and Fruiday for children and adults from 6.30pm to 7.30pm at Sunderland Central Fire Station, Railway Row, SR1 3HE.
For more information call Preston Brown on 07740 285966 or Ian Haustead on 07714 577824 or email SunderlandCommunity.Hub@twfire.gov.uk