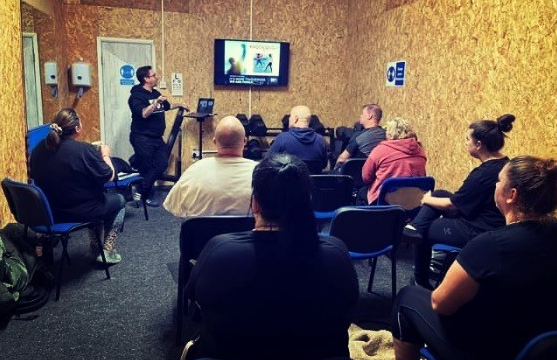 Billingham support community with Knock Out Depression programme
November 9, 2021 | by Matt Halfpenny
Billingham Boxing Academy welcomed participants to its new Knock Out Depression programme this week – and it is already making a big impact.
The programme combines a mixture of boxing training, delivered by Level 2 coach Jayne Wallace, with education and discussion to help participants better understand depression and ways they can manage it.
The live sessions are supported by online materials including videos and a handbook that participants can access and refer to whenever they want.
"Many people have struggled through the difficult times of the last couple of years, and we really want to help get members of our community back on their feet and fighting fit," said programme creator, Matthew Williams.
"We have a strong community ethos at the club and recognise the big role that we can play in promoting and developing good mental health and wellbeing."
Demand for the programme has been huge, and a second programme will be starting next week at the club's satellite, Thornaby Boxing Academy.
Williams added: "While on the one hand it's sad to realise that so many people are struggling, we are pleased to be in a position to help, and it's very encouraging to know that so many people have felt able to reach out to us for support as this can be a huge and difficult step to take.
"We had a brilliant response to our first session and are really looking forward to working with participants throughout the programme to help them to manage and overcome depression.
"We are very grateful to Comic Relief and Groundwork for funding this exciting new programme."
Williams highlighted peer support and the power of community as a major strength of the programme, saying: "Depression is a terribly lonely and isolating illness, and you can feel like you're the only person in the world that feels that way.
"Being around other people that 'get it', and supporting and encouraging each other, is so powerful and can make such a big difference in not only overcoming depression, but in going on to thrive."
If you would like to know more about Knock Out Depression, please contact Matthew Williams on 07885 217448 or email math_williams@yahoo.co.uk.