Aycliffe coach receives British Empire Medal at The Queen's Garden Party
June 2, 2022 | by Harry Judd
Aycliffe Boxing Club Coach, Les Gibson received B.E.M at The Queen's Garden Party for 30 years of voluntary service in the community.
Les and his wife, Paula attended the exclusive event at Buckingham Palace last Wednesday, May 25.
In the presence of The Duke and Duchess of Cambridge, Gibson collected the prestigious award from the Lord-Lieutenant of County Durham for his services to the children and Youth of Newton Aycliffe.
The Buckingham Palace Garden party, which saw 8,000 members of the public and celebrities invited in what was a special occasion, leading up the Queen's Platinum Jubilee.
Initially, Gibson was nominated for the award in the Queen's Birthday Honours List of 2020, but the yearly celebration was cancelled due to the Covid-19 pandemic.
Les Gibson said: "We met some lovely people, and it was an honour to be appreciated.
"But, there are coaches up and down the country that do exactly the same as me every day, I just feel so grateful to have been acknowledged."
Les is not a novice when it comes to shaking hands with royalty. Before becoming head coach of Ayclife Boxing Club, Les is a decorated military personnel, whom served 15 years in the army and the Queen's sister, Princess Margret, was the Colonel-in-chief of his regiment and would often refer to Les on a 'first name basis.'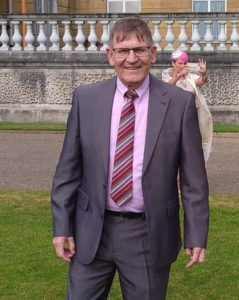 Les was nominated for the award from Darren Wheatley, who was able to get the message  passed on further to the chairman of the boxing club.
Les said: "Without Darren this would not of been a possibility, he strategically went behind my back, but I am so very grateful."
Whilst this a huge achievement for over 30 year's of service., Les is assured that he will continue to 'help children and young people in the area of Newton Aycliffe through the boxing club.'