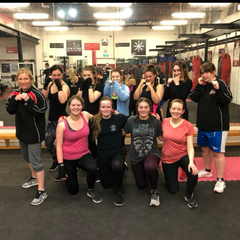 South Wye Police Boxing Academy continues to impact the community
April 16, 2018 | by Gemma Field
South Wye Police Boxing Academy is at the heart of an enormous amount of activity in and around Hereford and has become part of the fabric of the town.
Like all boxing clubs there is pride in the boxers they have trained and a desire to have an English title holder. The gym is full of quotes and posters from boxing legends. Each year the club run a fully televised boxing show supported by members of the armed forces.
However, this club is truly there for the community, but using the passion for boxing to bring many sections of the community together.
In order to keep the gym open and financially viable the club gains revenue from other societies who want to use the facilities which are leased for a discounted rent to a Muay Thai group, Cheerleaders, two different dance groups, the Fujian community group and also has regular sessions for separated parents to have private time with their children.
The club runs outreach boxing sessions for five different secondary schools in and around Hereford with a strong encouragement for those pupils to sign up to the club.
Furthermore; the club has separate sessions for the following groups/agencies:
·         The Probation service have training in the club whilst also learning about and gaining qualifications in food preparation and hygiene at the clubs well equipped kitchen.
·         Students from a Pupil Referral Unit have regular workshops with another midlands coach who is a prison officer. They learn the facts about life inside which hopefully steers them clear from crime.
·         Asylum seekers, immigrants. The club has been running sessions for members of the immigrant population and through membership of the established boxing club they are also becoming accepted as part of their new community in Hereford. The local community are also benefitting by learning about new cultures. Such is the success of this work that a government "Migration Fund" is assisting with a similar project at a nearby club in Leominster which Vince is helping to establish.
·         MIND. The club are well linked with projects targeting young members with mental health conditions. Members go through a 6-10 week progressive, dedicated training regime. When Vince McNally, South Wye Coach, was asked why he thought these sessions were so popular with members who have depression or anxiety he responded: "I think that the constant high level of training keeps these members so occupied that they have little time to think about their lives outside of the gym"
South Wye is another shining example of a good boxing club that is also doing more, frequently with socially excluded groups, to bring about community cohesion.