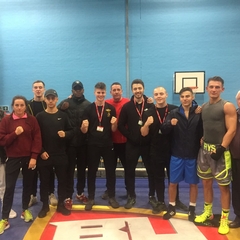 Sheffield Hallam University Triumphs at BUCS Championships
February 8, 2018 | by Gemma Field
Boxers from Sheffield Hallam University and the University of Sheffield enjoyed a successful weekend at the British University Boxing Championships held in Stoke on 2 – 4 February.
A total 120 students competed over 3 days to claim points for their universities and a coveted gold medal.
The two Sheffield universities, most of whose boxers belong to the Sheffield City Boxing Club and train under Head Coach Brendan Warburton, entered a total of eight boxers and came home with four gold medals and three silvers.
In a first for the city, Sheffield Hallam also had the honour of becoming the best overall university with their three gold and two silver medals.
Ryszard Lewicki (Hallam) took the 75kg Elite gold medal, his third in as many years. The sports science student came through three contests and was too strong for Bradie Perkins of Leeds Becket University in the final, winning on a unanimous decision to complete his hat trick of golds.
Rohan Wardale (Hallam) struck gold in the 64kg Intermediate category, needing two wins, with a unanimous decision against Callum Browstein of Northumbria University in the final.
Joel Aminu (Hallam) took the 81kg Novice gold medal after three contests. Beginning with a first round TKO win in his first bout, the third year business student then went on to claim gold with two more impressive points victories.
Dayna Ancliffe (Hallam) of Millennium Boxing Club, and Liam Bell (Hallam) of Jubilee Boxing Club, missed out on gold in close finals, and had to settle for silver after both had good wins in the previous day's semi-finals.
The University of Sheffield had a good return from their two entries, taking away a gold and silver medal on the final day.
Jade Pearce (University of Sheffield) lost out on gold by the narrowest of margins in her 60kg Intermediate final. Pearce never stopped working from the first bell, and though she gave her game opponent a standing count in the first round she lost out on a split decision against Alexandra Durrant from Nottingham University in a cracking contest.
Vlad Matei (University of Sheffield) claimed gold in the 64kg Elite category. These were Matei's first bouts as a senior after winning national titles in Romania as a junior. He came through against 3 opponents, beating the more experienced Ben Grant from Dundee University on a split decision to take the gold home to add to his collection.
"All of the Sheffield boxers were a credit to their city, their universities and their clubs throughout the weekend," said Sheffield City BC's Head Coach Brendan Warburton.
"The standard of university boxing has improved so much over the past twelve years" said England Boxing's former CEO Paul Porter. "Everyone involved can be justifiably proud of what is now a very high quality annual event."