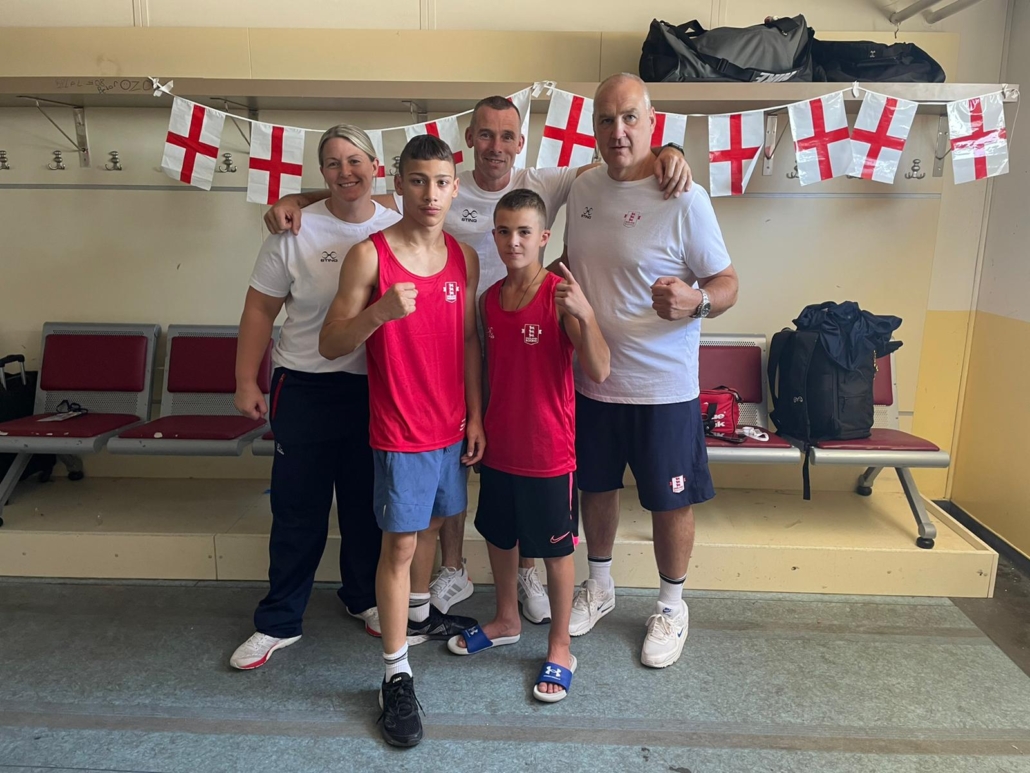 Schools Euros 2022: Team England guarantee themselves 12 medals
August 16, 2022 | by Matt Halfpenny
Three wins out of four on day five in Turkey means Team England have now guaranteed themselves at least 12 medals the EUBC Schools European Championships 2022 – with six more boxers bidding to add to that tally.
Harry Scadeng, Isaac Huczmann and Tobias Taylor all claimed comprehensive victories in Erzurum, with Paddy McDonagh the only one to miss out.
The Three Lions now need three more successes on day six to ensure they will take home a record haul from a Euro Schools, having won a previous best 14 in 2019.
Scadeng was the first to box for England in the afternoon session at Under 40kg and he was straight out of the blocks to record a unanimous victory over Georgia's Shalva Beridze.
The win ensured a guaranteed 10th medal for the team in these championships as the Repton youngster made his way through to the semi-final stages.
There was then a fairly lengthy wait until the Three Lions' next involvement, and it was to end in disappointment for White Hart Lane boxer McDonagh.
The Under 50kg boxer gave it his all and had his moments, but was unable to prevent a unanimous decision going in favour of his Irish opponent Brandon Geoghegan.
Soon after, it was Huczmann's turn to vie for a last four place place – and he wasted little time in securing it, with one of the swiftest stoppages of the tournament so far.
A flurry of unreturned punches forced a first standing count against Croatian opponent Dino Salek and as the Leicester Lightning Under 54kg contender waded in once more, the referee intervened to call off the contest within the first minute.
Taylor was last to go in the evening session as he faced Raffi Khachatryan of Armenia at Under 80kg.
Like Huczmann, he did not waste much time in getting the job done, winning inside the first roundand will box again tomorrow bidding to go one better.
In all, England will have eight boxers in action, six in quarter-final bouts and two in semi-finals.
Day six bouts
The sessions start at 2pm (12noon UK time) and 6pm (4pm UK time).
Afternoon session
Bout 1: Under 42kg – George Francis v Kristan Harasnik (Slovakia).
Bout 5: Under 44kg – Aron Sarwar (Scotland) v George Ralph.
Bout 13: Under 48kg – Noah Barney-Smith v Arsen Darbinyan (Armenia).
Bout 19: Under 52kg – Tom Connors v Angelos Karaitis (Greece).
Evening session
Bout 2: Under 57kg – Szabolcs Horvath (Hungary) v John Boy Hodgkins.
Bout 6: Under 60kg – Bezuhlyi Ivan (Ukraine) v Tony McCarthy.
Bout 9: Under 63kg – Johnny Crittenden v Gela Gagnidze (Georgia).
Bout 18: Under 80kg – Zurab Oboladze (Georgia) v Tobias Taylor.