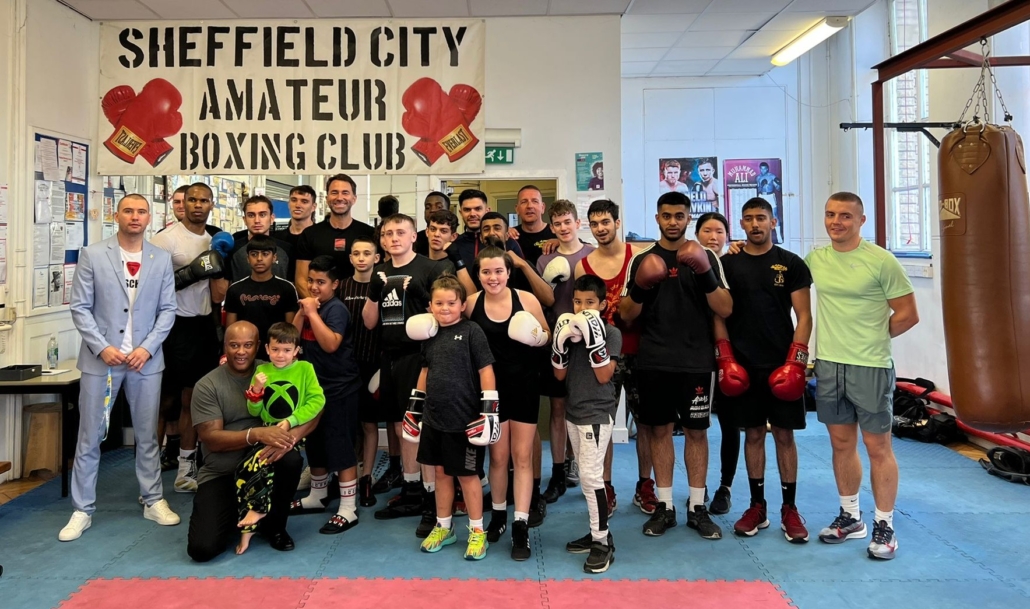 Promoter Hearn visits Sheffield City
August 9, 2022 | by Matt Halfpenny
Boxing promoter Eddie Hearn stopped by to visit England Boxing member club Sheffield City Boxing Club last week ahead of a British title fight in South Yorkshire this weekend.
He dropped in ahead of super-lightweight title victory for Dalton Smith – who won the Elite Championships in 2018 at Under 64kg boxing for Steel City – over fellow Sheffielder Sam O'Maison at the Utilita Arena on Saturday night.
Hearn, whose own children attend Eastern Counties club Brentwood Central, chatted with members and held the pads for some of the younger members.
He also posed for pictures, offered free tickets for all club members to attend the weekend's event and spoke of the importance of amateur boxing in a video released by his Matchroom organisation.
Watch the video by clicking here.
"You've heard from me before on amateur boxing clubs… I can't stress enough how important these clubs are for their communities," said Hearn.
"Seeing kids, including my kids, in these gyms… it's so good to see the younger generations off their phones and out of their rooms and exercising.
"As well, we want to unearth some of the future superstars of the sport and it's very important that this conveyor belt of talent keeps moving forward, not just for professional boxing, but amateur boxing.
"We need that generation to keep evolving, not just to become World Champions, but also through the amateur system. There will be a lot of young kids down at Sheffield CIty with dreams of winning Olympic gold."
England Boxing's Alex Le Guevel, who was there to greet Hearn on his arrival and help show him round Sheffield City said his visit was a fantastic boost for members.
"While Eddie's business concerns are connected to professional boxing, it's clear that he also holds amateur boxing in very high regard, not least because it is the breeding ground for the next generation of young talent.
"We at England Boxing are keen to build a relationship with Eddie and Matchroom, as the ongoing success or grass roots and community boxing is mutually beneficial."