Persistence key for Aldous as week eight #EBStravaCHallenge results revealed
March 1, 2021 | by Matt Halfpenny
Congratulations to Charlie Aldous (Schools), Liam Rennocks (Junior), Fred Brooks (Youth), Jay Martin (Senior) and Connor McMain (Coaches and non-boxers) who finished as category winners in the 5k mini-challenge of this week's England Boxing Strava Running Challenge.
With new participants joining all the time – almost 800 have now signed up – and the first spring-like weather of 2021 bringing runners out in force, week eight of the challenge was a close-run thing at the top of several of the leaderboards.
Many of those taking part will now turn their attention to the new team challenge that begins today (Monday 1st March), aiming to clock up miles for their respective clubs over the next seven days (see details below).
This past week, though, has been all about the best 5k times runners can lay down and in the Schools section saw persistence pay off for Aldous.
The Barum boxer (pictured above) has finished second and third in various challenges that have so far incorporated total distance, 3k and 1k, in addition to the 5k.
But, helped by a personal best time of 21.04, he was able to clinch victory this time ahead of Aamir Shirazi (Peterborough Police) with 21.24 and Harvey Jacques (Bishop Auckland), with 22.43.
For the girls, Mya Ash (Gosport) kept her fantastic run of success going with a run of 26.40, while Eden Kilkenny (East Middlesbrough) clocked 27.40.
Others to dip under 27 minutes were Drew Docherty, Findley Rabia, Jaylen Powell, Joe Lane, Kai Toner, Reggie Baker and Seth Charles.
It was another case of persistence paying off in the Juniors, where Rennocks (pictured below), who won a 1k mini-challenge in January but had been edged out in recent weeks, claimed first place.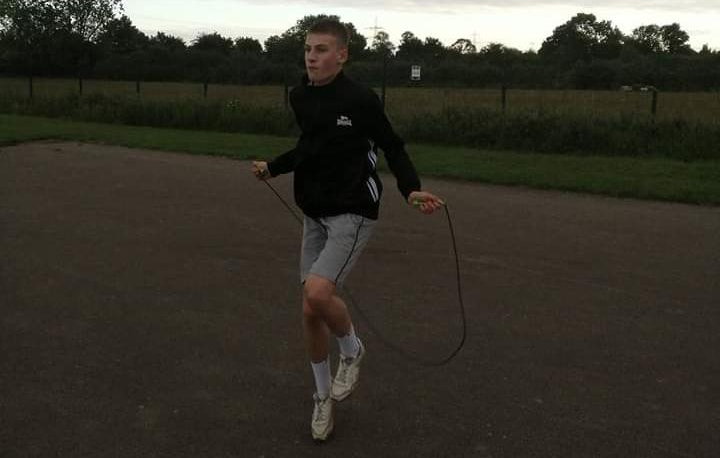 The Heart of England boxer improved his personal best to 19.02 to make sure he was not to be denied this time.
He was joined in going under 20 minutes for a continuous run by Donnie Carpenter (Peterborough Police), who recorded 19.59, while Kian Quinn (Braunstone) was third with 21.25.
A host of other runners going under the 25-minute barrier were Alfie Baker, Callum Levitt, Connor Yates, Corben Beecher, Findlay Lloyd, Imraan Shirazi, Josh Bedford and Kylan Keating.
In the Youth category, there was, not surprisingly give the time, a clear and repeat winner in the shape of Brooks (Top Yard), who clocked an almost identical time as last week of 17.18.
Oli Rhymes (Crawley) was again second in 19.15, while Callum Preston (Barum) was third, running 19.49, as the top three remained unchanged.
Maisie Goodley of Peterborough Police (24.59) sneaked under 25 minutes to win the girls section and was followed by Lily Gullon (Barum) with 28.01, Alex Bryant (Trowbridge) with 28.24 and Amalia Morris (Holmes Chapel) with 31.38.
Others to go under 25 minutes were Ashton Sims, Harvey Kemp, Jadon Prior, Kai Bore McDonald, Keanu Scowen, Lenny Cheesman, Subhan Raja and Vinnie Wadey.
Some excellent times were recorded in the Senior category, with Martin, of Tyneside (pictured above, right), securing first place in the men's section with a time of 18.15.
The race for second, third and fourth was very close, with Taylor Frisby (Peterborough Police) clocking 19.05, just edging out  Joshua Dougliss (Great Wyrley), with 19.23, and Ike Ogbo (Border City), who ran 19.29.
For the women, Jasmine Poole, of Downend Police, again finished top in 22.09, while Layla-Star Churcher (Berinsfield) was second in 23.34 and Jessica Barry (Christ The King) third in 24.52.
The competition among the Coaches and Non-boxers saw a clear winner for the men, with Connor McMain (Sheffield Boxing Centre) almost three minutes ahead of his nearest challenger after getting round in 21.07.
Running well to finish in second and third were Jamie Osborne (Fusion), with 24.06 and Gary Parsons (Exmouth), with 24.53.
The Market Drayton duo of Rebecca Jackson (pictured left) and Dee Cowey were again to the forefront in the women's category with the former recording 24.28 to the latter's 24.38 to finish first and second.
The top three was completed by Holmes Chapel's Zoe Brownlow in 26.10.
"With the better weather of the past week, I've been impressed with the amount of people getting out for their runs – and the times they have been recording," said England Boxing's Development Coach, Amanda Coulson. "On lots of occasions, I've seen people beating their 5k PBs,"
"It's going to be great to see how those individual performances are going to slot into the club dynamic this week, when it's not only what you can do, but what your team-mates can do, that matters."
Join in with the team challenge
After a series of hard-fought individual mini-challenges over cumulative distance, 1k, 3k and 5k, it's now time for strength in numbers to have a say.
Quite simply, we want to see which club can clock up the most collective miles through its members' runs over the course of a week.
As the saying goes, there is no 'I' in team, so you will need rally your club-mates to ensure they do their bit!
Of course, the more a club's members join in, the better their chances, but you will need to have at least three competing members to qualify for the challenge.
To enter, a team must email their results to matt.halfpenny@englandboxing, or WhatsApp them via 07885 283708, which must incorporate a screenshot of their own club page summary (please note this can only be accessed via mobiles, not laptops), as well as a screenshot of their club leaderboard.
If the leaderboard will not fit on one screenshot, please submit as many screenshots as is necessary to cover the full leaderboard, therefore evidencing your team's running.
You can see examples of how it should look below, including collective and individual team member distances.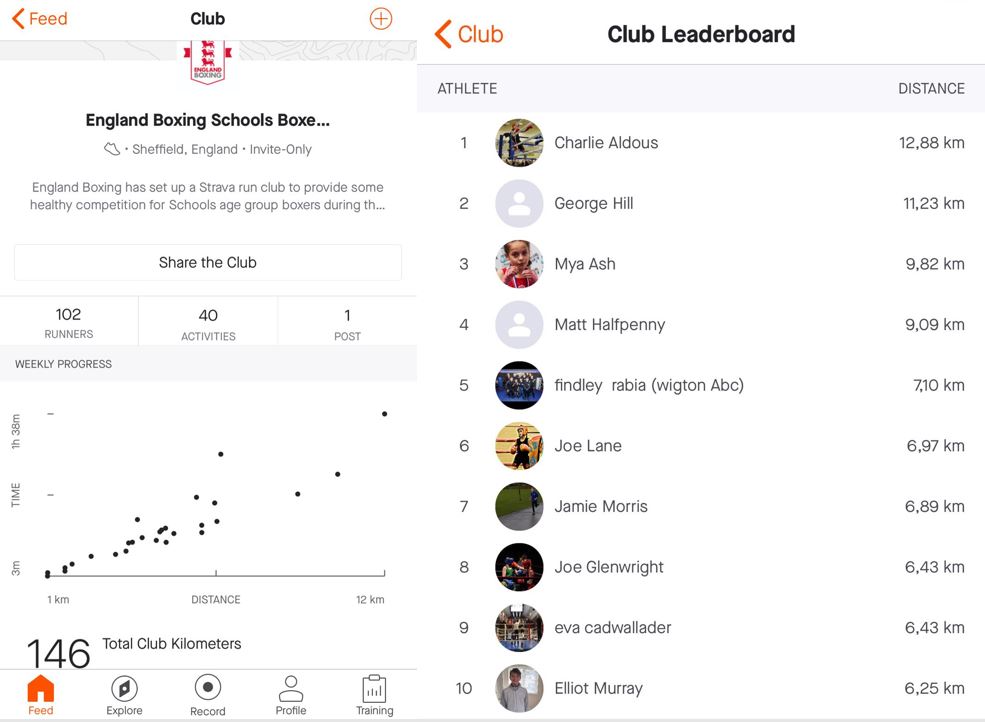 This mini-challenge will run for two separate weeks of seven days' duration, firstly from 1st to 7th March, then 8th to 14th March.
To count, results must be received no later than 12noon on the Monday following the conclusion of the week's challenge on Sunday evening.
The top teams on each occasion will get a shout out on the England Boxing website and social media.
Please bear in mind…
Please note that club coaches and officials who set up and monitor their club's activities should monitor the activities of under-18s and ensure those taking part do not push themselves beyond their running capabilities, while also getting the necessary rest.
Runs should be done either individually, with members of the same household (such as sisters Jocelyn and Eden Kilkenny of East Middlesbrough ABC, above), or in groups of no more than two people who must remain socially-distanced, in line with current government lockdown rules.
Creating a club page
If you don't currently have a team page for your club on Strava, you can set one up by joining Strava as an individual user and then going to Explore-Clubs-Create Club (please note this must be done on laptop, not mobile).
You can then invite individuals to join that club, who can also apply to join the relevant England Boxing Strava Running Challenge category using the information below.
How to join the England Boxing club categories
To join in with the England Boxing Strava Running Challenge 2021, first sign up to Strava at https://www.strava.com/, if you haven't already.
Then head over to the relevant group to complete your registration. Runs will automatically be logged in the challenge once you are registered:
Schools boxers – https://www.strava.com/clubs/englandboxingschools
Junior boxers –  https://www.strava.com/clubs/englandboxingjunior
Youth boxers – https://www.strava.com/clubs/englandboxingyouth
Senior boxers – https://www.strava.com/clubs/englandboxingsenior
Coaches and Non-boxers – https://www.strava.com/clubs/englandboxingcoaches
Please state your club and position on your Strava profile. For example, put 'Army boxer', 'Steel City Coach', 'Aberfeldy Welfare Officer' or 'Wearmouth Administrator'. If you are an official with no specific club, please state your region and role, such as 'Eastern Counties Judge'.
Should you have any problems with registering, please email: matt.halfpenny@englandboxing.org
Key Information
Important: Please note that boxers and participants taking part are doing so their own risk and must ensure they have adequate footwear and clothing and no injury or health concerns.
It is recommended that participants do not to run alone in the dark or in adverse weather (such as snow or ice) and parents and coaches are requested to monitor the activity of under 18s and ensure that those taking part do not push themselves beyond their running capabilities, while also giving themselves adequate rest. Adults should also be careful to run within their limits and rest when appropriate.
You can also post pics that you'd like to share of you running in your England gear on our Instagram, Facebook and Twitter channels using the hashtag #EBStravaChallenge.