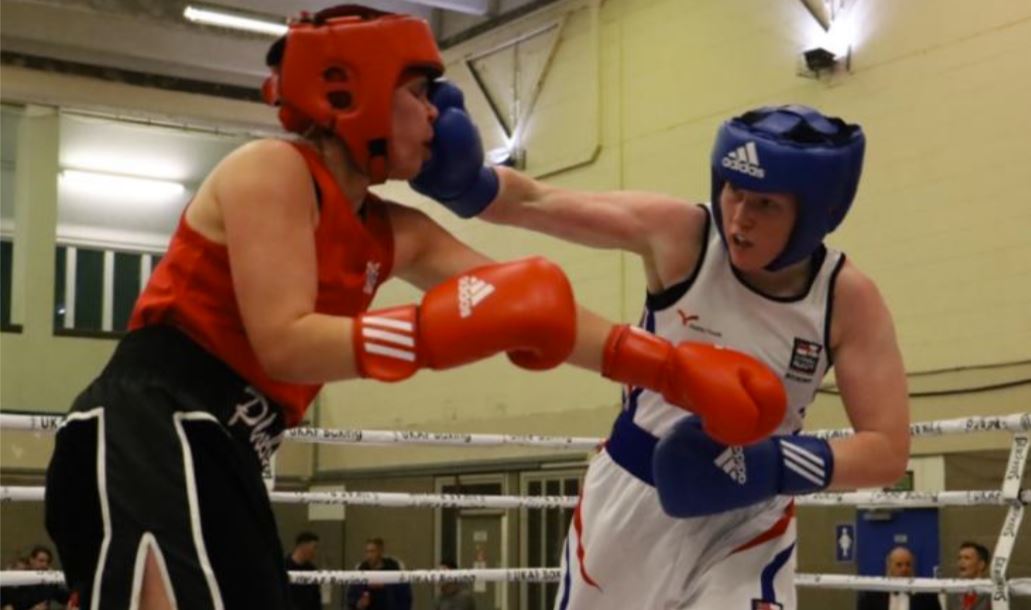 NACs: Female Under 70kg quarter-final preview
April 8, 2022 | by Matt Halfpenny
What all four boxers competing in the women's Under 70kg category of the England Boxing National Championships 2022 quarter-finals have in common – apart from wanting to win the title of course – is that they are all passionate about helping continue the rise of women and girls in the sport.
From 1,314 affiliated female members of England Boxing in 2016, to 2,345 in 2022 (and still rising, with the season not yet complete) there has been considerable progress in terms of interest and participation, buoyed by the successes of Nicola Adams, Katie Taylor, Savannah Marshall and the rest.
Not only that, but the quality of the boxing, most would agree, is also on the rise. Standards, not just numbers are climbing, with the days of straight finals in all but the heaviest and lightest weights a thing of the past.
There's no denying that there is still a little way before things are on an even keel with the males – the mismatch in terms of the overall number of bouts at any major championships or club show confirms that.
But, encouragingly, the gap is closing all the time, with England Boxing initiatives such as the Women's Aspire Programme and Women's Coach Development Programme, as well as female-only Level One Coaching Courses, all helping a new generation of women and girls participate.
For those who already have a love for it, what they are witnessing, and are a part of, is a sight to behold.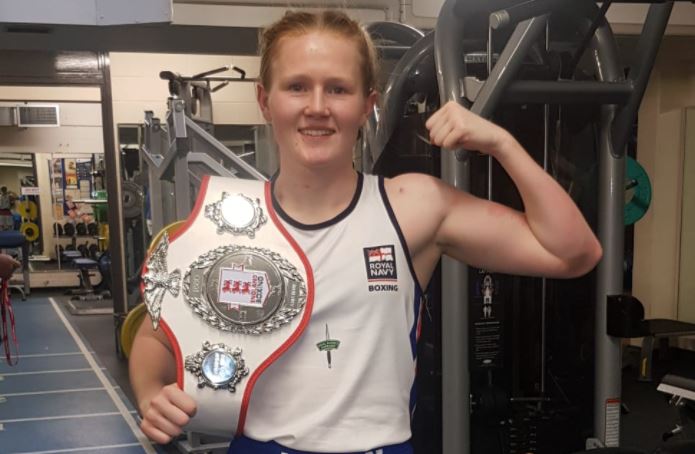 The Royal Navy's Sophie Colebourn first competed as a senior in the National Championships when she was 18, making this year her eighth crack at winning a title.
The closest she came was in that maiden year of 2015 when, boxing for North Mersey, she contested and lost an Under 60kg final against Chantelle Cameron of Far Cotton, who is now a professional world champion.
It's not only what has become of her opponent – and the advent of professionalism as a serious career choice – that demonstrates to how much things have changed in the relatively short space of time since then.
From an amateur point of view, Colebourn can personally testify the competition, is getting much harder – making her own quest for glory that much more difficult.
"I am a lot stronger and more experienced as a boxer than I was back then, as well as more knowledgeable about the sport – this will be by 44th bout in this quarter-finals," said Colebourn.
"But it doesn't get any easier, because everyone else keeps getting better too – the standard is improving year on year.
"I think the development of the sport from a women's perspective is what has kept me motivated and staying involved all this time.
"When I first started boxing as a junior and youth it was straight through to the finals all the time and if you won one bout you were a national champion. Now you are literally going through the rounds to get there.
"The next 10 years is going to be massive for the sport and while I probably haven't got all that long left in me as a boxer, I would love to get into coaching and mentoring and help that next stage of the development."
Colebourn had hoped to enter these Championships at the lower weight of Under 66kg, but had to change her plans and box at the higher weight limit.
As a result, her potential path to the final is barred by opponents she knows well, having come across both before.
She added: "Although I wasn't intending to box at Under 70kg, I do have the benefit of experience in terms of bouts against some of those in this category.
"I have sparred my opponent on Saturday in preparation for this because I thought I would be at a lower weight when it came to the bouts, which was all good experience in the bank.
"I've also beaten who would be my semi-final opponent, if I got through the quarters, at the Golden Girl tournament in Sweden, so that gives me a lot of encouragement.
"This season has been a really difficult one for me, but I'm just glad to be entering into another championship and I will see where that takes me."
Across the ring to Colebourn in the quarter-finals will be Patricia Mbata, of Finchley ABC, the club where Anthony Joshua famously cut his teeth as an amateur.
She is determined to set up a rematch with Box Smart Elite's Omarah Taylor – who has a bye to the semi-finals, courtesy of her number two seeding – having lost to the Midlander in December's 2021 edition of the Championships.
The 27-year-old insists she has learned much from that defeat and believes it has pushed her into becoming a better boxer.
And regardless of how things go this weekend, she is pleased to see the competitiveness increasing year on year, meaning any success is 'more special'.
Mbata said: "It's great to see what is happening and some of the boxers coming through from Youth level are really pushing the standards up.
"We have seen that with the This Girl Can Box initiative run by Terri Kelly in the London area where there has been lots of girls getting together for sparring.
"It makes it more fun to test yourself against the better boxers and really adds to the sense of achievement when you get a win.
"Whatever category you are in, you have to make the weight and then deal with what is on front of you and hope that you can make the final.
"That is certainly what I am here to do… as they say, I am in it to win it.
"Last year's Championship was a big disappointment for me and I was upset after my defeat to Omarah, but I know feel more prepared for what to expect.
"I have only boxed competitively for three years and four or five years overall, so I'm still fairly new to it, but I had become accustomed to winning and eventually you get to a level where you're going to have a setback.
"Looking back at how I boxed in that bout, it was horrible to watch, but it has helped me go away and establish my style, which I didn't really have before.
"I'm raring to go now and so desperate to set up a rematch because I am a different boxer than I was before."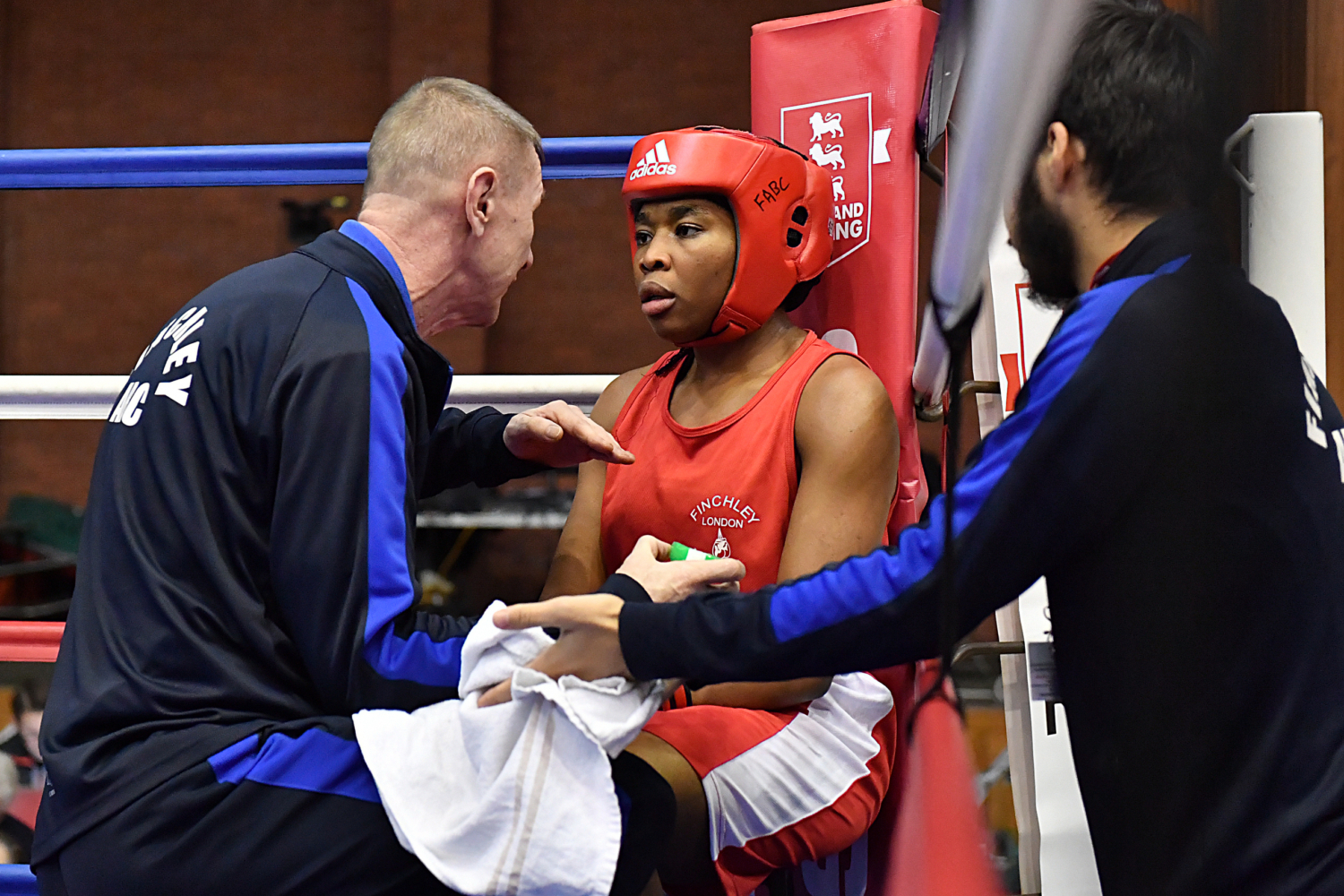 As someone who can 'never sit still', Mbata leads a busy life, working as a Project Manager for the company that is leading on the regeneration of the Battersea Power Station site, and she also cooks meals at the weekends for her fellow boxers, in addition to her boxing training.
Having tried athletics, bastketball and rugby in the past, she is happy in her current sport, under the guidance of coaches Sean Murphy and Gary Foley.
"I was sitting in the office one day and decided that I should give boxing a go and Googled my nearest club and Islington came up first – even though I live in Finchley," she said.
"I went there for a start. All clubs want to push you at different paces, but they weren't pushing me as fast as I wanted to go.
"When I went out to Finchley I settled there really well and I soon went out on a training camp to Spain where I sparred and it has gone well from there.
"It's good to have the Championships in London, on home turf for a change, because a lot of my bouts are around the country. Hopefully I can get a lot of supporters along and I can do them proud."
On the other side of the drawer, boxing for the right to face number one seed Cindy Ngamba, is Crowle's Leah Davies, who says she is 'proud' to be part of an Under 70kg category that has excellence stamped all over it.
The England Boxing National Youth Championships 2021 Youth Championships finalists recognises that moving up to the senior ranks is a significant step up for her, but is relishing the challenge.
"I'm really looking forward to it – it's an amazing opportunity," she said. "I'm excited to be competing at this level because these women are the best of the best.
"A lot of them have gone to international tournaments around the world, so it's an honour to be sharing a ring with them and measuring myself against them.
"It's my first year at senior level, so it's been good to get my first two wins under my belt and hopefully I can now push on.
"I'm an aggressive boxer, I like to be on the front foot, and I don't mind standing toe to toe if that's what's needed, and I'll be giving it my all, even if I haven't got the same experience as some of the others.
"I have worked so hard to get to this point and if I could make it through to the Finals Day in Manchester then it would be a huge achievement for me."
Studying A Levels in History, Psychology and English Literature and Language at New College, Doncaster, Davies has quickly claimed the East Midlands Belt after moving up to the seniors.
As she freely admits, her route into the sport is certainly an unusual one, and not likely to be followed by many others.
She said; "I was watching cage fighting on TV and saw someone getting knocked out and I said I wanted to know what it was like to get knocked out myself.
"That's when I said I wanted to try a fighting sport and as my dad was friends with a boxing coach, I gave it a go and loved it straight away.
"I've still not found out what it's like to be knocked out – and I certainly don't want to find out this weekend!"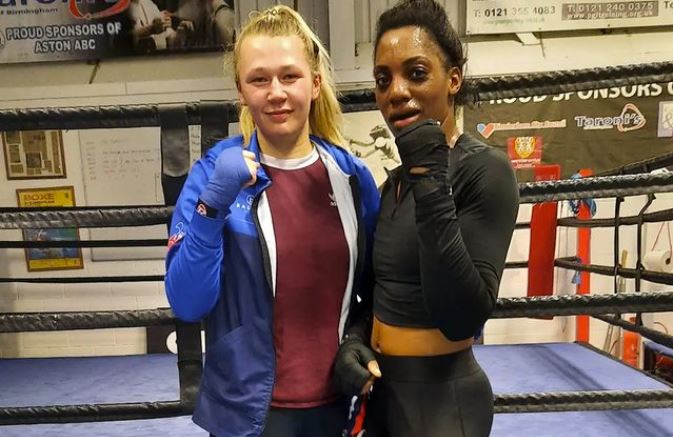 At 37, Davies' opponent Ileana Ingram is more than twice her age and has seen, as well as anyone, how the women's side of boxing has developed and grown.
The proud mum of three, from the Aston ABC in Birmingham, got into the sport through her partner Chris and is keen to put something back into the sport.
She is already coaching at Aston, and with the Midlands Fight Like A Girl regional squad, having passed her Level One coaching course as part of an all-female cohort funded by the Maverick Stars Trust.
Ingram has prepared for this year's NACs by sparring Paige Goodyear, who recently turned pro having won a World Youth Championships bronze medal as an amateur in 2018.
More on the NACs 2022
Key info circular (London): Click here. Spectator info (London): Click here. Live Streaming (London): Click here. NACs home page: Click here.