Meet England Boxing's three new directors
September 26, 2022 | by Matt Halfpenny
England Boxing is pleased to introduce three new directors that have been appointed to its board.
They have taken up their positions with immediate effect, having formally accepted their positions at a board meeting earlier this month.
Dr Doniert Macfarlane will chair the Medical Sub-Committee, while the sub-committees which fellow newcomers Sam Foster and Chris Smith will oversee are to be assigned shortly.
Dr Macfarlane (MBBS BSc MRCS DFMS) trained as an amateur sport of fencing, winning five national titles and represented Great Britain at three World Championships before retiring from the sport at 26 to focus on his medical career.
He subsequently trained in Muay Thai, has recently taken up playing ice hockey recreationally and has had an interest in boxing since being a teenager – setting the alarm for the middle of the night to listen to Bruno-Tyson.
Dr Macfarlane's sporting experiences have given him an understanding and appreciation of the time commitment to create high level athletes, and the input required from families and coaching staff, as the athleles themselves.
"I was a big fan of legendary boxers in the 1990s such as Nigel Benn, Chris Eubank and Michael Watson, long before I became a doctor," he said.
"When the opportunity came up to be involved in the sport as a boxing club doctor, I jumped at the chance.
"That was seven years ago and I estimate to have been the ringside doctor at approximately 2,500 bouts so far. I am also an England Boxing Grade B judge."
Dr Macfarlane (pictured above) initially started his career as an Orthopaedic Surgeon, rotating through Neurosurgery and Plastic surgery jobs as part of the training.
He later went on to work in Emergency Medicine for a further seven years to Locum Consultant level.
He also has a background as a managing director of a telemedicine business that has supplied services to health insurance companies, TV production companies, the Ministry of Justice and the FCO.
Dr Macfarlane added: "I am used to participating in meetings with multi-organisation stakeholders as part of that role over the last 17 years.
"Last year, I had the opportunity to work as medical advisor to the TV production company that produced the Idris Elba: Fight School programme for the BBC, which focused on boxing as a way of transforming peoples lives through sport."
Having performed a similar Medical Lead role in the London region for the last three years, Dr Macfarlane is keen to see if his experience to date would be useful to the board and helping with the delivery of England Boxing's five-year strategic plan.
He said: As the participation of the sport continues to expand, I hope to improve boxing clubs' access to experienced doctors with a knowledge of boxing health considerations.
"That goal will be achieved by also helping interested doctors gain access to a structured learning pathway of core competencies useful in the unique role of a ringside doctor.
"Another aim would be to see how shared knowledge can be delivered to clubs and coaches on boxing specific health considerations, such as cutting weight and concussion management."
Like many in the sport, Foster (pictured above) first got involved in boxing as a youngster and has continued to jump in and out of the sport throughout his life.
He has become more involved in amateur boxing over the past six years, working as a volunteer, a coach, a judge and a referee.
"Boxing acts as a catalyst for positive change in so many people's lives, and it continues to inspire and encourage me to contribute more," he said.
A project and programme manager working for the global management and engineering consultancy, Mott MacDonald, Foster has experience in the delivery of major schemes for public and private sector clients.
The opportunity to contribute towards improving and enhancing boxing for everyone, utilising his 'day job' capabilities for the benefit of amateur boxing, is what encouraged him to apply for the role of director.
He added: I'm really keen to continue working to enhance the reach of amateur boxing; to help support our volunteers who already give so much to others and to contribute towards the delivery and enhancement of the strategic objectives for England Boxing."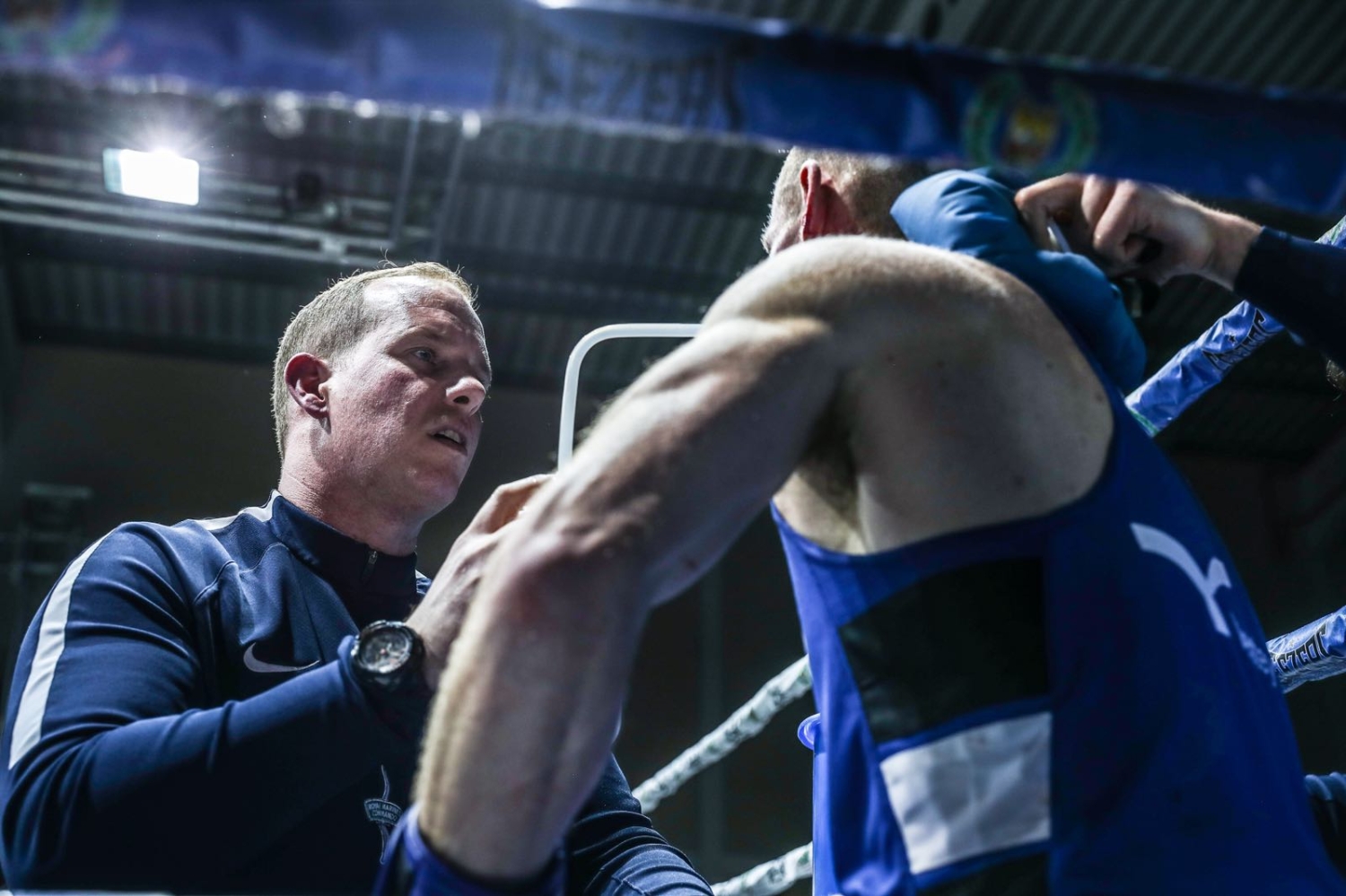 Smith (pictured above) has been involved in boxing since the age of 12 and is a Level 2 coach with qualifications in S&C and nutrition.
He has been coaching and officiating since 2003 with several clubs prior to joining the Royal Navy and is now a Grade A Judge, Grade B referee and a Grade C Supervisor.
In his spare time, when not supporting UKAF, Southern, Eastern and Home Counties, he has officiated at grassroots level through to England Championships.
Smith is the current Royal Navy Boxing Team Manager and also the Royal Navy Official Secretary and member of the board.
He has been responsible for the growth of Boxing within the Royal Navy emerging from the Covid-19 Pandemic, while also supporting CAMPOL Police ABC in Huntingdon, Cambridgeshire when time permits.
Smith is an Officer in the Royal Navy, currently serving with RAF Wyton in Cambridgshire as an Operations Officer and has been in the military 24 years. He also runs a part time business with my wife Becky.
"I have a love for all sports, but a passion for boxing," he said. "The challenge of becoming part of such a large community and responsible for improving participation in boxing for every club in the country is something I'm looking forward to taking on.
"I really wanted to be involved in supporting England Boxing and boxers up and down the country, from those that just want to keep fit through to those that have the dream of representing their country.
"I think we can make small improvements for all, offer opportunity for competition at every level and promote an all-inclusive environment for participation in the sport.
"Inclusivity and participation are key to grow not only the competitors but also the officials and my golden ticket would be to see boxing back into Schools."