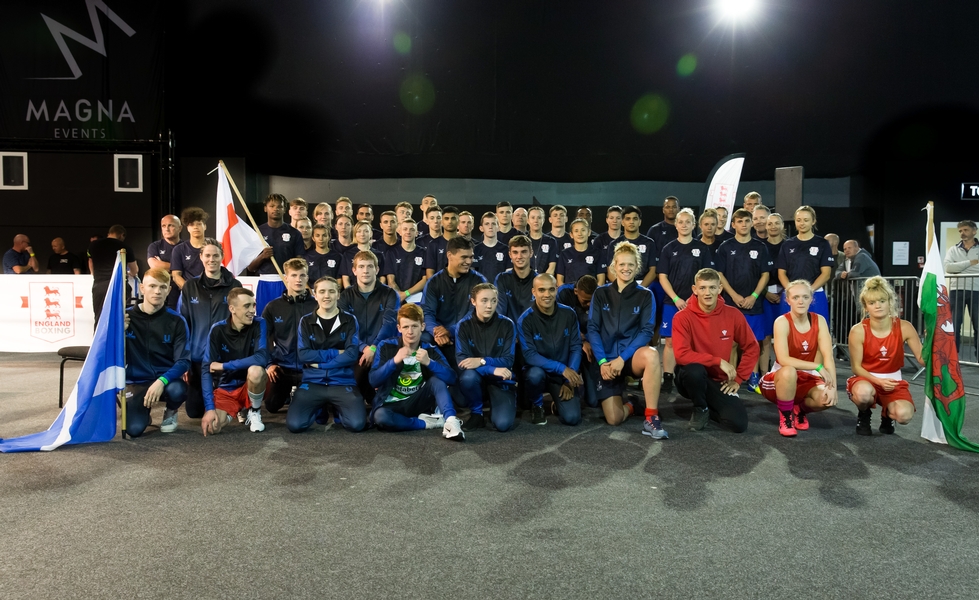 GB Elite Three Nations Results and Finals Bout List
June 3, 2018 | by Gemma Field
A tough day at the office for the England team today, however confident we will be striking gold tomorrow. All from team manager Martin Webb.
Semi-Finals
Female
51kg Tori-Ellis Willetts v Nasreen Anderson (Scotland) won 5:0
Crisp shots, excellent movement and impressive hand speed saw Tori-Ellis dominate this contest from start to finish against a game Welsh boxer.
51kg Stevie Pitt v Helen Jones (Wales) lost 0:5
Stevie put up a spirited performance however the Welsh boxer demonstrated a neat repertoire of sharp shots to take the decision.
54kg Tracey Webster v Sophie Tinklin (Wales) lost 0:5
The ever advancing Welsh southpaw forced the pace from the opening bell, whilst Tracey looked to control affairs from distance.  A solid left hook in the last round from Tinklin brought about a standing eight count and effectively sealed her victory in the process.
54kg Nina Hughes v Stephanie Kernachen (Scotland) 4:1
Experienced campaigner Nina gave a workman like performance piercing Kernachens high gard enough times to book her place in the final.
57kg Amy Andrew v Victoria Glover (Scotland) lost 1:4
Nimble foot work and a great last round, were not enough to stem the tide of the solid punching Welsh boxer.
64kg Xian Blackman-Price v Lynn Calder (Scotland) lost 0:5
A closer contest than the eventual score line would suggest, as both combatants engaged in an evenly matched bout.  Calder edged it with a determined last round getting her over the line.
69kg Stephanie Wroe v Gardner Moore (Scotland) won 5:0
In her third consecutive Elite Tri-nations championship Stephanie gave highly competent showing,  forcing a standing eight count in round three on her way to a deserved unanimous points win.
Male
49k Connor Kelsall v Scott Weatherspoon (Scotland) won 5:0
Hooks over the top of a taller opponent and steady bursts of pressure from Connor set up a unanimous points win and a great start to the championships for the England team in the opening contest of the day.
52kg Jake Harrison Matthew v Matthew McHale (Scotland) lost 2:3
This bout was shaping up to be a close battle with both boxers trading heavy shots.  After an accidental head clash in the second round causing a cut eye to southpaw Jake, the scorecards saw the Scot nick the decision.
56kg Liam Davies v Stephen Boyle (Scotland) lost 2:3
The judges were more impressed with the combination shots from Boyle as opposed to the quality single shots from Liam, in this the closest bout of session 1.
64kg Ryan Hart v Sean Spence (Scotland) lost 0:3
This was proving an interesting technical battle as both boxers landed accurate shots.  However in the second round, Ryan suffered a cut right eye derived from an accidental head clash, leaving the decision to the judges who found in favour of Spence.
69kg Harvey Lambert  v Tyler Jolly (Scotland) lost 0:5
This bout would pit two classy operators against each other with plenty of drama to follow.  In the second round Harvey was dropped for a count following a sublime left hook.  Just as the Englishman began boxing his way back into contention, Jolly sustained a cut behind his left ear with the score line eventually going in his favour.
69kg Tom Aitcheson v Sion Yaxley (Wales) won 3:2
Bout of the day!  Both boxers swapped hard shots to head and body for nine solid minutes.  Tom's industrious second and third rounds saw him shade the verdict.
81kg Ben Rees v Sean Lazzarinni (Scotland) lost 0:3
In an untidy bout at times that saw Ben receive two warnings and Lazzarinni one, the Scot prevailed with a dominant second round catching the eye.
91kg Natty Ngwenya v Lewis Williams (England/GB) 1:4
It was a great start from stocky soldier Natty, rolling and hooking well to take the opener.  Undeterred, Lewis showed plenty of class to box his way back into contention to take the win.
91+kg Steven Robinson v Mitchell Barnton (Scotland) lost 0:5
The heavy handed and solid hooking Barnton pushed hard throughout this contest, which included forcing a standing eight count in round two.  To his credit Steven showed plenty of heart to battle it out to the bitter end.
* England boxers named first .
The action kicks off tomorrow from 11:30am. Please see bout losts below.