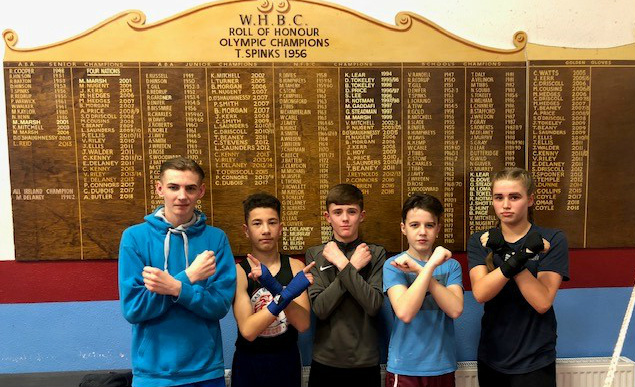 England Boxing National Junior Championships 2019 – West Ham have everything crossed for strong tournament
March 21, 2019 | by Matt Halfpenny
West Ham ABC travel north for this weekend's England Boxing National Junior Championships 2019 with six boxers ambitious to take home a title belt.
The Plaistow-based club was formed back in 1922 and has a proud history, with Kevin Mitchell, under 57kg (featherweight) in 2003, and Nigel Benn, under 75kg (middleweight) in 1986, among those who have represented the club and gone on to win a senior ABA title.
Others to have pulled on the Claret and Blue are Olympians Mark Kaylor and Terry Spinks, the latter who won a gold medal for Britain at the Melbourne Olympics of 1956, as well as Billy Walker who fought professionally for British and European titles.
The future look just as promising, and West Ham have enjoyed an excellent National Juniors so far, with all of the club's boxers entered into the regional qualifiers having progressed to the semi-final and final stages at the Magna Science Adventure Centre in Rotherham this weekend.
Long-serving Chairman and Secretary Jason Bull, who has been with the club for 20 years, was encouraged by what he saw at the pre-quarter-finals stages, where the London clubs took on boxers from the Eastern Counties and Western Counties.
He recognises that these latter stages will be a step up in class for his sextet, but at the same time believes all will acquit themselves well in South Yorkshire.
"We've had some tough bouts so far, but it's really pleasing to see the progress the team has made so far and hopefully some of them can go even further.
"They all have a chance, but the boxers who they are facing at this stage are there for a reason, so none of them are under any illusions that it's going to be difficult if they want to go all the way."
More than 80 bouts will take place on a busy Saturday, with more than 50 finals taking place across the different weights on Sunday.
Bull is looking forward to seeing how his charges will fare and said: "Frankie Wood (Junior Cadet, Under 42kg category) is technically one of the best boxers at our gym and I really enjoy watching him spar because of the range of punches he has.
"Alongside him we have Noah Eastwood going in the Junior category at the same Under 42kg weight, where he is stepping up from Cadet to Junior level for the first time. With two boxers from the club at the same weight, he said he was prepared to step up and it will be a great experience for what is already a much-improved boxer.
"In the Junior Cadet, Under 44kg we are represented by Thomas Welland, who is unbeaten so far, but is still a relative novice. He's only really been pushed in his last two bouts, but done well. His semi-final opponent Alfie Hedges, is the brother of Matt, who won a national title for West Ham quite a few years back. It should be a good bout.
"Finlay James, who's been to two or three semis and a final before at the nationals, but not quite won one, goes in the Junior, under 54kg. He's good to watch when he's boxing well, but he's boxing a very talented opponent in William Tyers, who's been with England, so it's not an easy semi-final.
"In the Junior Girls', Under 63kg category, Anastacia Butler has a decent record with five wins from six and is a very good prospect for us. Girls' boxing is really on the up and we believe she could go a long way if she carries on progressing the way she has."
"Lastly, we have David Brzezinski in the Junior Under 75kg category, who has joined the club recently, so we're looking to see how he progresses. He grew up overseas, but has been in England for a while now. He has a good record and is a strong lad."
"All these boxers have done well just to get to the semi-final stages of the National Juniors, because there is some major competition out there and it's hard just to get through locally, with a lot of good boxers in London. Anything else they achieve is a bonus."
xxxxx
Don't' forget, England Boxing's official apparel suppliers FBT will have a shop on-site where you can purchase new top-quality boxing equipment.
Spectators are welcome in Rotherham this weekend (venue address: Magna Way, Templeborough, S60 1FD) and can purchase tickets on the day of their attendance.
Tickets are available from the ticket desk inside the venue, priced at £20 for adults, £10 concessions (65+) and £5 children (6 to 15 years), while under-5s and under are free.
Boxing will commence at 1pm (doors 12 noon) on Saturday and 12noon (doors 11am) on Sunday.
Please note, payment for tickets is cash only, no £50 notes will be accepted and there is no ATM at the venue. Please be advised that an England Boxing photographer and videographer will be capturing footage on both days of the event that may include capturing images of spectators.
You can follow all the latest updates and news in the lead-up to, during and after the Championships across our social media using the hashtag #EBNJC19. You can also watch the action live on our YouTube Channel.