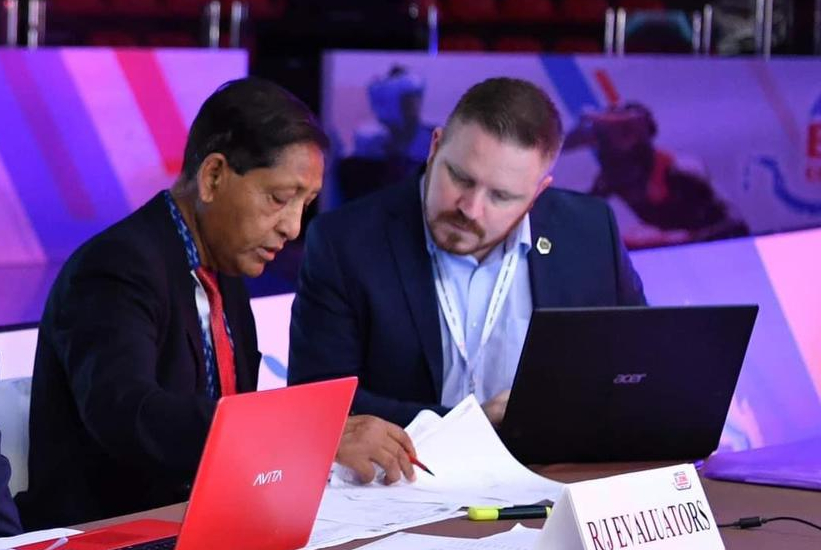 Director Ireland secures ITO qualification
March 15, 2023 | by Matt Halfpenny
England Boxing Director Ian Ireland has successfully completed the IBA International Technical Official (ITO) qualification.
It makes him one of only four ITOs in England, allowing him to perform a number of leading officiating roles at major championships around the world.
Ian currently heads up the Championships Sub-Committee as Chair and is also Vice-Chair of the Technical Rules, Referees and Officials Sub-Committee.
He voluntarily undertakes numerous duties for England Boxing, as well as being the UK Armed Forces Officials Appointments and Development Officer.
Internationally, he is also the President of the Boxing Technical Committee for the International School Sports Federation (ISF).
Having undertaken every position on his official's journey so is well placed to develop and educate England Boxing's current, and future, officials cadre.
"It was an honour to be selected to represent England Boxing and our officials on the course," said Ian. "A lot of what we teach as volunteers is seen as best practice throughout the world, and it is great that this was recognised."
The ITO course took place in Thailand, Bangkok from the 18th to 22nd January this year, during the Asian Boxing Confederation's Under-22 Championships.
He added: "The course itself was very interesting with excellent guidance from the instructor John Waith (Wales), who I had also had the privilege of working with in France at the ISF Gymnasiade and Mozambique at the African Boxing Championships."
The course is the next step for senior officials from a number of different backgrounds within National Federations and international officiating.
It covers the basics of all potential ITO positions into which candidates could be asked to fulfil at major international competitions.
Potential positions that those passing the course could be asked to fulfil are:
Record Book Manager
R&J Coordinator
Draw Commissioner
Equipment Manager
R&J Evaluator
Technical Delegate
During the course, candidates undertook a written examination to gauge their level of experience and also took practical and verbal examinations throughout the ASBC competition.
"For those wishing to progress into international duty I would highly recommend the ITO course," said Ian.
"For those senior officials who no longer wish to referee or judge, there are pathways still for advancement, as well as for those other members who may have specialist skills and wish to broaden the scope of what they can apply for."
Applications for ITO courses should be submitted through the National Federation in the first instance, with further information available through the England Boxing Technical Rules, Referees and Officials Sub-Committee by first contacting enquiries@englandboxing.org