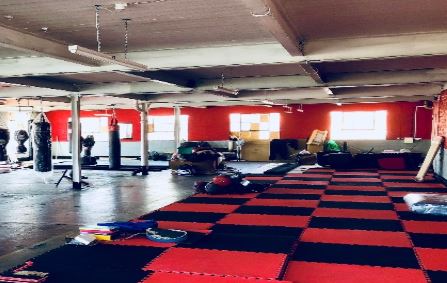 Atlas Boxing & Fitness Club and the power of partnership work
July 12, 2019 | by Matt Halfpenny
Boxing has been experiencing an unprecedented boom in recent times and, as a result, a host of new clubs are beginning to form across the country.
This phenomenon is no different in the East Midlands, with Club Support Officer Alex Le Guével regularly visiting both new and existing clubs across the region to provide valuable support and assistance ahead of the upcoming Boxing season.
One recent visit, to Atlas Boxing & Fitness Club in Leicester, perfectly illustrated what can be achieved when clubs work in partnership with England Boxing and are proactive in reaching out to their Club Support Officer.
Aysha Limbada, Head Coach of Atlas Boxing & Fitness Club contacted Alex in February 2018 to advise that she was looking to set up a new boxing club in Leicester. She had sourced a unit from which to operate, however she was desperately in need of funding to cover general start-up costs, a full gym refurbishment, specific outreach project funding and equipment.
Over the next couple of months, Alex helped the club to make meaningful links with their local community, including partnerships with Leicestershire Police, Leicestershire & Rutland Sport (CSP), several locally based charities and schools.
These partnerships formed the basis of a successful £10,000 application to the National Lottery's Awards for All Fund to deliver a specific project aiming to reduce knife crime and anti-social behaviour. The club are hoping to engage with a number of underrepresented groups, including the South-East Asian community, as well as beginning to pilot a separate project focused on boxing and mental health.
Having worked closely with the club during this exciting period, England Boxing's Club Support Officer – East Midlands, Alex Le Guével commented: "It's been a pleasure to support Aysha, Gary and everyone involved with Atlas Boxing & Fitness Club in setting their club up from scratch to where we see them today, ready to open their doors officially in a couple of weeks' time. The progress they have made is testament to their own hard work and dedication towards providing boxing provision for their local community."
England Boxing has a team of 9 Club Support Officer's covering the length and breadth of the country. They have a varied role, which includes offering clubs support on funding bids, premises issues, day-to-day support on membership systems and representing the National Governing Body in the regions.
England Boxing's Head of Development, Ron Tulley, said: "CSO's play a key role in achieving the aims of the recently published England Boxing Strategy, especially in the sections that highlight 'stronger clubs' and becoming a more 'inclusive sport'. Typically, a CSO will help clubs to establish good governance and business plans for clubs and negotiate long term leases. This puts clubs in good positions to apply for grants. In the 2013-17 period, England Boxing calculated that affiliated clubs had received over £12million in grants."