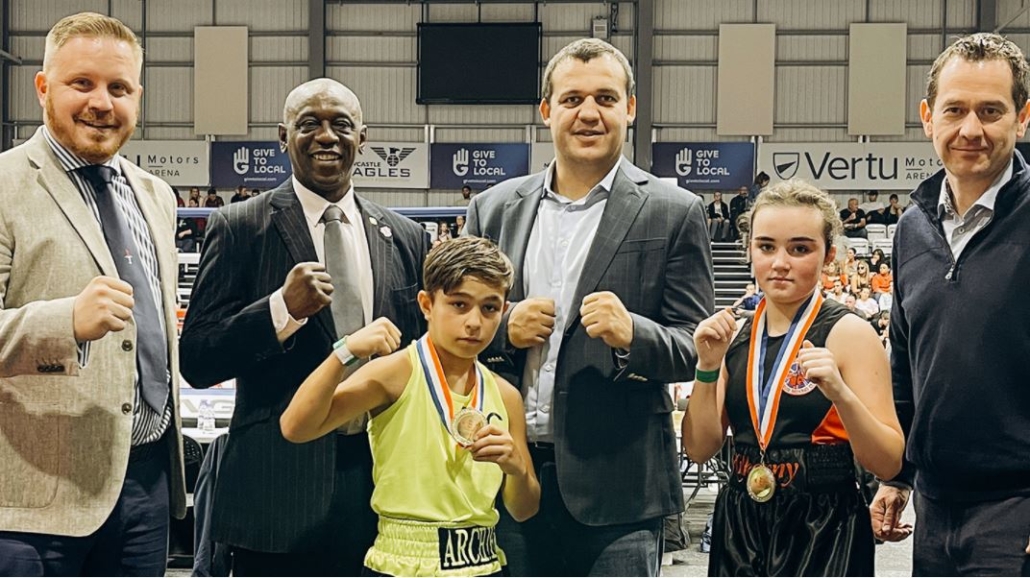 AIBA President in England to discuss boxing's future – and watch the Schools Championships
September 29, 2021 | by Matt Halfpenny
AIBA President Umar Kremlev has met with England Boxing Chief Executive Officer Gethin Jenkins to discuss the future of amateur boxing – and took time to drop in on the weekend's England Boxing National Schools Championships 2021.
The Russian head of boxing's world governing body travelled to London on Friday (24th September) to discuss the ongoing development of the sport and spoke of his desire to 'revive boxing's best traditions.'
He then travelled up to the Vertu Motors Arena on Sunday (26th September) to chat to officials, hand out certificates and watch a selection of bouts at England Boxing's first major Championships held since the onset of the Coronavirus Pandemic.
"As was discussed with Mr Jenkins, we are planning to establish in England a historical monument for the founders of boxing… those who developed and wrote the rules for (modern-day) boxing," said Mr Kremlev.
"AIBA is also looking to seek out and invite the family of Val Barker (ABA heavyweight champion in 1891 and AIBA Secretary between 1926 and 1929) as honoured guests to the AIBA Men's World Boxing Championships, which takes place in Serbia at the end of October. It will be a great honour for us."
Mr Kremlev said he was impressed with what he saw on Schools Finals Day, where champions were crowned and golden gloves secured across a host of weight.
He added: "I was pleased with the high level of the tournament with more 170 boxers, boys and girls aged 12 to 14-years-old, taking part in the finals in three rings… we saw 86 exciting fights."
During his visit, Mr Kremlev presented a gift from AIBA of boxing equipment including gloves, headguards and training pads for England Boxing to distribute.