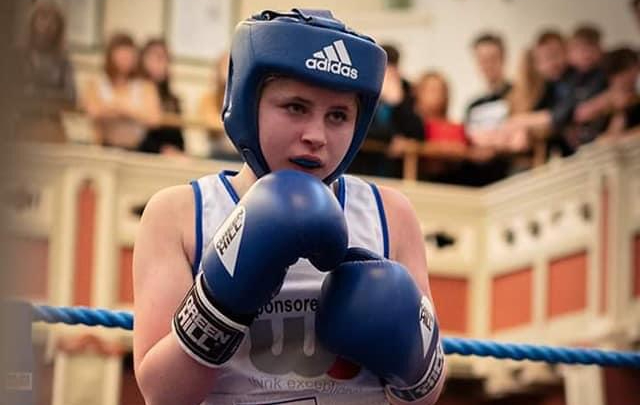 Abbey's Jackson makes speech on boxing's benefits
September 28, 2020 | by Matt Halfpenny
A teenage boxer from the Hulton Abbey ABC has spoken in front of her school friends about the merits that training and competing in the sport can bring.
Ellie Jackson, 15, was required to write and deliver a speech as part of her English lessons, with her teacher suggested she used boxing as her topic, given her obvious passion for it.
That's exactly what the student from Ormiston Horizon Academy in Chell, Stoke-on-Trent did, with her enthusiasm coming across in spades.
Jackson (pictured above, image courtesy rrphotography.co.uk) boxes at Female Junior Under-51kg and has so far contested five skills bouts and two bouts, with the hope of plenty more to come once the Coronavirus Pandemic eases.
"Boxing can often be portrayed in a negative light, but Ellie wanted to highlight all the good things that can come from it," said proud dad Neil, who coaches at Hulton Abbey, in Hanley, Stoke.
"A lot of people still probably wouldn't want their daughters boxing, but, as she explains, it has given her great confidence and taught her discipline.
"As a parent, I know exactly where she is on Monday, Wednesday and Friday nights because she's training and it's something she absolutely loves doing too, as comes across in her speech.
"She'd love to be a vet when she is older and she knows she will have to stay focused if she wants to do that, which is something she is already learning in boxing."
Ellie's speech in full
Violence, hatred, harmful, aggressive. These are just some of the words people use to describe boxing. Many people believe that it has a negative effect on a person's life, for instance, making them a bad and violent person.
However, I believe that this is not the case, in my opinion boxing can help people get their life back on track and teach them many new skills, sometimes making someone a better person.
Boxing revolves around discipline and respect, it teaches you these things as well as how to protect yourself.
My life has always revolved around boxing. This is due to my family having a love for it ,such as my dad used to do boxing when he was younger and now teaches at the boxing gym I go to. My family believes that boxing is an important part of their life, I agree with them because it has taught me so many things like how to defend myself and how to listen to the coaches when in the ring. People believe that you have to hate the person you fight in boxing however this is not the case as many of the people I have fought I am friends with now. My boxing club believes You have to have respect when you are fighting someone as at the end no matter the result you say well done to the other person and thank you to the opponents coaches for the fight.
There is an aspect of trust that you have to have with your coaches. This is because when in the ring you have to trust the advice on what they tell you to do will work, this also applies in training.
In my boxing gym I have a great love for my coaches they are like a family to me they always treated me the same as every other boxer in the gym no matter how much better the others were or how busy it was in the gym they would always make time for you to see how you are and they always believe in you no matter what. They never give up on you no matter if you lose one fight they like to say yes you lost this one but you will win the next two. In my gym we do not allow judgmental or disrespectful people into our safe space, our gym is like one big family no matter age or gender we all support each other and help each other become better. If someone comes in and disrespects someone or tells them things like they aren't any good they are told to leave and find a new gym as we don't want that type of person in our family. To me my coaches are father figures every single one cares and believes in me.
Even if I come in the gym sad they ask me what's up and we talk about it. Our gym isn't just a place you learn how to fight. It's got more meaning and love behind it. This is the place I'm comfortable and safe, I wouldn't have got anywhere without these people.
Yes there is a lot of pressure when fighting and yes it's an aggressive sport however the violence is kept in the ring and when training, once the fight and training is over the aggressiveness stops you become respectful to the people around you. Boxing is a good way to relieve stress if you have had a bad day or if you're angry you come to the gym and after you feel better. Would you rather someone be fighting in streets or in a controlled area when angry or stressed?
Boxing has provided a lot of people from having a bad lifestyle to becoming a mature and disciplined person such as Anthony Joshua. He is a famous boxer who went from doing drugs, getting arrested and living in dangerous areas, to a respectful, disciplined and skilled boxer. Anthony Joshua is a well-known and admired person in boxing, his past life before he started boxing was taking him down a dark path which could only end him in a bad place when he got older. However he found boxing in this dark time and he started to focus on this more than anything. He slowly stopped getting arrested and started to become a skillful and talented boxer, this changed his life in the long run.
They say ​boxing​ is as much a mental game as it is a physical one, and anyone who has ever stepped in the ring can surely attest to this. As such, some of the greatest boxers of all time faced not only their opponents in the ring but also themselves. The inner struggle is a common theme in the sport of boxing. It's one of the only sports in the world that forces an individual to look deep inside of themselves to discover who they really are. No matter age or gender it teaches someone that with focus and determination they can achieve anything in life.
"It ain't about how hard you can hit. It's about how hard you can get hit and keep moving forward." -Rocky Balboa. ​This quote means so much more than just when you're in the ring fighting it also applies to life, this is because in life you are faced with problems that you cannot control and even predict. Much like when you're fighting you are unable to know what the other fighter will do. It's different every time. When he said it's about how hard you get hit and keep moving forward, boxing can teach you to face your problems no matter how hard they are and just keep going.
Violence, hatred, harmful and aggressive. I leave you with the question: do you still believe after hearing my speech, that this is what boxing is, and stands for?