Youth Championships 2021: Finals Day report – northern powerhouses' cause to celebrate
November 30, 2021 | by Matt Halfpenny
The northern powerhouses of Tyne, Tees and Wear and Yorkshire enjoyed an England Boxing National Youth Championships 2021 to remember in Banbury at the weekend, as boxers from those regions claimed a string of titles.
No less than eight boxers from the North-East prevailed in Sunday's finals, with wins for Shaun Huddart (Birtley) and Lee Rogers (both Birtley), Alex Hubery (Shildon, pictured below), Zoe MacDonald (Houghton), Jude Percival (Wearmouth), Harley Carberry (Billingham), Sophie Ray (Kenton) and Reece Readshaw (Phil Thomas) in their respective categories.
The White Rose county were not far behind at the Spiceball Leisure Centre thanks to successes for Sabba Hussain (Sharkey's, pictured above), Jack Lambert (Laisterdyke), Teagn Stott (Sheffield Boxing Centre), Codie Smith (Hull Boxing Centre), Florence Mangeni (Gladiators), Maddie Gittens (St Paul's) and Darren Littlewood (Parson Cross).
Together with three more titles for the North-West region, it meant the three most northerly England Boxing regions accounted for 18 of the 41 titles on offer.
That said, there was a wide spread of wins covering the length and breadth of the nation, with every one of the 11 regions providing at least one champion.
As ever, there was a strong showing for London, who had seven victories, while the Midlands also did well, with five boxers coming out on top.
In all, 38 clubs could boast a national title by the end of the weekend, and only three of them (West Ham, Priory Park and Birtley) had more than one victor.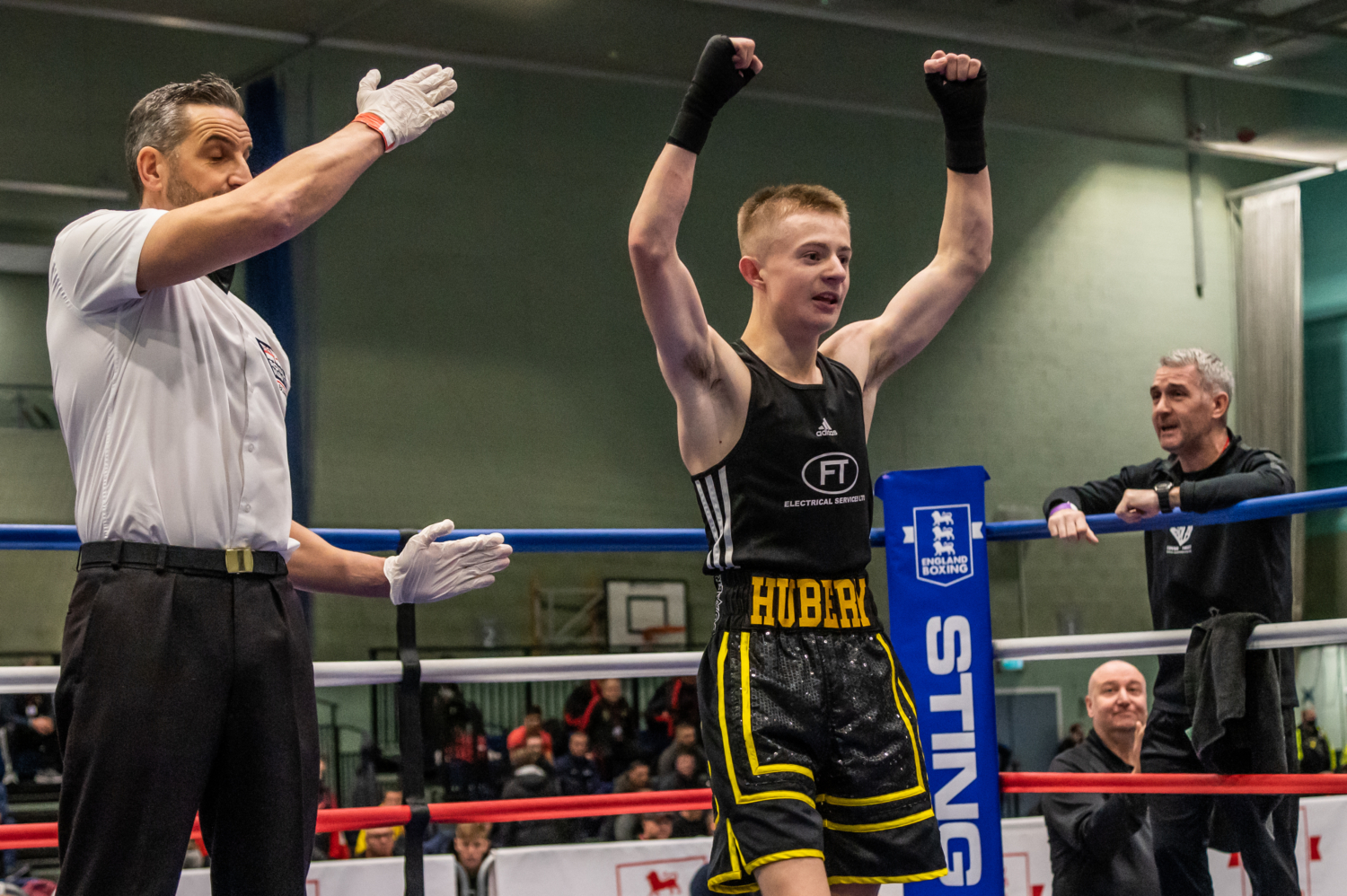 "Across the female and male categories, we saw some very accomplished performances from young boxers who have clearly been working hard during the break enforced by Covid-19," said England Development Coach, Amanda Coulson.
"While there was no Championships for lots of the age groups last year, the Youths did manage to get theirs in before the first lockdown, but, even so, there were still lots of boxers at the weekend who really came to our attention for the first time, as well as others who we already know about.
"Although there is no talent pathway this year, it is expected to be back up and running next year, and we are inviting those who won Open class titles to attend a Youth Champions Day with the England Talent coaches on Sunday 12th December (at West Ham Boxing Club).
"Those who have performed well here, and, age-wise, are still eligible, have also put themselves in a strong position for the England Boxing National Youth Championships 2022, which are coming up in February."
Open Class champions were rewarded with a championship belt, while Cadets and Development boxers won a gold medal.
Finalists in all classes picked up silver medals and losing semi-finalists bronze medals, while all boxers from the quarter-finals stages onwards received an England Boxing certificate in recognition of their efforts.
Female boxers of the tournament, as selected by the team of watching England Talent coaches, were Florence Mangeni (Development, Gladiators, Under 54kg), Alex Bryant (Cadet, Trowbridge, Under 55kg) and Sacha Hickey (Open Class, Peacock, Under 64kg).
Male boxers of the tournament were Louie Ward (Development, Rainham, Under 60kg), Tom Welland (Cadet, West Ham, Under 56kg) and Codie Smith (Open Class, Hull Boxing Centre, Under 60kg).
The female bout of tournament was Alex Bryant (Trowbridge) v Acacia Barron (Titleshot) in the Cadet category, while the male bout of the tournament was Lee Rogers (Birtley) v Lewis Noakes (Hall Green) in the Open Class.
Click here for full results.