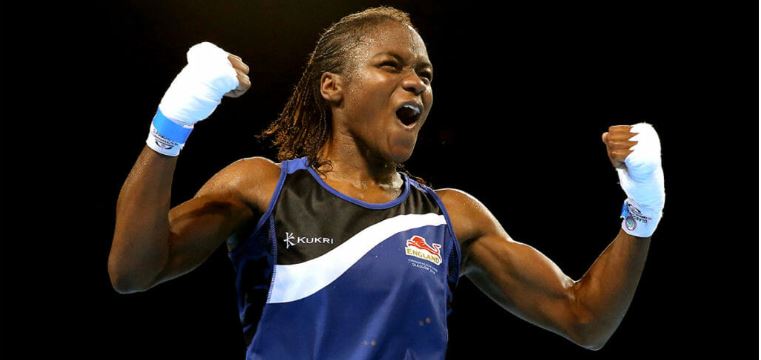 Team England Futures programme announced for Birmingham 2022 Commonwealths
October 2, 2020 | by Matt Halfpenny
Talented young boxers will be among the future sports stars hoping to take part in the Team England Futures programme at the Birmingham 2022 Commonwealth Games.
Supported by Sport England and delivered by SportsAid, the Commonwealth Games England initiative will see young athletes and aspiring team support staff provided with unique experiences and insights into a multi-sport, major Games environment.
The aim is to better prepare athletes to deliver medal winning performances (such as Nicola Adams pictured, above) as either Team England, Team GB or Paralympics GB debutants at future Games, while also giving support staff a first-hand look at the opportunities they could be presented with, as well as challenges they may face.
"We're delighted to be partnering with SportsAid to deliver this fantastic project at Birmingham 2022," said Paul Blanchard, Chief Executive of Commonwealth Games England. "To be able to give young athletes  experience of as big an event as a home Commonwealth Games will hopefully be invaluable to their future success.
"I'm sure we'll discover some new stars along the way and help to inspire the next generation of sporting talent."
The Team England Futures programme will reinforce the importance of the Commonwealth Games, particularly one hosted on home soil, as a developmental opportunity within the talent and performance pathway. The athletes and support staff will gain a greater understanding into being part of a diverse, multi-sport team and its values.
They will also see first-hand the inspiration and impact of disabled and non-disabled athletes competing alongside each other, as part of one team – a very special element of the Commonwealth Games experience.
Sport England's Strategic Lead, for Talent and Performance, Duncan Truswell, said: "From the outset, we were keen to make sure that England and the UK High Performance system derives maximum value and benefit from hosting the 2022 Commonwealth Games and this programme is a key part of that."
"We know that attendance at a multi-sport, major games can be a formative experience for developing athletes and the team that support them, opening their eyes about the unique opportunities and challenges that lie ahead.
"They will get practical, actionable, advice and support from those athletes and coaches who gone before them and I am really excited to see the impact."
The programme will assist athletes and support staff in recognising how to perform at their best, how to handle the pressure and distractions associated with a major Games, and how to make the most of the experience.
This will be achieved through a mixture of interactive online workshop sessions, spectator and behind-the-scenes experiences and visits to the various athlete training and accommodation facilities.
There will also be time for crucial interaction with Team England athletes and other inspirational ambassadors throughout to allow participants to learn directly from them and quiz them on their top tips.
"Team England Futures is a very exciting programme to be involved with and everyone at SportsAid is committed to playing their part," said Tim Lawler, Chief Executive of SportsAid.
"Our principle objectives are to ensure that the athletes and team support staff involved have the most unique, meaningful and inspirational experience of their sporting journeys so far.
"If that can be achieved, then sport will have a cohort of people with a unique bond and shared experience that should frame and inspire their personal journey in some form for the rest of their lives."