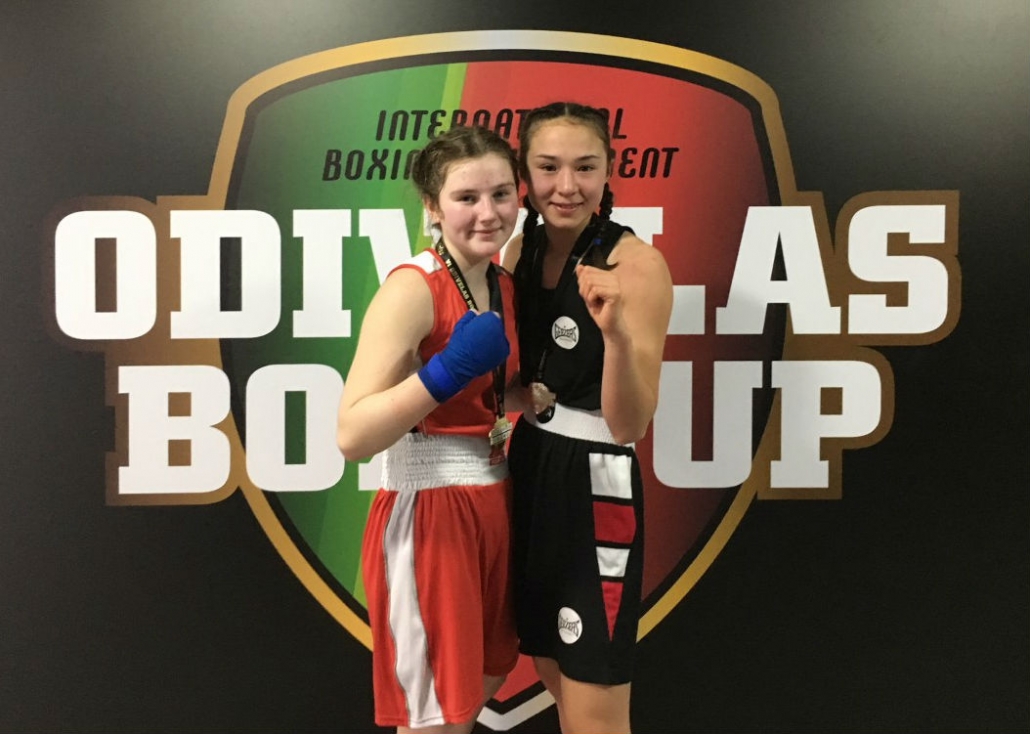 Right Stuff ABC enjoy Portuguese experience
February 25, 2019 | by Matt Halfpenny
Two boxers from Stafford's Right Stuff ABC secured silver medals at the Odivelas Box Cup in Lisbon, Portugal just before Christmas.
Amy Nolan and Ruby Scott represented the Midlands Region club with distinction before losing out in their respective finals to more experienced opponents.
First to box in the Schools Female 52kg category was Nolan, who drew Beatriz Esteves of Privilegio Boxing Club, Portugal in the semi-finals.
She boxed well in her fourth contest to secure a unanimous points win and progressed to the finals where she faced Sophie O'Sullivan of MBA, Ireland.
It was the Irish National Champion, with experience of 20 bouts who prevailed, but Nolan put in a very good performance in losing narrowly on points.
Scott was entered in the Youth Female 60kg category where she drew Chryso Christofi of Elite Boxing Club, Cyprus in the semi-finals.
The Right Stuff boxer forced two standing 8 counts in the second round, causing the referee to intervene and stop the bout in her favour.
In the final, Scott took on Ellis Hopkins of City Of Leicester ABC, who had 31 bouts experience – 16 more than her opponent.
Nevertheless, Scott boxed very intelligently to lose on a wafer-thin decision to take home a silver medal for her efforts.
A third Right Stuff boxer, Lucy Carson, also entered the competition Lucy Carson but unfortunately did not get a bout as no-one else had entered in the 75Kg Junior Female category.
"We'd like to thank England Boxing for granting us permission to undertake this great experience," said Right Stuff coach Andy Whitehall MBE. "It has enhanced the boxing of those that went as well as my own coaching experience."
You can watch Amy and Ruby box in their semi-finals here. Scroll through to 29 minutes 30 seconds for Nolan v Esteves and 2 hours 24 minutes 13 seconds for Scott v Christofi.
For their finals action, click here, then scroll through to 35 minutes 42 seconds for Nolan v O'Sullivan and click here and scroll through to 2 hours 17 mins 30 seconds for Scott v Hopkins.