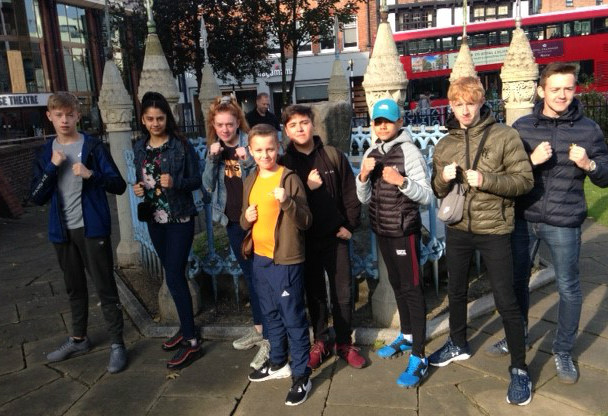 Kingstons collide for uniting Project Athelstan
November 7, 2019 | by Matt Halfpenny
Boxers from the East Hull Boxing Academy have been given the opportunity to visit London – and get in some valuable training – as part of a trial twinning programme.
Project Athelstan aims to bringing people together, with residents and businesses in one local authority investing in projects that provide opportunities to give value, purpose and meaning to lives in their own town or city, as well as those in another in a different region.
The project name stems from King Athelstan, who united the country by becoming the first King of all England, crowned in 925 in Kingston upon Thames.
And the first part of the project has seen local club Surbiton Boxing Club invite members along from East Hull – another Kingston (Upon Hull, in the Yorkshire region) – for cross-club sparring and a workout.
The 11 boxers who travelled south were also able to visit the Houses of Parliament, where they met Hull East MP, Karl Turner, and take in other London sights.
"The boxers and Academy really looked forward to the trip, especially the training at another club, and it gave the kids a sense of travelling and responsibilities on how to conduct themselves for possible future England select camps," said Sean Ross, Head Coach of East Hull.
"The tour was a fantastic experience as many of those who took part were from a socially deprived area and may not have had the opportunity but for this project."
The idea to set up the project came from retired civil servant and Policy Award winner at the 2015 Civil Service Awards, Martin Ellis, who says there has been a need to unite people even before Brexit came onto the horizon.
Project Athelstan attempts to incorporate the NHS five steps to well-being: (a) Connect, (b) Be active, (c) Keep learning, (d) Give to others and (e) Be mindful.
He hopes it will be adopted between other towns and cities in the future, having been a significant success in this pilot, with the help of funding from the Kingston and Surbiton Labour Party.
Ellis said: "Over the last 40 years or so there has been a focus on individuality, which has often been at the expense of community values that underpin a strong and cohesive society.
"One question often posed is why would people want to invest in projects in another town? There is huge diversity in Britain – geography, architecture, accents, ethnicity and this is an opportunity to feel and understand 'our' Britain, opening up people to new experiences, breaking down perceptions and prejudices whilst bringing the nation together."
With East Hull outgrowing their current premises, they are keen to move to a new, bigger premises in the future.
At that point, they are keen to reciprocate Surbiton's hospitality and welcome members from the club along to their opening launch.
"This was a brilliant idea and even better in real life," said Harry Morris, Surbiton's Head Coach. "If sports clubs and cultural organisations took up this idea across the country it would be a game- changer for uniting the country.
"The Rose Theatre in Kingston heard about it and wants to do the same with a school in the North and a local school to work on a production together to put on at the venue."