GB Schools Three Nations 2023: Three Lions roar in Wales
June 19, 2023 | by Chris Boyd
Team England topped the medal table at the GB Schools Three Nations 2023 in Cardiff, Wales, securing 10 gold medals on finals day.
The Three Lions contested 17 of the 18 finals at the Sport Wales National Centre at Sophia Gardens in Cardiff.
From the pool of 17, 10 boxers claimed gold in yesterday's (18th June) Finals Day.
Seven succumbed to narrow defeats in their finals, meaning Team England finished the tournament with 10 gold, seven silver and one bronze medal.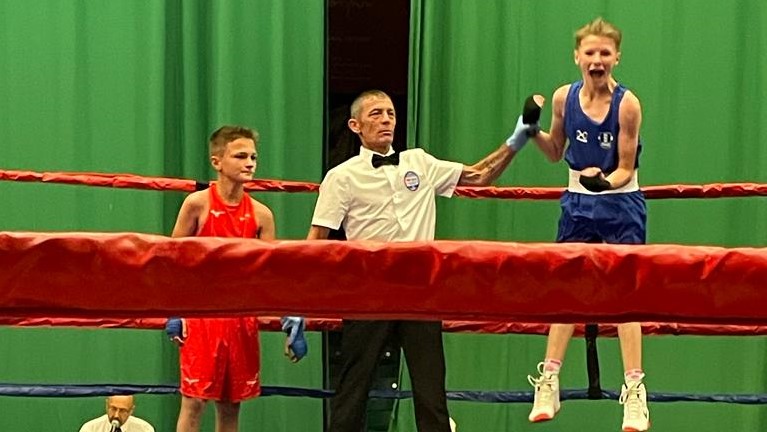 Adrian Fleming, lead coach alongside Steve Bryant, was delighted with every facet of the competition.
"The weekend was a total success.
"Our talented England squad came top of the medals table against two very strong Scotland and Wales squads.
"Every England boxer was a pleasure to work with and they all gave 100% in their competitiveness, preparation, and behaviour.
"I have no doubt in my mind that a good number of these young talents will go on to achieve great success in the future."
Fleming and Bryant were supported by coaches Q Shillingford and Shanice Lauren, while Cliff Perkins was England's Team Manager.
Fleming was delighted with the contribution of all staff that attended the tournament.
"The coaching team of co-lead Steve Bryant, Q Shillingford and Shanice Lauren, along with Ian Tennant who helped on Saturday, all kept the team motivated and inspired throughout.
"Cliff Perkins was also great, ensuring that the hotel, food and timings ran smoothly away from the competition.
We'd also like to offer our thanks to Welsh Boxing for being excellent hosts."
Three referees and judges made the trip to the capital of Wales in the form of Craig O'Dell, Jo Turner, and Mark Howard.