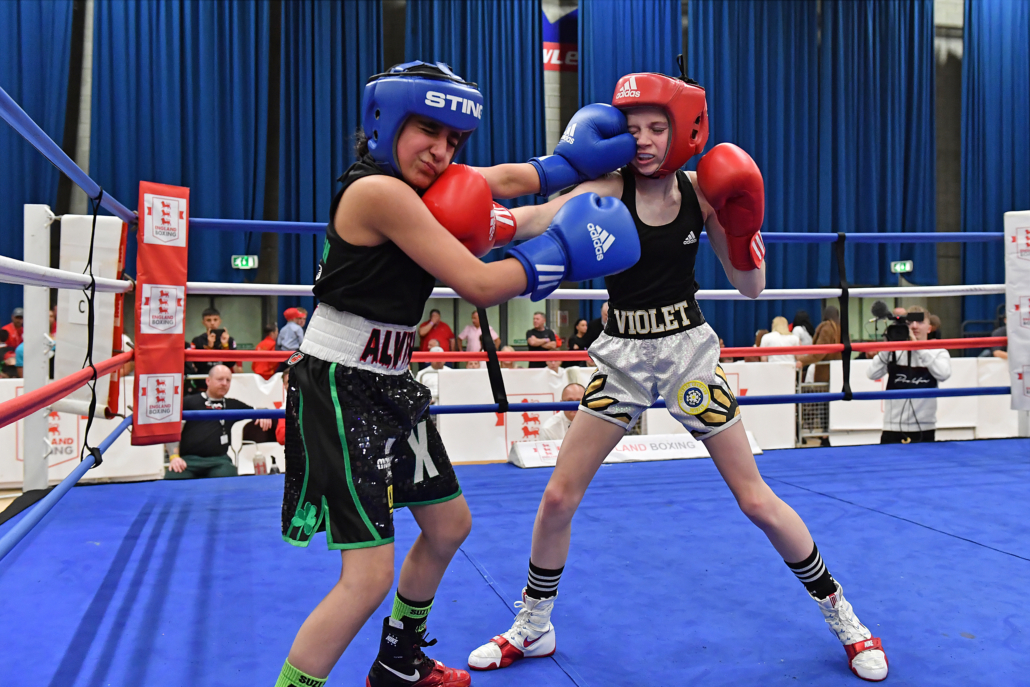 GB Schools Three Nations 2019 – preview and England squad
June 7, 2019 | by Matt Halfpenny
England Boxing's lead talent coaches Mick Driscoll and Amanda Coulson are excited to see what the country's best young boxers can produce when they take on Scotland and Wales in the GB Schools Three Nations 2019 at Barnsley Metrodome this weekend.
Saturday (8th June) and Sunday's (9th June) action is the third instalment in this year's series, with the Junior and Youth (April, in Cardiff) and Elite (May, in Edinburgh) competitions having already taken place.
England had some excellent results at both those events and with two home boxers entered into each category – as is the right of the host nation – the coaching team are hoping for more success at Schools level.
The competition is open to boxers born in 2005 and 2006 (Class A and Class B) but, as is England's qualification policy, their entrants will all be Class B boxers.
"It's looking like there are going to be some excellent bouts, just as there were at the England Boxing National Schools Championships last month, and we're optimistic that our boxers can do well," said Performance Coach Driscoll.
"When you consider the calibre of some of the boxers who didn't make it into this, it shows the strength in depth that we are lucky to have at Schools level in England.
"We have one of the best Schools systems in Europe, it's very competitive to get on the squad, and for those who have it's a great platform for them to go on and further achieve in boxing.
"For a lot of these boxers, it's a chance to show what they can do ahead of the EUBC European Schools Championships in August."
Where two England boxers have been entered into a weight category, they will respectively face a boxer from Wales and Scotland, with the winners facing each other in a final for the right to be called Three Nations champion.
Development Coach Coulson added: "All the boys and girls who have made it through to box for England in this GB Three Nations have done extremely well, and this is a great opportunity for them.
"Pulling on the Three Lions vest was always an enormous honour for me and I'm sure these boxers will feel exactly the same way, especially as for some of them it will be the first time they are competing for their country.
"As a coaching team, we would love to see some all-England finals and, if we do, then we will have had a successful tournament.
"We would like to thank all the clubs and coaches for continuing to support and develop these young boxers, who are stars of the future.
"Without their efforts, we wouldn't have the fantastic squad we have assembling in Barnsley."
The England team manager is Tyrone Harold, while joining Coulson as coaches will be Lorna Moser, Vicky Connor, Rachel Bowers, John Warburton, Adrian Fleming, Rhuari Kane, Anth Kelly, John Hodgkinson and Russ Turnbull.
England Squads
Girls
Under 36kg – Violet Heseltine (Bridlington), Alvina Razak (Sedburgh); Under 42kg – Kayla Holdsworth (Hunslet), Cortney Hart (Mayflower); Under 45kg – Frances Cope (2nd City), Ruby Waters (Heart of Portsmouth); Under 48kg – Lyla Bardauskas (Crowle), Brooke Cooper (Wednesbury); Under 51kg – Paige Hoile (Uxbridge), Chloe Davies (Newark); Under 54kg – Shannon Rochester (Gus Robinson's), Lily-Rose Nash (Portland); Under 57kg – Grace Holland (Priory Park), Eloise Edwards (Emeralds); Under 60kg – Abby Briggs (Hunslet), Katie Doig (Emeralds); Under 67kg – Amber Moss-Birch (Golden Rings), Madison Adkins (Bodyshots).
Boys
Under 34kg – Cain Alexander (Rotunda), Scott Stannard (Sudbury); Under 35.5kg – Quie Coleman (Rourkey's), Bernie Mongan (Bridewater Salford); Under 37kg – Denaeo George (City of Leicester), Francie Coyle (West Ham); Under 38.5 kg – Thomas Varey (Sharpstyle); Paddy Ward (Pinewood); Under 40kg – Chase Loveridge (Pinewood), Mohammed Suleman (Eastside); Under 41.5kg – Joshua Rose (Hall Green), Charlie Smith (Chadwell St Mary); Under 43kg – Jaiden Harradine (West Ham), Paul Graham (Lee Jones), Under 44.5kg – Elie Lessa-Latumba (Capitol), Johnny Docherty (Guildford); Under 46kg – Hamilton Joyce (Camp Detox), Kian Quinn (Braunstone); Under 48kg – Aaron Bird (Olympian), Mason Orchard (Pinewood); Under 50kg – Ellis Panter (Burton Park), Aman Kumar (Cleary's); Under 52kg – Elijah Moore (Kent Gloves), Jeziah Vieira (Earlsfield); Under 54kg – Emmanuel Buttigieg (Newham), Frank Brazil (Rumbles), Under 56kg – Anthony Connors (West Ham), Harry Wilson (Pinewood); Under 59kg – Jimmy Delaney (Guildford City), Denis Sorokins (Rosehill); Under 62kg – Ellis Bamsey (Kings Heath), Michael O'Regan (2nd City); Under 65kg – Mikey Jennings (Jennings Gym), Billy Baxter (March); Under 68kg – RJ Draper (Pinewood), Joe Hogkinson (Olympian); Under 72kg – Ethan Moore (Downend), Jack Blencowe (KIngfisher).
FBT shop, spectator tickets and streaming
England Boxing's official apparel partners FBT will be attending, selling a variety of clothing and equipment, with prices ranging from £10 to £30.
Three Nations-specific T-shirts hoodies will be available, along with a host of other FBT and England Boxing clothing. Country flags can be added to garments on site.
If you want to come along to spectate, doors will be open for the purchase of tickets from 11am on both days.
Tickets are priced at £20 adults, £10 concessions (65+) and £5 children (6 to 15-year-olds). Under 5s are free.
Please note it is cash only and there is not an ATM at the venue and that an England Boxing photographer, videographer and other media will be capturing footage on both days of the event that may include capturing images of spectators.
You can follow the tournament across our social media using the hashtag #GB3N19 and also on our live YouTube streaming:
Day one (Saturday)
https://www.youtube.com/watch?v=-4ybOjclO_0
Day two (Sunday)