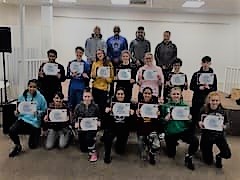 Fitzpatrick's youngsters are latest graduates of Box Leader course
December 18, 2018 | by Matt Halfpenny
A clutch of youngsters from Fitzpatrick's Gym in Leamington Spa are looking forward to working as volunteers support coaches after passing their Boxing Leader qualifications.
15 young people from the club – along with a further three from Northampton ABC – took the course on Saturday (15th December) at The Sikh Sports and Community Centre in Leamington Spa.
It came about following a conversation between Fitzpatrick's coach Babs Kandola and England Boxing's Midlands Club Support Officer Mick Maguire.
"I was speaking with Mick about our community work and mentioned that a large group of our youngsters had expressed an interest in achieving a boxing qualification which could assist them in their volunteering within the club," said Kandola.
"The group, as a whole, are so enthusiastic, and we wanted an opportunity to assist them with learning a little bit about coaching and also allowing them an entry route into playing a more pivotal role with the development of our community club activities.
"The course wasn't just about teaching boxing… it allowed youngsters to learn how to coach and communicate well with others and will help those in attendance on their way to becoming young coaches and teachers."
It was decided to offer the Police Leaders course, which was open to the required age band (14 to 16) and also provided an England Boxing-recognised qualification.
Kandola and Maguire then joined forces to secure the funding needed to make it happen, finding just the help they needed from Coventry, Solihull and Warwickshire Sport, who immediately offered their backing.
"We needn't have worried about getting it off the ground looking back at it," said Kandola "Every time I mentioned it to someone, it was immediately followed by an offer of support whether it was a facility, finances, or resources. The people in the community were behind us all the way.
"Mick contacted Jessica Skinner from the local County Sports Partnership, who loved the idea and immediately offered funding support to allow the course to take place, while Warwickshire County Council made a further donation."
"The Sikh Sports & Community Centre, in Tachbrook Way, agreed to let us use their facility free of charge, an offer we gratefully accepted. On behalf of Fitzpatrick's Gym, I would like to say a huge thank you to all involved."