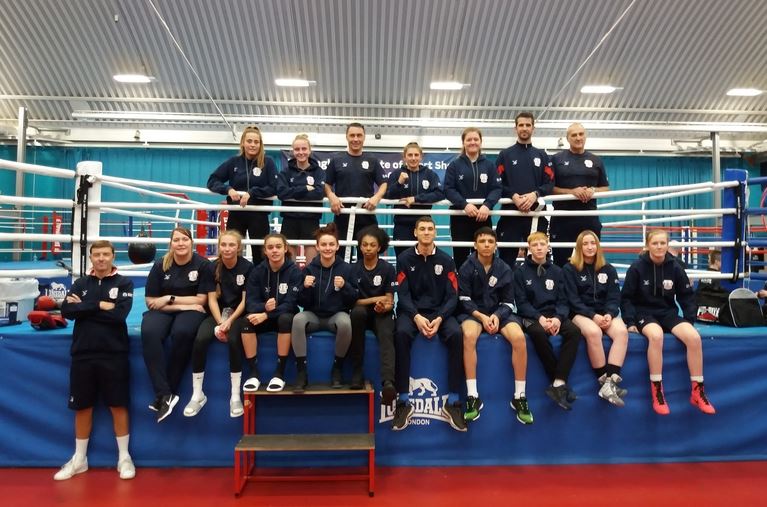 European Junior Championships – Preparation Camp
October 2, 2018 | by Matt Halfpenny
The England Boxing Junior team met yesterday for the final preparation camp ahead of the European Championships due to take place in Anapa, Russia 8 – 17 October. See below for the full team list.
We would to thank all the boxers and club coaches that travelled to Sheffield to support and provide sparring for the team.
Mick Driscoll (England Boxing Performance Coach) added "It was a great opportunity to get other boxers on the England Talent Pathway to share their previous experiences of boxing abroad at major international competitions".
Updates will be posted here following the general weigh in and official draw on the 9th October.
46Kg      Alex Brown                        Newbiggin                          Tyne Tees & Wear
48Kg      Megan Bainbridge            Brandon                              Tyne Tees & Wear
50Kg      Holly Heffron                     HOP                                    Southern Counties
52Kg      Courtney Scott                  Hartlepool Headland          Tyne Tees & Wear
54Kg      Sameenah Toussaint        Northolt                               London
57Kg      Sacha Hickey                     Fisher Downside                London
60Kg      Danielle Marshall              Hartlepool Catholic             Tyne Tees & Wear
63Kg      Ciara Hodnett                    Wildcard                             Merseyside & Cheshire
80Kg      Emily Asquith                     Bridlington                         Yorkshire
46Kg      Jack Dryden                      Birtley                                 Tyne Tees & Wear
48Kg      Joe McGrail                       Everton Red Triangle         Merseyside & Cheshire
50Kg      Charlie Hickford                Bodyshots                           London
52Kg      Billy Adams                        Dagenham                         London
54Kg      Ellis Price                            Hunslet                             Yorkshire
57Kg      Juanid Bostan                    Steel City                           Yorkshire
60Kg      Adam Azim                         Pinewood Starr                 Home
63Kg      George Bance                   Atherstone                         Midlands
75Kg      Tommy Dixon                    Attleborough                      Eastern Counties
80+Kg    William Howe                    Phil Thomas                       Tyne Tees & Wear
Team Manager: Martin Webb
Lead Coach: Mick Driscoll
Coach: Ivan Cobb
Coach: Vicky Connor
Coach: Adam Haniver
Coach:  Mark Collings
R&J: Tony Kennelly