Duo takes on 50-mile challenge as Northern Powerhouse clocks up 2,500 miles
September 25, 2020 | by Matt Halfpenny
Two members of Northern Powerhouse Boxing Academy are today (25th September) attempting to walk the 50-mile Calderdale Way in just one day as part of a club challenge that has collectively seen more than 2,500 miles covered.
Club Coach Chris McCord and Club Member Tom Thornycroft are taking on the notoriously tough and hilly route over the Yorkshire Moors that passes through or close to Ripponden, Elland, Brighouse, Holmfield and Hebden Bridge.
They set out at 6am this morning and hope to complete their trek at around 9pm, aided by some of their fellow Northern Powerhouse members, who have come out to walk certain sections with them.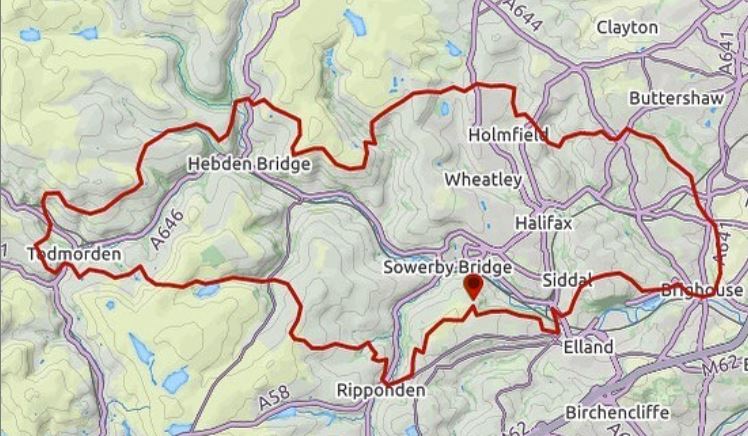 Their laudable effort is part of the Todmorden club's overall bid to cover as many miles as they can during the month of September – a challenge that has helped galvanise and motivate members during the Coronavirus Pandemic.
It was inspired by Active Calderdale's 'Move The Calderdale Way' Challenge, which urged all clubs and groups in the area to cover 50 miles – the equivalent of the Calderdale Way – between them.
With more than 50 Members getting involved, the West Yorkshire club has gone way beyond that, clocking up 50 times the initial target – by boxing, running, skipping and walking – with five days still to go.
"I'm really proud of what everyone at the club has achieved during the last few weeks, with everyone getting stuck in," Josie McNamara, Northern Powerhouse's General Manager.
"At a time when we haven't been able to see each other as much as normal, it's been a great way to keep everyone in touch and engaged.
"It's fantastic that Chris and Tom are doing the 50-mile challenge on their own… I know there are plenty people who are going out on the route to support them and keep them fed and watered.
"What we said was that individual Members could do it for a charity if they wished, but has shown that if we do want to do something for charity, then a challenge such as this is a great way to do it."
Northern Powerhouse was formed in 2018 as a female-led club but it welcomes anyone interested in using boxing to train, whether for competition or not.
The clubs thrives on a friendly atmosphere and currently runs 20 classes a week (with six people in each) to cater for demand during the COVID-19 restrictions.
McNamara added: "We have predominantly female coaches here and good female attendance, but we are inclusive and open to all.
"It's been great to see the way that everyone has rallied for this and it's not out of the question that we could do 4,000 miles by the end of September."
You can follow Chris and Tom's journey on Northern Powerhouse's Instagram and Facebook.