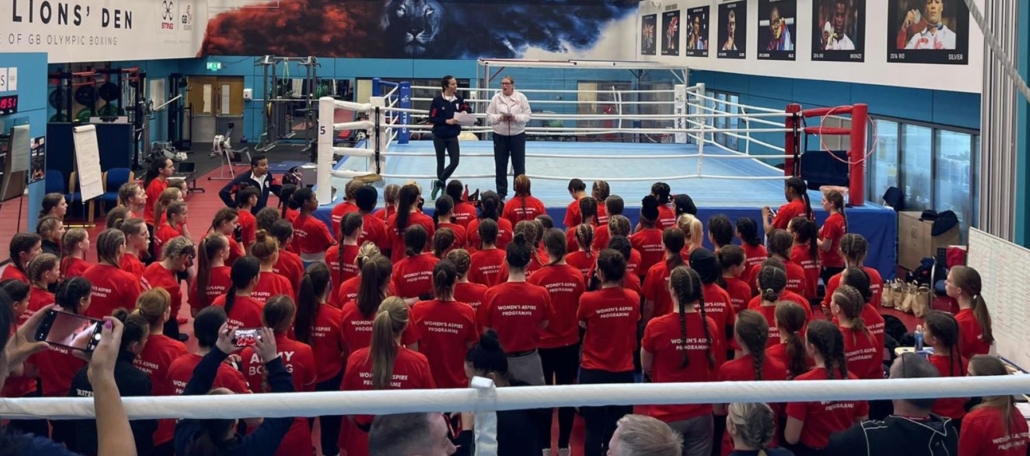 Details for this weekend's Youth and Elite Aspire session (26th June)
June 22, 2022 | by Matt Halfpenny
England Boxing is looking forward to welcoming Youth and Elite boxers from all over the country for the third instalment of the Women's Aspire Programme this Sunday (26th June), between 12.30pm and 4.30pm.
Those who will be there – with a number of coaches also in attendance to support the boxers – have been invited to do so by their respective regions and will convene at the English Institute of Sport (EIS) in Sheffield.
If you are attending, please read the following information on how to prepare for the day.
Boxers
Boxers are reminded to arrive at 12noon for a 12.30pm start and to wear their red Aspire t-shirts. Please make sure you have with you:
BCR1 card – this must be registered for at least the 2021-2022 season, as well as a medical that is in date (failure to do so will result in you not being able to take part).
A completed parental consent form (for under-18s only, or scan QR Code)
Sparring gloves (14oz minimum) of good condition, headguard, hairnet, gumshield, wraps, skipping rope, protector (optional), running shoes, training clothes.
Water and food/snack to keep you fuelled and hydrated.
Coaches
Coaches should arrive at the same time as boxers, above. Please bring:
Your England Boxing lanyard (which must have an in-date DBS)
Coaching pads and your coaching creativity to add to the session.
Water and food/snack to keep you fuelled and hydrated.
The programme is being supported by the England Talent Pathway coaches, as well the coaches from the 2021-22 Female Coach Development Programme (pictured below) and the current 2022-23 Women's Coach Development Programme.