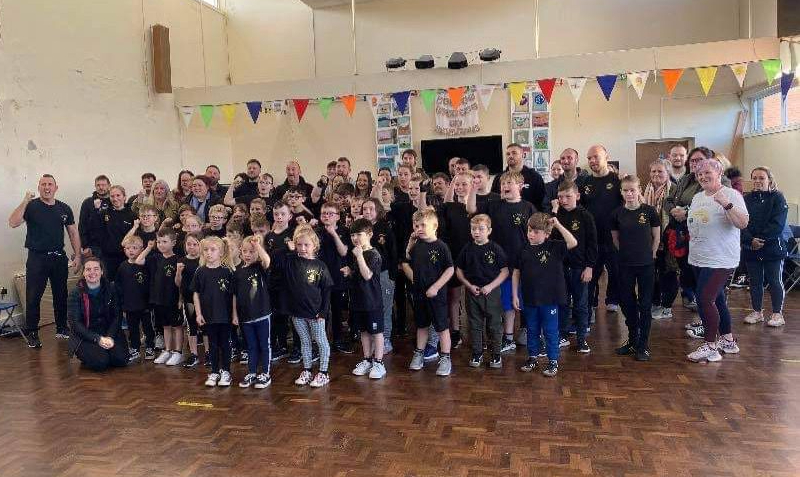 Barrow raise money for Stitch-Ability with press up and punching challenge
December 15, 2021 | by Matt Halfpenny
Jeff Moses and his team of boxers from Barrow ABC have recently completed a challenge of 100 press ups and 500 punches to raise over £2,000 for local CIC non-profit group Stitch-Ability.
The community interest company based in the Cumbrian town help young people living with a disability or struggling with anxiety learn new skills.
These include t-shirt and mug printing, photography, sewing and wool craft, along with marketing and administration skills, that all come together to keep the project running successfully.
Products are created, managed and sold by the young people who are involved in the ASDAN-accredited project which brings people together who usually struggle to gain real life work experience.
The project runs weekly sessions engaging with participants unique skills and interests in workshops that are fun and they all come away feeling valued.
Jeff, who volunteers at Stitch-Ability for Barrow ABC, said: "I have been involved in boxing all my life and this is along with our Box – Ability sessions are my favourite times of the week.
"The participants learn to trust you and believe in themselves which is the most positive and rewarding experience.
"I wanted to help raise some funds for more equipment for the project as this will enable us to recruit more volunteers, which only enhances the life skills and experiences for all involved."
For the sponsored challenge, Jeff also purchased T-shirts for everyone made by Stitch-Ability.
For more information on the project, contact: mandy@astitchdifferent.co.uk
To purchase any items made by the group please visit the Facebook page by  clicking here.
]