Apprentice Gareth delivers hit session at London venue Carney's
November 18, 2002 | by Matt Halfpenny
England Boxing apprentice Gareth Asamoah-Phillips delivered his community event earlier this week at the Carney's Community Centre, Battersea.
The event was planned and delivered by the London Region apprentice, with the help of several Coaches from the Carney's Foundation, and in consultation with George Turner (co-founder of Carney's).
Around 30 kids attended a first session and a further 18 attended a second adult session – both provided free of charge.
They came from a wide range of socioeconomic families, and a very diverse local Community. The mixed group included around 10 wen and girls and included several SEND kids, who absolutely loved the boxing introduction.
Gareth (pictured above, left) gave the host coaches the job of selecting a number of prize-winning boxers, who were presented with a selection of very good quality boxing gloves at the end of the sessions.
Saskia, 14, and Ahmed, 16, were awarded a pair of Velcro Pro-Box boxing gloves each, whilst Junte, 18, received a very high-quality pair of red leather laced Fly boxing gloves for his efforts.
After an initial warm-up, delivered by Gareth, and some skipping, the groups took part in a number of footwork drills, interactive padwork drills, and technical conditioned sparring (50% body sparring).
Level 1 coach Gareth spent a great deal of time Coaching on the pads, offering his excellent techniques whilst assisting with stance, guard and footwork.
Everyone who took part in the event were issued with a free speed skipping rope, and set of IBA-approved adidas bandages. All were also fed, as part of their participation in the event.
"I don't mind admitting that I struggled a fair bit with organising this event, but we actually had a really good group of kids turn up, and the Community Event went very well, thanks to the help from all the Carney's Coaches," said Gareth.
"It was a good training session, and they (the boxers) were all very pleased to receive the skipping ropes and wraps. Saskia, Ahmed and especially Junte were amazing prospects – I think they'll do well in boxing."
England Boxing Club Support Officer for the London Region, Dan O'Sullivan, said: "We'd like to offer special thanks to co-founders of Carney's, George Turner and Mark Reigate, for allowing Gareth to host this event, which will have added a great deal of confidence to his ability going forward.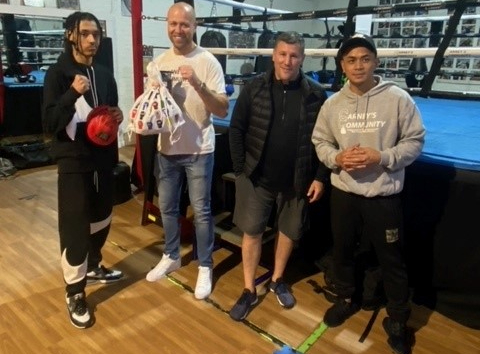 "It was great to see Gareth in his element, on the gym floor, and in the boxing ring, teaching the boxers the right way – using his experience and knowledge. "
The event was well received by attendees, with Junte saying: "I am so grateful for the fantastic opportunity to attend this session, which very insightful and gave me a lot of food for thought.
"Gareth is an excellent padman, and clearly knows his stuff with coaching. The Fly Gloves are a dream come true – I could not have wished for a better set of boxing gloves."