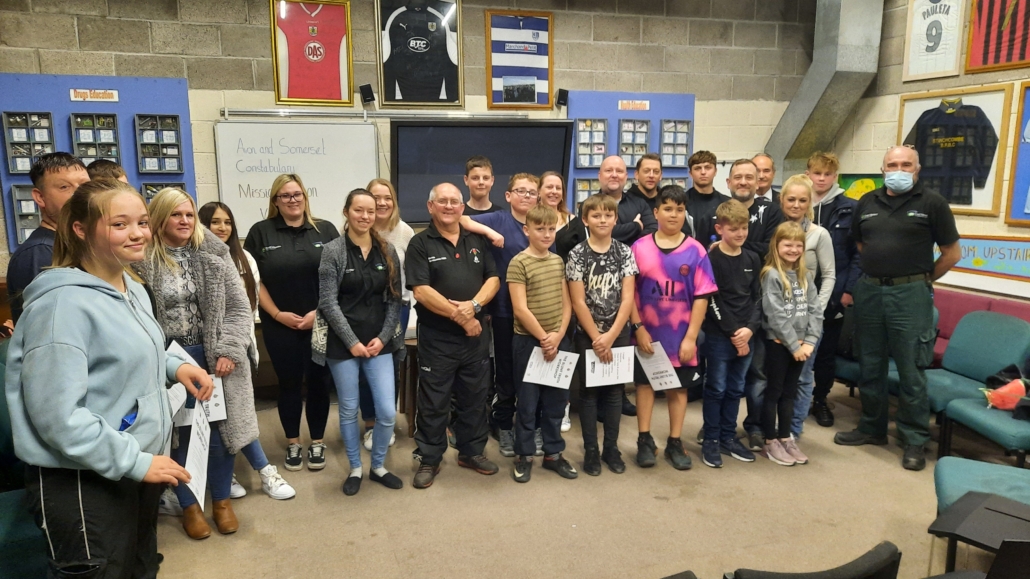 Anti-knife crime workshop staged for Bristol clubs
December 1, 2021 | by Matt Halfpenny
Two Bristol boxing clubs joined with Avon and Somerset Constabulary and Young Bristol to hold a Knife Crime – The Blunt Truth workshop at Broadplain Boxing Club.
The programme is a collaboration between Avon and Somerset Police and the NHS which aims to encourage young people to report if they know someone is carrying a knife.
Participants also receive hands on first aid training delivered by NHS doctors and paramedics to help them save a life in the event of being witness to a stabbing.
The knife crime workshops are being held at schools and community groups across Bristol and the session at Broadplain, in the heart of the city, was staged with the help of Dennis Stinchcombe MBE and Young Bristol.
A&E worker Dr Maud McCutcheon, Crown Court Judge, his Honour Mark Horton, Ellen Campbell (Youth Project and Engagement Coordinator), and volunteers from Great Western Air Ambulance Charity attended to give valuable insights.
Former boxer and coach Sean Stinchcombe also told the group about his own experience in losing a friend due to
knife crime in the early 1990s, how he had attempted to save his life and how he became a suspect in the murder investigation.
"The entire community was shocked on 13th February this year when there was a stabbing involving young people directly outside the boxing club," said Craig Turner of Avon and Somerset Constabulary and Downend Boxing
"This was followed on 14th September by the park adjacent to the club being sealed off due to weapons being found relating to a double murder in the city.
"I read about the new Blunt Truth Workshop and contacted PC Kris Withers who is Youth Engagement Officer with the Violence Reduction Unit to find out more and see what could be done."
A young boxer who attended the workshop found it hugely valuable and said: "Sean's experience really highlighted the reality of what can happen if you carry a knife to cause trouble or to defend yourself… it can never end well."
Representatives from Broadplain, Downend and Plympton Boxing Clubs attended, along with those from Young Bristol and the University of the West of England boxing team.