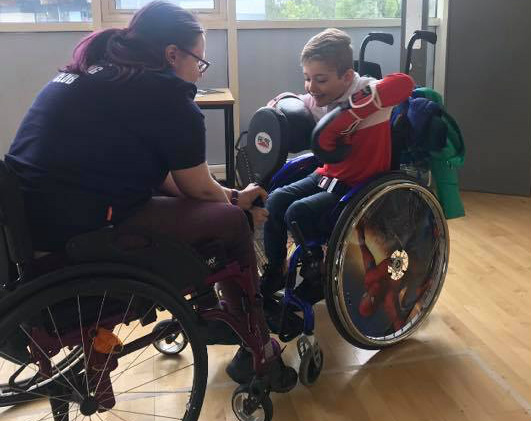 Warley ABC keen to expand on its accessible offering
May 23, 2019 | by Matt Halfpenny
England Boxing-affiliated club Warley ABC attended the recent Accessible Community Games in a bid to showcase what they can offer to people with disabilities.
Coach Richard Heritage manned a stall with the assistance of Wendy Hurst, who are pictured together at the event in Sutton Coldfield.
The Accessible Community Games is part of a series of Community Events which aims to bring a multitude of sports to the community and give local people an opportunity to try out a taster for several sports.
Prior to the event, Dennis Kennedy, the founder and Chairperson of the Sutton Coldfield Community Games and  the driving force behind the new event, said: "The Accessible Games has been a dream for a couple of years now and will offer inspiring physical activity to people with both physical and learning disabilities.
A large attendance with people enjoying the sports on offer proved his thoughts to be absolutely correct.
For their part, Warley were able to offer their own taster sessions, thanks to Wendy's insight as wheelchair user and the pair's coaching skills.
Richard said: "Wendy has been attending Warley ABC for some time now and has been an absolute phenomenon in the way she has helped us to open up our accessible boxing programme.
"She has been paramount in us creating and providing what we think is a wonderfully innovative programme which delivers boxing activities to our local community.
"We work with people who have a variety of both physical and learning disabilities and Wendy has graduated from initially attending as a participant to now assisting in delivery and planning of the sessions."
Wendy added: "My condition restricts my mobility and also means I have difficulty with co-ordination and concentration. My being a wheelchair user along with my condition meant that I was finding it difficult to access any suitable activity sessions within the area.
"I met Richard who immediately asked me to come along to Warley and said he would love to work with me to see if we could create an exercise programme together. We soon devised a full programme of exercises and activities which I could take part in.
"The programme has grown from there and we are now expanding the programme all the time with more participants arriving every week. I have been really happy to be able to assist them with the programme and really enjoyed being part of the Accessible Games.
"I have never been one to accept that I cannot achieve something and I was determined to try out boxing and it has really helped me tremendously, since starting activities with Richard I have increased my co-ordination and seen improvements in both physical fitness and strength along with my ability to concentrate having increased as well."
Find out more about Warley ABC and their club activities via their Facebook page.