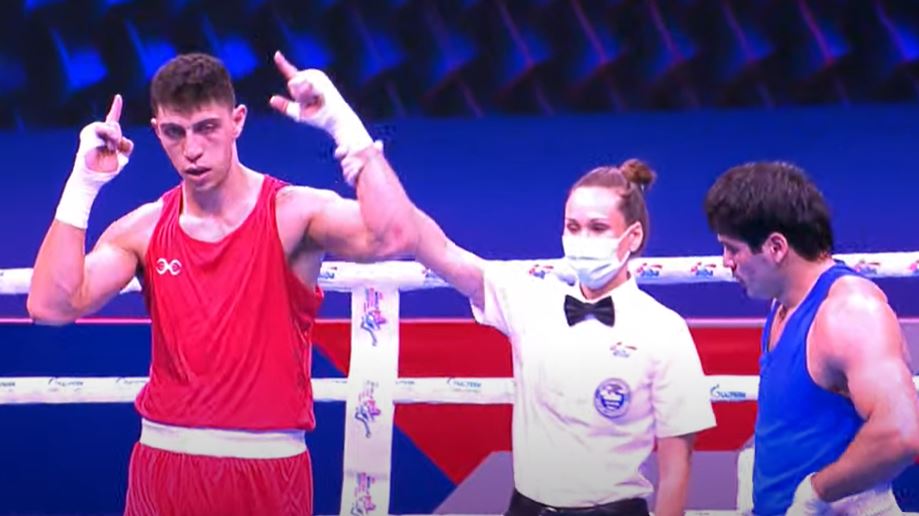 Men's World Championships 2021, day two – Williams impresses in opening victory
October 26, 2021 | by Matt Halfpenny
Lewis Williams marked his first AIBA Men's World Championship bout with an impressive win over Rauf Rahimov of Azerbaijan on day two of the tournament in Belgrade.
The Leamington Spa boxer, from Cleary's ABC, was a unanimous winner at Under 92kg with a polished display where he used his superior height and reach to good effect.
The 22-year-old's straight punching caused Rahimov to need an inspection from the doctor because of damage to his nose.
The first round saw Williams take it on all the judges scorecard's with one giving him a 10-8 margin.
It was the same story in the second round, with exactly the same scoring outcome, as the Midlander's accuracy with the jab continued to reap dividends.
In the third round, Williams backed up his man again with snapping straight shots and some excellent combinations to complete a dominant display and secure victory beyond any doubt.
The European Under-23 Silver medalist from 2019 will now go on to face Indrit Laci of Albania in the next preliminary round on Friday.
However, it was not such a successful day for England's other two representatives, as both lost out.
Sunderland flyweight (Under 51kg) Kiaran MacDonald battled hard against Yuberjen Martinez Rivas of Colombia but went down to a unanimous verdict.
Chadwell St Mary boxer Lewis Richardson (pictured below), meanwhile, was beaten 4-1 at middleweight (Under 75kg) to home boxer Almir Memic after a hard-fought bout.
Tomorrow, just one English boxer is in action as Moss Side Fire's Conner Tudsbury takes on Israel's Yan Zak at cruiserweight (Under 86kg) in the afternoon session.