Sport England's Together Fund: Aspire Boxing Club
August 4, 2023 | by Chris Boyd
Aspire Boxing Club recently received funding as part of the Sport England Together Fund and has used the money to help break down barriers for their community.
Ronny Tucker is the head coach at Aspire Boxing Club, which is located in the Arbouthorne area of Sheffield and opened its doors back in 1990 – making it one of the oldest gyms in the city.
"Boxing is a sport that I have been involved in since the age of nine-years-old. I've seen the benefits that boxing has had on young people and their lives and I've also seen how boredom can have a negative impact on young people.
"Therefore, we've made Aspire Boxing Club a safe place for young people to attend and where coaches can offer support and guidance to young people."
The club works with youngsters who are at risk of exclusion from school, are on the periphery of gang-related crime and those who carry knives.
It's work that Aspire has been focused on for several years now, delivering sessions on relative topics to young people including first aid, the dangers of knife crime, county lines and exploitation – and they've made reasonable adjustments when required.
"We worked with care leavers and listened to their views. One thing that they us was how they couldn't afford to use boxing gyms.
"We soon realised that this was a barrier for some young people, therefore, we decided that we would no longer charge subscription fees. We saw two things happening – an increase in membership and in sustainability."
Aspire also has a 'Grow your Own' scheme, which enables people within the gym to become coaches. Currently, every coach at the gym has either boxed for Aspire or attended the gym recreationally and now Tucker hopes that, with the Together Funding, they can further develop their coaches.
"We aim to use this funding to send more coaches on the England Boxing Level One Course. It's also allowed us to buy new equipment and pay rent to open up the gym more often. Obviously, we don't charge subscriptions, so the funding has been a huge help.
"We've also been able to ensure every new young person who attends the gym is able to receive equipment. Things like gloves, ropes, bandages and headguards can be expensive and are often a barrier to engagement, so providing these things for free enables us to break down those barriers to participation.
"A lot of people in our area just cannot afford gym costs and equipment and they don't have the capabilities to go and source equipment."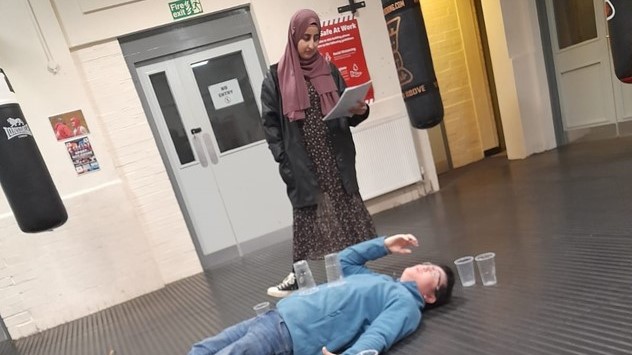 The funding has helped Aspire engage with 25 new boxers, across a range of classes.
Aspire has since done another Care Leavers programme, allowing eight individuals to do non-contact boxing and fitness while receiving guidance on independent living.
National Charity Street Doctors has also attended the gym to teach members first aid with a particular emphasis on knife injuries.
Finally, the club has started a new Saturday fitness class for the whole membership, alongside promoting their Women's Aspire classes on a Saturday morning.
One parent praised the club, saying: "My son joined Aspire after being at another club and the thing he was most excited about was the coaches knowing his name.
"It seemed odd to begin with, however, I soon realised that his previous club didn't actually know his name and on reflection, every time I went to collect him, there wasn't any interaction between him and the coaches.
"My son has ADHD and he can be difficult. I used to receive daily emails from schools regarding his negative behaviour and I still receive them now – however, since joining Aspire, they are all positive.
"My son now comes home from school and he is straight off to the gym, he can't wait. On the days that he is not at the gym, he is constantly shadowboxing and practising. I have certainly seen a difference in his attitude and his fitness.
"I've also joined the all-female Women Together session that runs on a Saturday. I love attending these sessions, which are run by a female coach and that's perfect because I'm not confident enough to go to a commercial gym.
"The fact that these sessions are free is amazing, the coaches give 100% to all members. I am so pleased that I took my son to this gym and he loves it."