Formidable four win Euro gold for England
April 21, 2022 | by Harry Judd
An incredible Finals Day saw Team England bring home four gold medals from the EUBC Youth European Championships 2022 in Sofia, Bulgaria.
The five Three Lions boxers were ready and prepared for what was to come on an exciting last day of the competition.
The action started at Under 54kg, where Owen Ketley who was confidence personified as he danced around the ring, catching his opponent in the exchanges and impressing the judges to come away with a 5-0 victory over Bulgarian, Lyuboslav Metodiev.
Owen has been terrific all tournament, and today's final showcased how good the has been with one judge scoring the bout 30-24 in favour of Ketley.
This was followed by Westree Boxing Club's, Enriko Itauma who once again roared into action, overpowering his opponent to claim his third first round stoppage and his third European title.
Itauma was able to plan his feet and utilise his power to beat Kiril Borisov from Bulgaria.
Enriko has been astonishing throughout this tournament, winning by RSC in every bout, and floods of congratulations have come in, including from Olympic bronze medalist, Frazer Clarke.
On the 96th birthday of the Queen, he proudly clutched the Three Lions on his tracksuit as the national anthem rang out as he stood on top of the winner's podium.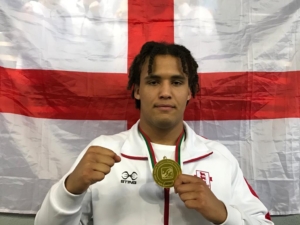 However the day wasn't without disappointment as Lauren Mackie was unable to impress the judges in her Female Under 52kg bout and lost by unanimous decision to French opponent, Kaelya Mopin.
Today's result takes nothing away from Lauren as she has boxed brilliantly throughout, and comes with away with a really respectable medal, but even more valuable experience to take with her to future tournament's.
The Under 54kg contest was a contrast of styles with Emily Whitworth coming off stronger, able to slip behind the jab of the taller Slovakian to gain an unanimous decision.
Emily's opponent, Bibiana Lovasova was tipped to take the title after her 'sensational win' yesterday in the semi-finals against last year's silver medallist, Kevser Tutuncu of Turkey.
However, Whitworth's fast pace and work rate was too much, and she claimed the Under 54kg title.
The final bout of the day was from the Under 92kg category as Powerday Hooks boxer, Damar Thomas, impressed from the first round, using his fitness, jab and range to score from the outside and claim a unanimous decision against Romanian boxer, Florin Ionita.
Overall, England have claimed four gold, one silver and two bronze for seven medals overall, which equals the best medal return from the European championships.
It also put them second in the overall medals table behind Ukraine, who claimed one more medal.
Itauma was named best male boxer of the tournament at the close of the event for his outstanding performances.
We would like to congratulate every England boxer and coach, who represented the Three Lions brilliantly and made this an incredible Youth European Championships for all concerned.